Floating Kitchen Shelves: How To Choose
Floating kitchen shelves are a popular trend in modern kitchen design. They offer a sleek and modern look while also providing a practical solution for additional storage space. But are they the best option for your kitchen? In this blog, we'll discuss the pros and cons of floating kitchen shelves to help you determine if they're right for your home.
What Are Floating Kitchen Shelves?
A floating kitchen shelf that is attached to a wall but without a visible method of support is said to be a floating shelf. As a result, the shelf appears to be "floating" against the wall without any screws or brackets in place.
Floating kitchen shelves are used for easy-access storage, eye-catching kitchen displays, or simply as a design element. Although replacing a few cabinets with floating shelves is a common practice, you wouldn't use them in place of cabinets for kitchen storage.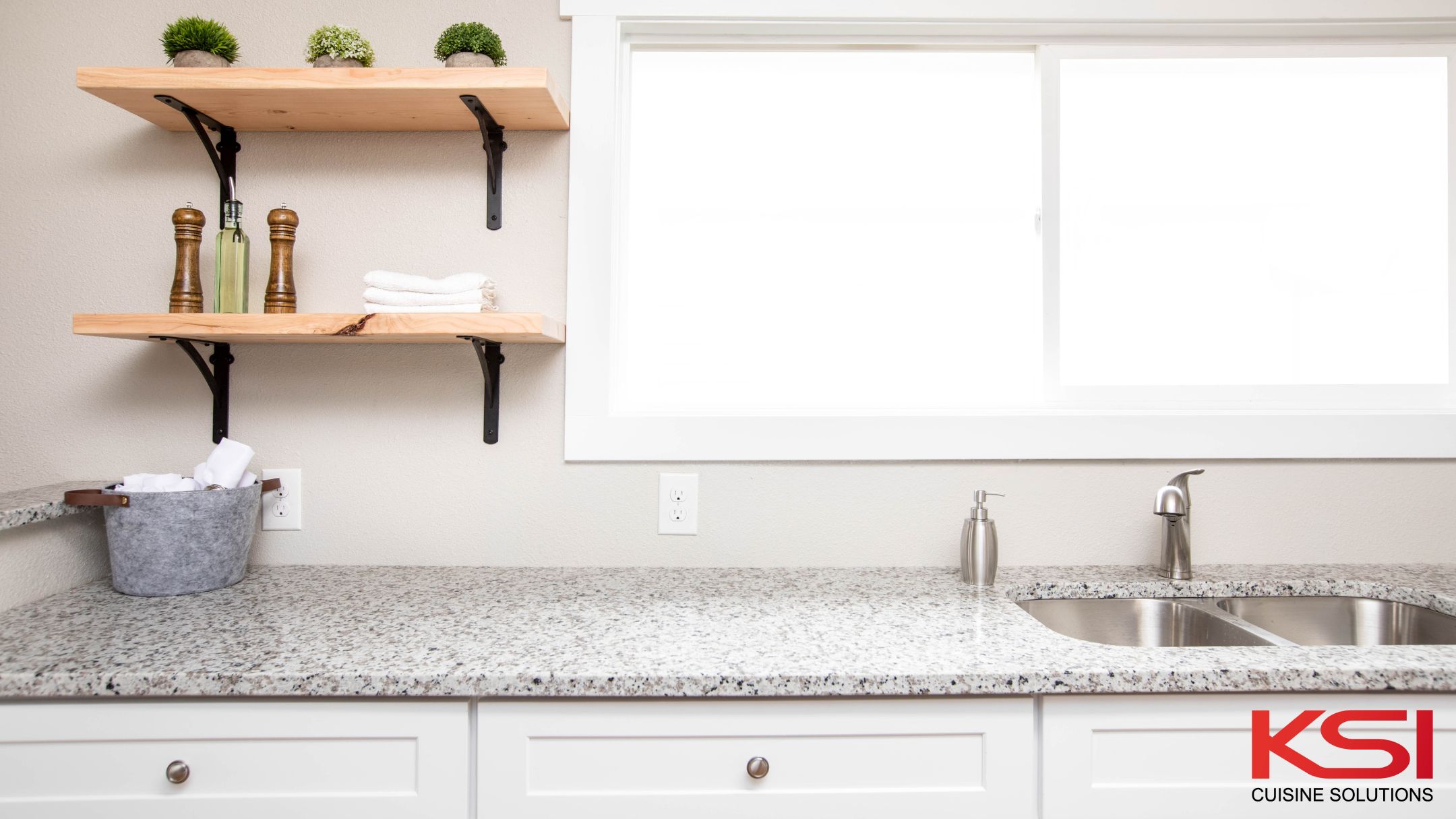 Pros of Floating Kitchen Shelves
Space-saving: Floating kitchen shelves are a great option for those who want to maximize their storage space. They take up less room than traditional cabinetry and can be used to store anything from dishes to spices.
Aesthetic appeal: Floating shelves add a sleek and modern touch to any kitchen. They are available in a variety of materials, colors, and finishes to match the style of your kitchen.
Easy to install: Floating kitchen shelves are relatively easy to install and can be done with a few simple tools. They can also be removed and replaced with ease, making them a great option for renters.
Cost-effective: Compared to traditional cabinetry, floating shelves are a more cost-effective option for adding storage space to your kitchen. They're also a great option for those who want to make a statement in their kitchen without breaking the bank.
Flexibility: Floating kitchen shelves can be easily repositioned or rearranged to meet changing storage needs. They can also be customized to fit specific items, such as cookbooks or pots and pans.
Improved organization: By adding floating kitchen shelves, you can create dedicated spaces for specific items, making it easier to find what you need and keep your kitchen organized.
Increased natural light: Floating shelves can help to increase the amount of natural light in your kitchen by reducing the amount of cabinetry and creating an open, airy feel.
Cons of Floating Kitchen Shelves
Lack of stability: One of the biggest drawbacks of floating kitchen shelves is that they lack stability. They're only supported by brackets on the wall, which can be problematic if you're storing heavy items.
Limited storage capacity: Floating shelves provide limited storage capacity compared to traditional cabinetry. They are also not designed to hold heavy items, so you'll need to be careful about what you put on them.
Dust accumulation: Another downside of floating shelves is that they can accumulate dust and debris over time. This is especially true for those who live in areas with a lot of dust in the air.
Difficulty in organizing: Because floating shelves are open and lack doors, it can be difficult to keep items organized. This can be especially problematic for those who have a lot of small items to store.
Potential damage to walls: If not properly installed, floating kitchen shelves can cause damage to your walls. It's important to make sure the brackets are securely attached to the wall and that the shelves are level.
Difficulty in cleaning: Floating shelves can be difficult to clean because of their open design. Dirt, dust, and debris can accumulate on the shelves and be difficult to reach with a cloth or duster.
Potential for items to fall: Floating kitchen shelves are only supported by brackets, which means there's a risk of items falling off if they're not securely in place. This can be especially problematic for those with young children or pets.
If you decide to add your own floating shelves to your kitchen, then you need to make sure to keep these things in mind.
Floating kitchen shelves come in a range of sizes and designs and may be used for many different things. There are several decoration possibilities for hanging shelves, depending on their length and height. If the shelves are just intended to be utilitarian, you may put glasses, mugs, and plates on them to make it simple to find what you need. You may line them with candles, signs, spices, and other ornamental plates and bottles if the goal is to utilize them less for storage and more for decoration. In the kitchen, we believe that "less is more" to keep everything from appearing neat and prevent your attention from being directed to too many different directions.
To provide a spot to hang coffee mugs or tie fresh plants for even more storage possibilities, you can either buy shelves with hooks beneath or install them into the wood.
How deep should floating kitchen shelves be?
The depth of your shelves is important! There are several retail shelf choices with depths as little as 4″. You should place those in a hallway or bathroom. Typically, shelves that are 10" to 12" deep will work for most dishes and accessories. Buy the strongest anchors you can find and make sure they are positioned every three to four inches for maximum stability if your floating shelves are long and deep, or if you wish to store heavy objects on them (such as cookbooks and large pots). You don't want to overload your shelves and make your kitchen a dangerous nightmare.
The idea of floating shelves in the kitchen is fantastic. They may be utilized in a range of kitchen styles, from farmhouse to modern to boho, and they help to break up the monotony of long rows of cabinets. If you like to keep things simple, you may keep the space appearing neat by putting only a few important objects on the shelves. If you like a maximalist aesthetic, you may add some individuality to the room by arranging jars, artwork, plants, and other bright things.
Floating kitchen shelves can be installed in a kitchen's corners, above the cabinets, beneath a row of cabinets, or even in place of most or all the upper cabinets. It depends on your own preferences and the appearance you desire for your kitchen. Just remember that to keep the room appearing tidy, the objects on the shelves (as well as the shelves themselves) need to be handled with great care. The only thing left to do is to take a seat and appreciate all your hard work and the lovely kitchen you have made.
In conclusion, floating kitchen shelves are a great option for those who want to add storage space to their kitchen while also making a statement. However, it's important to weigh the pros and cons before making a decision. If you're considering floating kitchen shelves, make sure to carefully evaluate your needs and the design of your kitchen to determine if they're the best option for you.
With the many benefits of updating your kitchen, we encourage you to contact us to speak with our KSI kitchen experts.
We are offering free consultation for your plan and budget control. We can sit down with you to discuss your vision for your kitchen.
Whether you're looking to make the necessary updates to increase the marketability of your home, increase the functionality of the room, or create more storage space to help with organization, we can help you create the kitchen of your dreams.
The best A to Z kitchen renovation turnkey services in the Greater Montreal Area.
SHARE KSI CUISINE SOLUTIONS WITH FRIENDS