6 Tips for Organizing Your Kitchen Cabinets Like a Pro
The kitchen is the focal point of your luxurious home. It's a place for friends and family to gather, a place where meals are prepared, lunches are made, and holiday cookies are baked. While luxury homes' kitchens are designed to have plenty of space for your gourmet cooking needs, this does not always equate to clean and uncluttered cabinets.
Because this area sees so much traffic, it's critical that it's organized for efficiency and accessibility. Before you begin organizing your cramped, overflowing kitchen cabinets, develop a strategy. Here are six tips for organizing your kitchen cabinets like a pro to get you started.
Tips for Organizing Your Kitchen Cabinets
When Should You Organize Your Kitchen Cabinets?
There is no set timeline for you to organize your kitchen cabinets, and it's a personal decision based on your individual needs and preferences. However, it would be recommended to organize them when you notice that they are becoming cluttered, disorganized, or difficult to find what you need.
When a major life change occurs, including moving, moving in with someone, or welcoming a little one, this would be a good reason to increase the frequency of organizing your kitchen cabinets.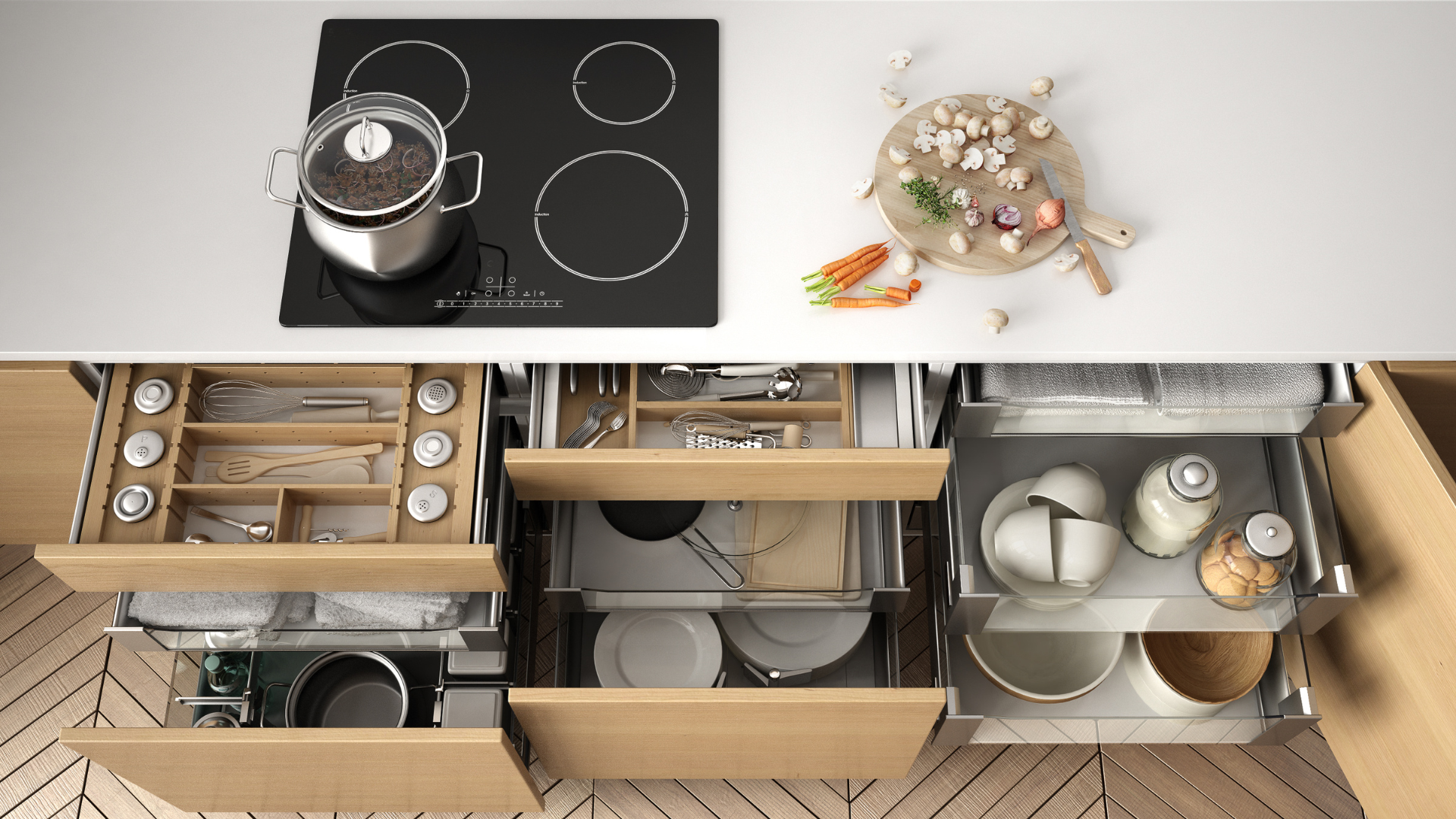 How to Organize Kitchen Cabinets?
Before you begin the kitchen organization process, consider the following tips that may help you find the best way to organize your kitchen cabinets and drawers.
Take Everything Out and Declutter
Clearing out unnecessary items is the first step in kitchen organization. You must go through every item that would normally be in your kitchen cabinets, whether it is currently in a cabinet or drawer or is in storage/boxes.
Begin by taking everything out of your cabinets, drawers, and/or boxes. Put everything in one place, such as a table or counter. Then, you need to remove any expired or unused spices and food from your pantry. Any chipped, cracked, or damaged pots, pans, or household items should be discarded or donated. Consider donating any unwanted small appliances or kitchen gadgets to a charitable organization in your area. To organize kitchen cabinets, any damaged or worn-out items should also be removed from the pile.
Keep similar items together
When your kitchen cabinets are crammed and disorganized, you may be tempted to store items wherever there is open space. However, once you've decluttered your cabinets, storing items together will make it much easier to keep everything tidy.
Baking tools, for example, do not belong on the same shelf as your everyday plates and bowls. Everything in your kitchen should have a purpose. If you bake frequently, you should consider making room on your kitchen counter for a stand mixer. On the other hand, you can perhaps stash the food processor away with other things, like kitchen equipment. This makes things easier to find when you go looking for them and easier to put away when you don't. You can take it a step further by organizing each group of items by size or shape, making your kitchen organization even more efficient.
Plan the Layout
Every kitchen layout is unique. When it comes to kitchen organization, consider your needs first, and then decide where to put things. Keep frequently used items close at hand and less frequently used dishes and appliances out of the way. For example, coffee/tea and all the trimmings should be near the coffee machine, spices, and oils should be near the oven (but not so close that they are affected by heat), and your most used dishes should be in the cabinets closest to the sink or dishwasher.
Another important point that you need to pay attention to in kitchen organization is that children and pets require their own space! Keeping things accessible for children allows them to assist themselves in getting a snack or preparing a meal. Keep items that are safe for them to eat and use at a suitable height.
Consider Cabinet Organizers
When it comes to organizing kitchen cabinets, it starts before you even put away your first dish. Non-customized cabinetry does not always make the most use of available space, so you may need to install dividers or storage solutions to make the most of it. Installing custom-designed cabinetry to match your demands, with extras such as divider inserts, wine racks, pull-out shelves, lazy susans, and even pegboard racks, is the most convenient alternative.
Cabinet organizers are designed to help maximize the space inside the kitchen cabinets and make them more functional and efficient. They can help you with kitchen organization, making it easier to find what you need efficiently and quickly.
Label the Cabinets and Drawers
Half of the reason you're re-organizing is that you've forgotten where you've placed specific cookware and serve ware. One good way to organize kitchen cabinets is to make labels for each drawer and cabinet to avoid this happening again. Once you have the proper placement of everything, purchase products that can help with your kitchen organization.
Labeling is useful if you have multiple people sharing the same kitchen, as it ensures that everyone knows where their things belong. You can use adhesive labels, chalkboard labels, or even a label printer to label the cabinets and drawers. No matter what labeling system you select, make sure it's clear and easy to read.
Open Shelf
Utilize vertical wall space by installing open shelving that extends all the way to the ceiling. Open shelves allow you to show off your most beautiful kitchenware while also making everything easy to find, retrieve, and store. If you don't want to rip out your existing upper cabinets but like the idea of open shelves, simply remove a few doors and paint the cabinet interiors to highlight your belongings. For example, using the open shelves together with glass-front cabinets provides an opportunity to create an eye-catching kitchen display.
It's very satisfying to have your kitchen storage organized and working properly, but it can be difficult to know where to start, especially if you've been using your kitchen for a while and are used to its quirks. The above 6 tips for organizing kitchen cabinets, from decluttering and sorting to utilizing cabinet organizers and labeling, can help you organize your kitchen cabinets like a pro. Start doing it today and enjoy a more organized and efficient kitchen!
Read more:
10 Kitchen Cabinet Colours That Will Refresh Your Space
Upgrade Your Kitchen with these 9 Affordable Kitchen Cabinet Hacks
With the many benefits of updating your kitchen, we encourage you to contact us to speak with our KSI kitchen experts.
We are offering free consultation for your plan and budget control. We can sit down with you to discuss your vision for your kitchen.
Whether you're looking to make the necessary updates to increase the marketability of your home, increase the functionality of the room, or create more storage space to help with organization, we can help you create the kitchen of your dreams.
The best A to Z kitchen renovation turnkey services in the Greater Montreal Area.
SHARE KSI CUISINE SOLUTIONS WITH FRIENDS