10 Creative Kitchen Cabinet Ideas to Transform Your Kitchen by KSI CUISINE SOLUTIONS
The kitchen is usually regarded as the heart of the home, and the cabinets are an essential component of its functionality and design. As we all know, kitchen cabinets can become dull and out of date over time, leaving you uninspired and unmotivated to spend time in the kitchen.
The good news is that you can transform your kitchen cabinets into stylish and functional space that expresses your own personality and style with a little thought and a few easy alterations. We'll share these how-to guides in this blog to help you get creative with your upcoming kitchen cabinet makeover while staying on a budget. From adding a splash of colour to incorporating one-of-a-kind hardware and storage solutions, these creative kitchen cabinet designs are wonderful for transforming the appearance of space and introducing colour and modernism to any kitchen.
10 Creative Kitchen Cabinet Ideas
Sky-High Cabinets
Using sky-high cabinets in your kitchen could be one of the best kitchen cabinet ideas for increasing storage and maximizing vertical space. A Tune-Up can give your builder-grade cabinets a facelift and elevate the look and feel of your kitchen. To install sky-high cabinets, have the cabinets not only above the counters, but also snake the cupboards around the room, such as over the fridge, to add extra storage to your kitchen.
Open Cabinets
Because you don't have to pay for cabinet doors, open cabinets are one of the kitchen cabinet ideas that can save you money. Open shelving allows for easy access and gives your kitchen an open and airy appearance.
When arranging items in your open cabinets, consider grouping similar items together to create a cohesive look. To add visual interest, mix and match items of varying heights and textures. You could, for example, display your favorite cookbooks, colorful dishware, and decorative items.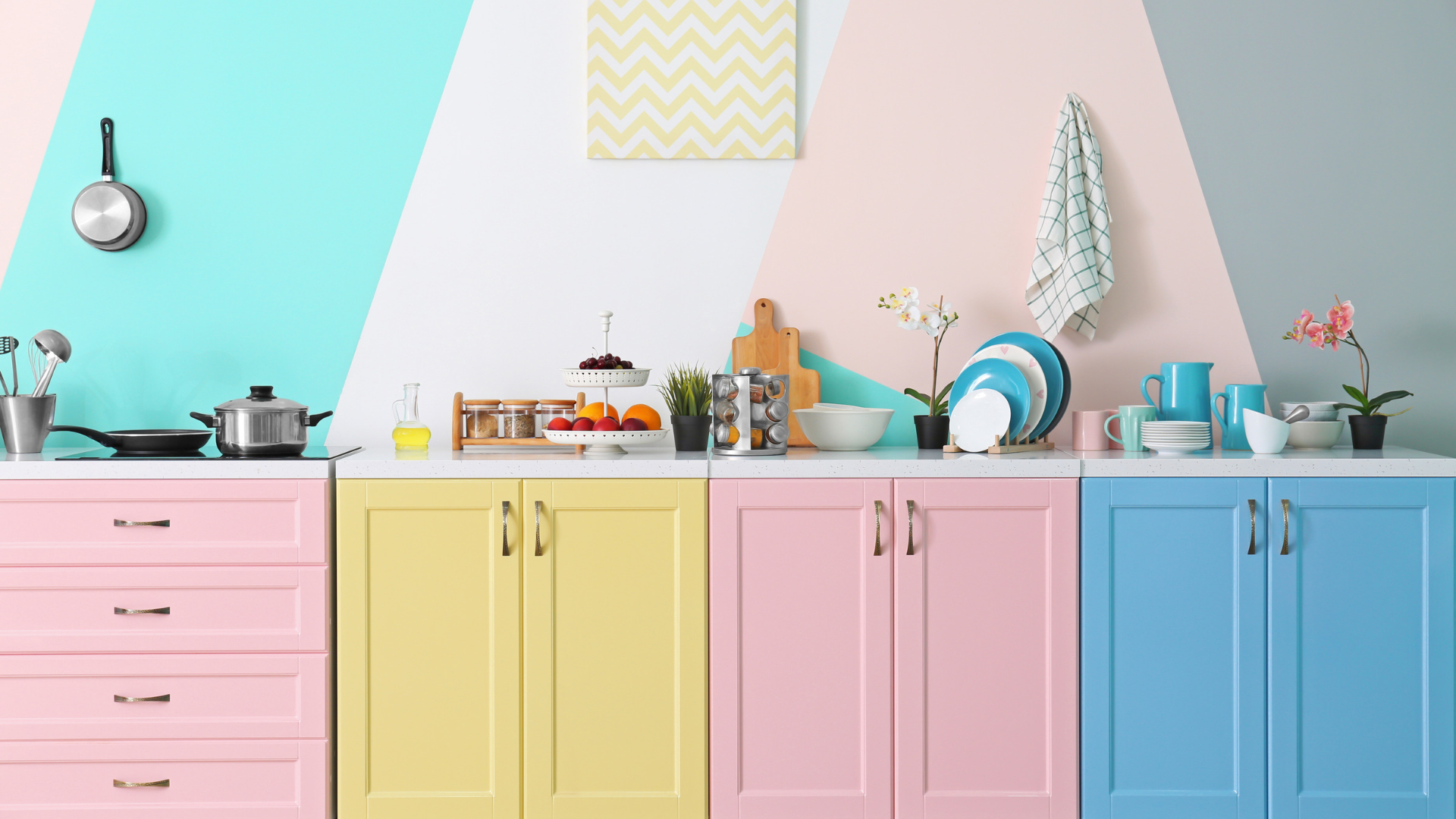 Metal Cabinets
For those looking for unique kitchen cabinet ideas, metallic cabinets exude luxury and will elevate your kitchen to the next level. Cabinets in stainless steel, copper, or bold brushed gold stand out beautifully in your kitchen. They also have some added functionality in that magnets can be stuck to the inside of the cabinet doors without detracting from their sleek exterior appearance. You can achieve this look by using actual metal cabinets or by painting your cabinets with a faux-metal finish.
Another reason why this is one of the best kitchen cabinet ideas when you remodel your kitchen is that display cabinet with metal grate fronts rather than traditional glass enclosures are a happy medium between closed and open storage. Because you can see straight through the glass, everything lining the cabinet shelves must be perfectly aligned. But with metal grates, you don't have to worry about neatly packaging your essentials because you can only see inside.
Two-Toned Cabinets
Two-toned cabinets are one of the kitchen cabinet ideas that will add a lot of visual contrast to your space. Simply paint the upper cabinets one color and the lower cabinets a complementary color. Using a darker color on the bottom and a lighter color on top can make your kitchen appear larger.
Two-toned cabinets are classic and will not go out of style in the coming year. It refers to any type of kitchen space with two distinct colors, and a combination can take several forms. Two-toned kitchen cabinets aren't just a passing fad. Two-tone cabinets can be timeless if the colors are chosen correctly. Consider the overall aesthetic of your kitchen when designing your two-toned cabinets. By selecting colors and finishes that complement your countertops, backsplash, and flooring, you can achieve a unified look for your kitchen.
Half-Glass Cabinets
Transforming your kitchen cabinets into half-glass cabinets is one of the best great kitchen cabinet ideas to update the look of your kitchen and showcase your favorite dishes or glassware. With glass panels in the bottom half and solid panels above, you get an open look while still having plenty of storage for items you don't want on display. The drawer and cabinet hardware's unexpected gold look is also appealing.
Island Storage
Make your kitchen island more functional by adding additional cabinets and drawers. These kitchen cabinet ideas can aid in keeping walls clear and extending high ceilings. This is to say, a kitchen island with built-in storage can provide extra counter space, additional storage, and a focal point for your kitchen.
When designing your island storage, you need to consider the types of items you'll be storing as well as the size of your kitchen appliances. You should include a variety of drawers and cabinets to store everything from small utensils to large pots and pans.
Replace Hardware
A quick fix that can significantly improve the appearance of your cabinets is to replace the hardware. Because hardware is the 'jewelry' of your kitchen, you can express yourself here! Today, there are an infinite number of options at every price point, suitable for any design style. This is one area where you don't have to spend a lot of money to find something that looks and feels expensive.
Install Tiny Shelves
Most kitchen cabinet ideas include large shelves where items in the back tend to get misplaced. This open cabinet with small cubbies keeps everything in the spotlight. This is an excellent method for storing and displaying your coffee mugs. Small cabinets with multiple cubbies will give your kitchen a modern, minimalist appearance.
Converting your kitchen cabinets into tiny shelves is a great way to maximize storage space while also adding a personal touch to your kitchen. Just make sure to plan for time and take your time to ensure the shelves are securely and levelly installed.
Paint Kitchen Cabinets
Color affects everything. However, a splash of color can transform your cabinets from plain and simple to shabby chic, rustic, provincial, or modern. When considering these kitchen cabinet ideas, keep the overall aesthetic of your kitchen in mind when selecting a paint color, and choose a shade that complements your countertops, backsplash, and flooring. To create a two-toned effect, use different colors for your upper and lower cabinets.
Install Under Cabinet Lighting
Under cabinet lighting is one of the best kitchen cabinet ideas because it provides direct light to your countertops, eliminating shadows and making it easier to see what you're doing while cooking. This is especially helpful when working with knives or other sharp utensils.
Under-cabinet lighting can enhance the ambiance as well as the functionality of your kitchen. It not only illuminates your workspace but also adds a stylish touch to the design of your kitchen. LED and halogen lights come in a wide range of colors and brightness levels. LED under cabinet lighting is a more energy-efficient option than standard light bulbs. This can help you save money on your energy bill while also lowering your carbon footprint over time.
There you have it: ten modifications to your kitchen cabinets! These ten creative kitchen cabinet ideas mentioned in this blog provide a variety of ways to transform your cabinets to suit your personal style and needs.
Do you have a favorite one? Transforming your kitchen cabinets can be a great way to update the look of your kitchen, add more storage space, and showcase your favorite items. Hopefully, these ideas have inspired you to become creative with your current cabinets if you don't have the desire or budget to replace them. These kitchen cabinet ideas will help you achieve your desired look, whether you want a low-cost option or a more extensive renovation. With a little imagination and DIY skills, you can transform your kitchen cabinets into a beautiful and functional space that you'll enjoy for years to come.
Read more from KSI:
10 Kitchen Cabinet Colours That Will Refresh Your Space
Upgrade Your Kitchen with these 9 Affordable Kitchen Cabinet Hacks
With the many benefits of updating your kitchen, we encourage you to contact us to speak with our KSI kitchen experts.
We are offering free consultation for your plan and budget control. We can sit down with you to discuss your vision for your kitchen.
Whether you're looking to make the necessary updates to increase the marketability of your home, increase the functionality of the room, or create more storage space to help with organization, we can help you create the kitchen of your dreams.
The best A to Z kitchen renovation turnkey services in the Greater Montreal Area.
SHARE KSI CUISINE SOLUTIONS WITH FRIENDS