The Dos and Don'ts of Cleaning and Maintaining Your Kitchen Cabinets
With longevity in mind, kitchen cabinets should be cleaned routinely or based on the accumulated mess. The lifespan of the cabinet is also based on how it is cleaned. For example, a quick, dry dusting may scratch the cabinet surfaces if done with a dry cloth. Residues from smoke, cooking vapors, grease, and hand or body oils can be cleaned with a cloth dampened with mild soap and warm water. Do not forget to clean your cabinets with a fresh, soft microfiber cloth to maintain your kitchen cabinets.
In order to maintain kitchen cabinets' durability and aesthetic appeal, proper care and regular maintenance are essential. By doing this, you can extend the life of your kitchen cabinets, preventing the need for costly replacements. In this blog, we will discuss the dos and don'ts of cleaning and maintaining kitchen cabinets, specifically focusing on different materials and the key factors to consider when caring for them.
The Dos and Don'ts of Cleaning and Maintaining Your Kitchen Cabinets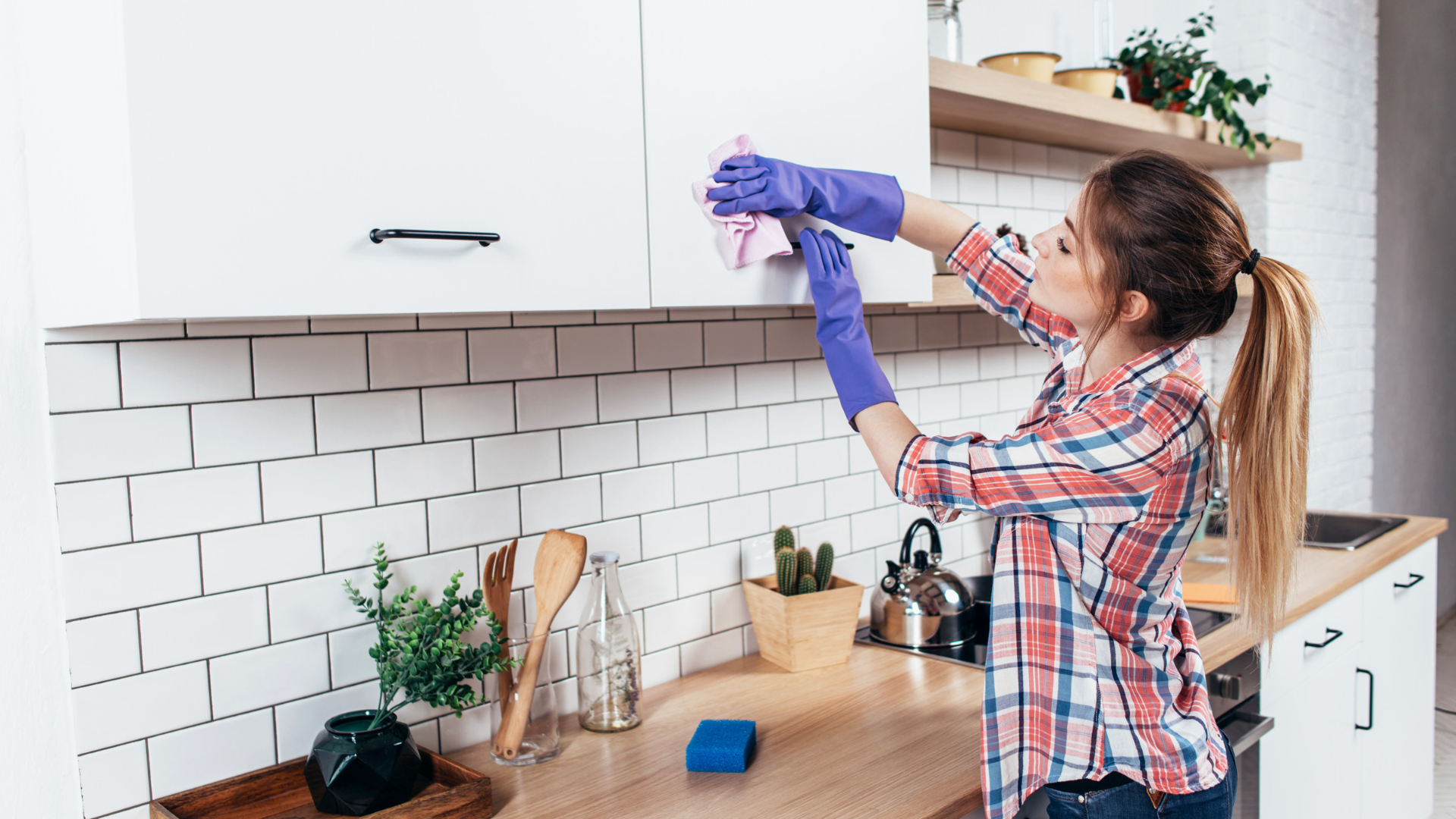 Wood Kitchen Cabinets
Wood cabinets are a popular choice for many kitchens due to their timeless beauty and durability. However, in order to maintain kitchen cabinets made of wood, requires special attention to maintain their appearance and prevent damage. Here are some dos and don'ts for cleaning and maintaining wood cabinets:
Do:
Use a soft, lint-free cloth or microfiber cloth to dust the cabinets regularly.
Wipe spills immediately using a damp cloth to prevent staining.
Clean the cabinets with a mild soap or specialized wood cleaner recommended by the manufacturer.
Apply a high-quality furniture polish or wax to protect the wood and enhance its luster.
Use felt pads on the bottom of objects placed on the cabinets to avoid scratches.
Don't:
Use abrasive cleaners or scouring pads that can scratch the wood surface.
Expose the cabinets to excessive moisture or direct heat sources, as it can cause warping or discoloration.
Hang damp or wet dish towels on the cabinet doors, as it can lead to water damage and mold growth.
Apply excessive force when opening or closing cabinet doors, as it can loosen hinges or cause misalignment.
Laminate Kitchen Cabinets
Laminate cabinets offer excellent resistance to foods, beverages, and household agents found in a typical kitchen. However, it's essential to remember that these surfaces are scratch-resistant, not scratch-proof. Follow these dos and don'ts to maintain kitchen cabinets made of laminate effectively:
Do:
Wipe the cabinets regularly with a soft cloth or sponge dampened with mild dish soap and warm water.
Rinse the cabinets thoroughly to remove any soap residue.
Dry the cabinets immediately using a clean, soft cloth to prevent water spots or damage.
Use a non-abrasive, multi-surface cleaner or vinegar-water solution for tougher stains or grease buildup.
Gently scrub the surface with a soft-bristle brush or sponge to remove stubborn stains.
Don't:
Use abrasive cleaners, scouring pads, or steel wool that can scratch or dull the laminate finish.
Allow spills or stains to sit for an extended period as they can penetrate the surface.
Apply excessive pressure or use sharp objects to scrape off stubborn stains.
Expose the cabinets to excessive heat, such as placing hot pots or pans directly on the surface.
Use wax or polish on laminate cabinets, as it can leave a residue or dull the finish.
Metal Kitchen Cabinets
Metal cabinets, such as stainless steel or aluminum, provide a sleek and modern look to any kitchen. To maintain kitchen cabinets in this material, you need to consider the following dos and don'ts to maintain their shine and prevent damage.
Do:
Clean the cabinets regularly with a soft cloth or sponge dampened with mild dish soap and warm water.
Rinse the cabinets thoroughly and dry them immediately to prevent water spots or mineral deposits.
Use a stainless steel cleaner or polish specifically designed for metal surfaces for added shine.
Apply a thin-protective coat of car wax to stainless steel cabinets to minimize fingerprints and smudges.
Use microfiber cloths or non-abrasive pads to remove any stubborn stains or marks.
Don't:
Use abrasive cleaners, steel wool, or rough brushes that can scratch the metal surface.
Allow acidic or harsh chemicals to come into contact with the cabinets, as they can cause discoloration or damage.
Use chlorine-based cleaners or bleach, as they can corrode the metal.
Leave wet or damp cloths on the metal cabinets, as it can lead to water spots or rust formation.
Proper cleaning and maintenance of kitchen cabinets are essential for preserving their beauty and functionality. By following the dos and don'ts specific to maintaining kitchen cabinets in different materials, you can ensure their longevity and minimize the risk of damage. Remember to use gentle cleaning agents, soft cloths, and non-abrasive tools to protect the surfaces. Your kitchen cabinets will remain attractive and durable if you maintain them regularly by dusting them, cleaning up spills right away, and taking general care of them.
To ensure your kitchen cabinets remain in good condition, it's essential to maintain them regularly. A clean and inviting space will be yours for years to come if you put time and effort into maintaining your kitchen cabinets. Additionally, here are some tips that help to maintain kitchen cabinets of any material.
Avoid excessive moisture: Excess moisture can cause warping and swelling, and it will damage cabinet surfaces. So, it is important to be cautious when using water around your cabinets and ensure that spills are promptly cleaned up. Avoid hanging wet or damp items on the cabinet doors as well as to maintain kitchen cabinets.
Handle with care: When opening or closing cabinet doors and drawers, do so gently to prevent any unnecessary stress on the hinges and hardware. To maintain kitchen cabinets, it is also important to avoid slamming them shut, as it can loosen or damage the components over time.
Regularly check and tighten hardware: Loose or damaged hardware can impact the functionality of your cabinets. Periodically inspect the hinges, handles, and drawer slides, and tighten any loose screws. If you notice any significant damage, consider replacing the hardware as needed.
Protect from direct sunlight: Prolonged exposure to direct sunlight can cause fading and discoloration of cabinet surfaces. If possible, use blinds or curtains to shield your cabinets from intense sunlight during peak hours of the day.
Use proper cleaning techniques: Regardless of the cabinet material, it's important to use gentle cleaning methods. Avoid using harsh chemicals, abrasive scrubbers, or sharp objects that can scratch or damage the surfaces. Stick to mild soaps, warm water, and soft cloths or sponges for routine cleaning.
Regularly dust and remove debris: Dust and dirt can accumulate on cabinet surfaces over time, affecting their appearance.
By following the above dos and don'ts and implementing proper cleaning and maintenance practices to maintain kitchen cabinets, you can make sure that your kitchen cabinets stay in good condition for many years. Remember, each material may have specific care requirements, so always refer to the manufacturer's guidelines for the best practices tailored to your cabinets. With a little care and attention, your kitchen cabinets will continue to enhance the beauty and functionality of your kitchen.
Read more:
10 Kitchen Cabinet Colours That Will Refresh Your Space
Upgrade Your Kitchen with these 9 Affordable Kitchen Cabinet Hacks
With the many benefits of updating your kitchen, we encourage you to contact us to speak with our KSI kitchen experts.
We are offering free consultation for your plan and budget control. We can sit down with you to discuss your vision for your kitchen.
Whether you're looking to make the necessary updates to increase the marketability of your home, increase the functionality of the room, or create more storage space to help with organization, we can help you create the kitchen of your dreams.
The best A to Z kitchen renovation turnkey services in the Greater Montreal Area.
SHARE KSI CUISINE SOLUTIONS WITH FRIENDS