How to Maximize Space in a Small Kitchen Design: 5 Tips You Should Know
When it comes to functional design, a small kitchen can bring some special obstacles. We are aware that when there is a lack of room, it can be challenging to strike the proper balance between organizing the area, working comfortably, and keeping the kitchen practical. However, you may make your little kitchen a fashionable and useful place by using the correct strategy and tactics.
We'll look at five key suggestions in this blog that can help you make the most of the space in your compact kitchen design. Here are some easy solutions to storage and preparation problems top priority because of this. These suggestions will allow you to make the most of every square inch of space and design a kitchen that is both functional and aesthetically pleasing, whether you are renovating or beginning from scratch.
How to Maximize Space in a Small Kitchen Design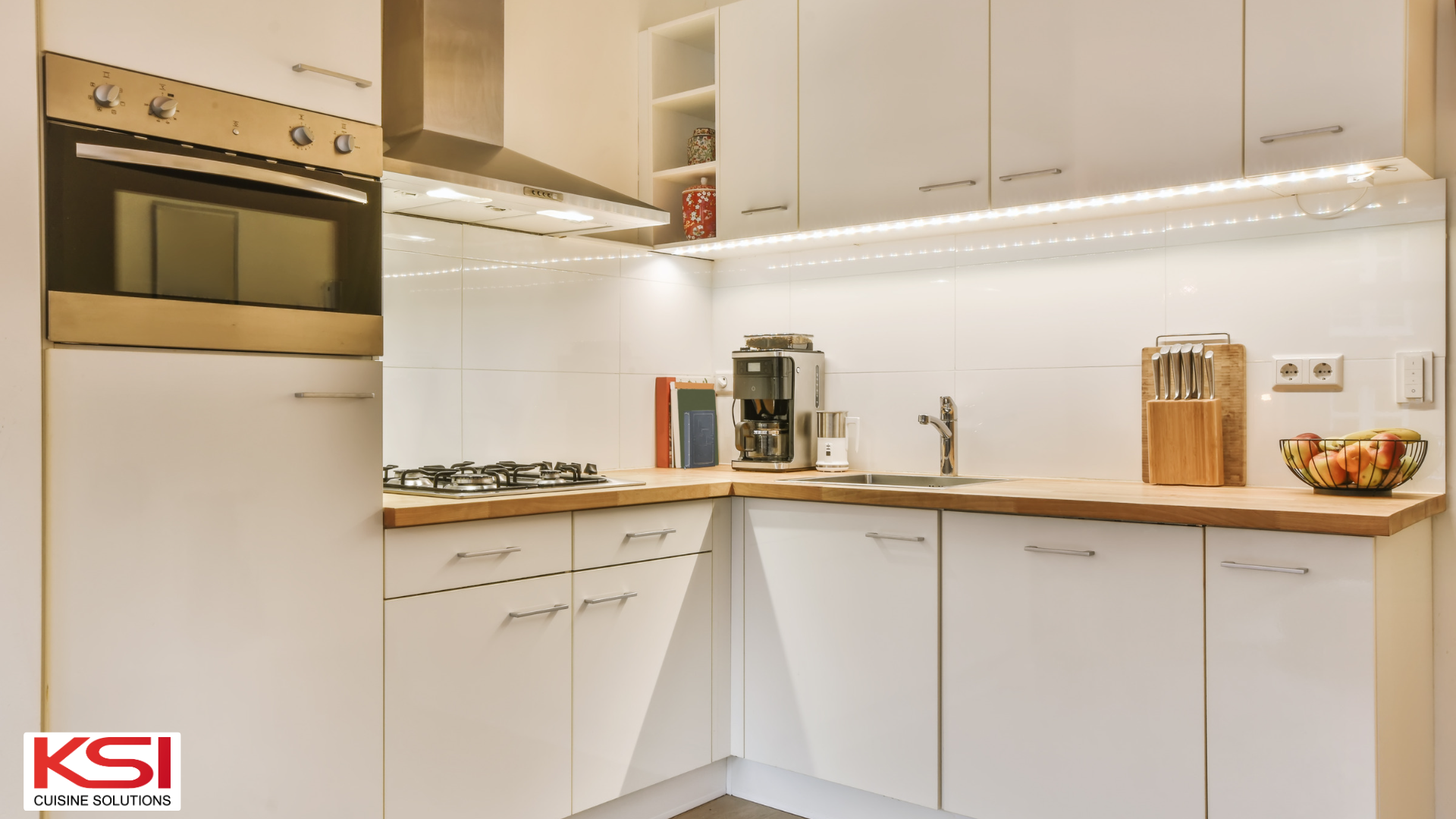 Optimize Storage Solutions
One of the most critical aspects of small kitchen design is the efficient use of storage space. To maximize usable area, consider the following storage solutions:
Use Skinny Shelves and Cabinets For A Small Kitchen: Make the most of tricky spaces in your kitchen with narrow shelves and cabinets. Perfect for mounting in a corner or on a short wall, you can store anything from spices to utensils within easy reach.
Take advantage of vertical space: Install wall-mounted cabinets or open shelving to take advantage of the vertical space in your kitchen. This will free up valuable counter space and provide convenient storage for frequently used items.
Install pull-out shelves and organizers: Consider adding narrow cabinets with pull-out shelves in the corner of your kitchen. You can stack your cooking essentials in it. Slim shelves are a great place to store smaller items like cups and glasses. These innovative storage solutions give you easy access to the back of your cabinets and make efficient use of every inch of space.
Use the inside of the cabinet door: Hang hooks or small shelves on the inside of the cabinet door to hang utensils, measuring cups, or pot lids. This clever storage solution helps keep your countertop tidy.
Explore overhead storage: If you have high ceilings, consider utilizing overhead space for storage. Install hanging pot racks or hanging shelves to keep pots, pans, and other kitchen essentials within easy reach while freeing up cabinet space.
Embrace Compact Appliances
Choosing the right appliances is crucial when dealing with limited space. Find compact, space-saving options for your cooking and storage needs. Here are some suggestions:
Slim appliances: Choose narrower appliances such as slim refrigerators, dishwashers, and ovens. These appliances are specifically designed to fit into smaller spaces without compromising functionality.
Combination appliances: Consider appliances that provide multiple functions, such as a combination microwave oven and cooker hood or a stove combination with its own range hood. These space-saving options help minimize the number of individual pieces of equipment you need to house.
Make A Small Kitchen Flexible Workspace
It's critical to make the most of your workstation in small kitchens. How to do it is as follows:
Surfaces that can be folded or extended: Invest in a surface that can be folded up or extended, like a pull-out counter or a folding table. When required, these adaptable attachments add extra workspace; when not in use, they may be folded or pushed back.
Wheelbarrow or Mobile Cart: Think about utilizing a wheelbarrow or cart that can be wheeled about the kitchen. These trolleys offer additional storage and can be utilized as a serving station or additional workspace when hosting guests. Hooks are also another resourceful storage option that may be mounted on the wall or installed inside a cabinet to hang cups, cutlery, or even pots and pans.
Finishes and Optimized Lighting For A Small Kitchen
While storage will help make your kitchen easy to move around, your choice of colour, finish and optimized lighting will help create an open and airy space.
Opting for handleless cabinets will immediately create the impression of sleek unclutteredness, while opting for a glossy finish will help bounce light around the room, creating the impression of a larger space.
Using light colors in your design scheme is an easy way to make your kitchen feel larger – creamy pastels and light neutrals work with a variety of themes from ultra-modern to vintage glamour. If you want to incorporate dark elements, be sure to balance them with light-colored walls or floors so that the room doesn't feel too oppressive.
Adequate task lighting is installed below cabinets, above workstations, and over sinks to ensure proper visibility while cooking or preparing food. Proper lighting can make a kitchen appear brighter and more spacious.
Streamline and Declutter
Avoiding clutter in a tiny kitchen is essential to preserving a feeling of openness. To streamline and organize your kitchen, use the following advice:
A straightforward strategy adopt a minimalist outlook and regularly organize your kitchen. Prioritize the necessities and discard whatever you hardly ever use. To make a room appear clean and open, keep worktops clear of extraneous stuff.
Smart Organisation: To keep your kitchen supplies properly arranged, invest in organizers, separators, and storage containers. To make things simpler to locate and use when needed, categorize and group related objects together.
Store Utensils Vertically: To free up drawer and cabinet space, hang cookware, pots, and pans from pegboards or wall-mounted rails. This not only saves space but also gives your kitchen design a stylish touch.
Install a magnetic or corkboard backsplash to hang commonly used tools, notes, or recipes.
Make Use of the Backsplash. This resourceful use of the tailboard area increases usable storage without adding any extra room.
To make the most of the available space when designing a small kitchen, careful planning and imagination are needed. You may optimize the design of your small kitchen by integrating the five crucial suggestions mentioned above. Don't forget to make the most of your storage options, select compact equipment, design multipurpose spaces, take advantage of lighting and colour, and regularly simplify and organize your kitchen. You can make your little kitchen more functional, organized, and aesthetically pleasing by using these techniques.
Read more:
10 Kitchen Cabinet Colours That Will Refresh Your Space
Upgrade Your Kitchen with these 9 Affordable Kitchen Cabinet Hacks
With the many benefits of updating your kitchen, we encourage you to contact us to speak with our KSI kitchen experts.
We are offering free consultation for your plan and budget control. We can sit down with you to discuss your vision for your kitchen.
Whether you're looking to make the necessary updates to increase the marketability of your home, increase the functionality of the room, or create more storage space to help with organization, we can help you create the kitchen of your dreams.
The best A to Z kitchen renovation turnkey services in the Greater Montreal Area.
SHARE KSI CUISINE SOLUTIONS WITH FRIENDS