Making a selection regarding the design of your kitchen is important, whether you're remodelling your kitchen or preparing your home for a new kitchen. Although there are many different styles available, they all share two fundamental roots: classic and modern. While modern kitchen design conjures up a more up-to-date aesthetic of elegance and artistry, classic kitchen design typically conjures up an item that will never go out of style. Consider these two kitchen design ideas as paintings by Leonardo da Vinci and Pablo Picasso, respectively. Both painters produced stunning works of art, and their styles are widely imitated today, although da Vinci chose a classical style and Picasso a modern one, where more vivid hues and abstract conceptions were used.
The classic kitchen style exudes an air of elegance and tradition, drawing inspiration from bygone eras while incorporating refined details and charming embellishments. On the flip side, the modern kitchen embraces sleek simplicity and contemporary aesthetics, embodying a clean and minimalist approach to design. With both styles offering their own unique appeal, deciding between them can be quite a challenge for homeowners like you. If you're not sure whether you want to go for a modern look or a more classic kitchen design, we're here to help by giving you the key features of these two styles.
Classic vs Modern Kitchen: Choosing the Right Kitchen Design Style
CLASSIC KITCHEN
A classic kitchen is created to seem warm and inviting and is full of timeless appeal. Natural materials like wood, which can be included through wooden floors or cupboards, are included in the classic design. The cabinets themselves are straightforward and practical, with overhanging storage that reaches the ceiling to maximize the space available.
Classic kitchens favour neutral colour palettes when choosing colour schemes. Popular selections include white, cream, and grey, yet the way they combine still exudes warmth. The layout was created with an island deck for convenient entertainment and to maximize natural light across the room. The goal of a traditional kitchen is to create a room that serves as the real heart of the home.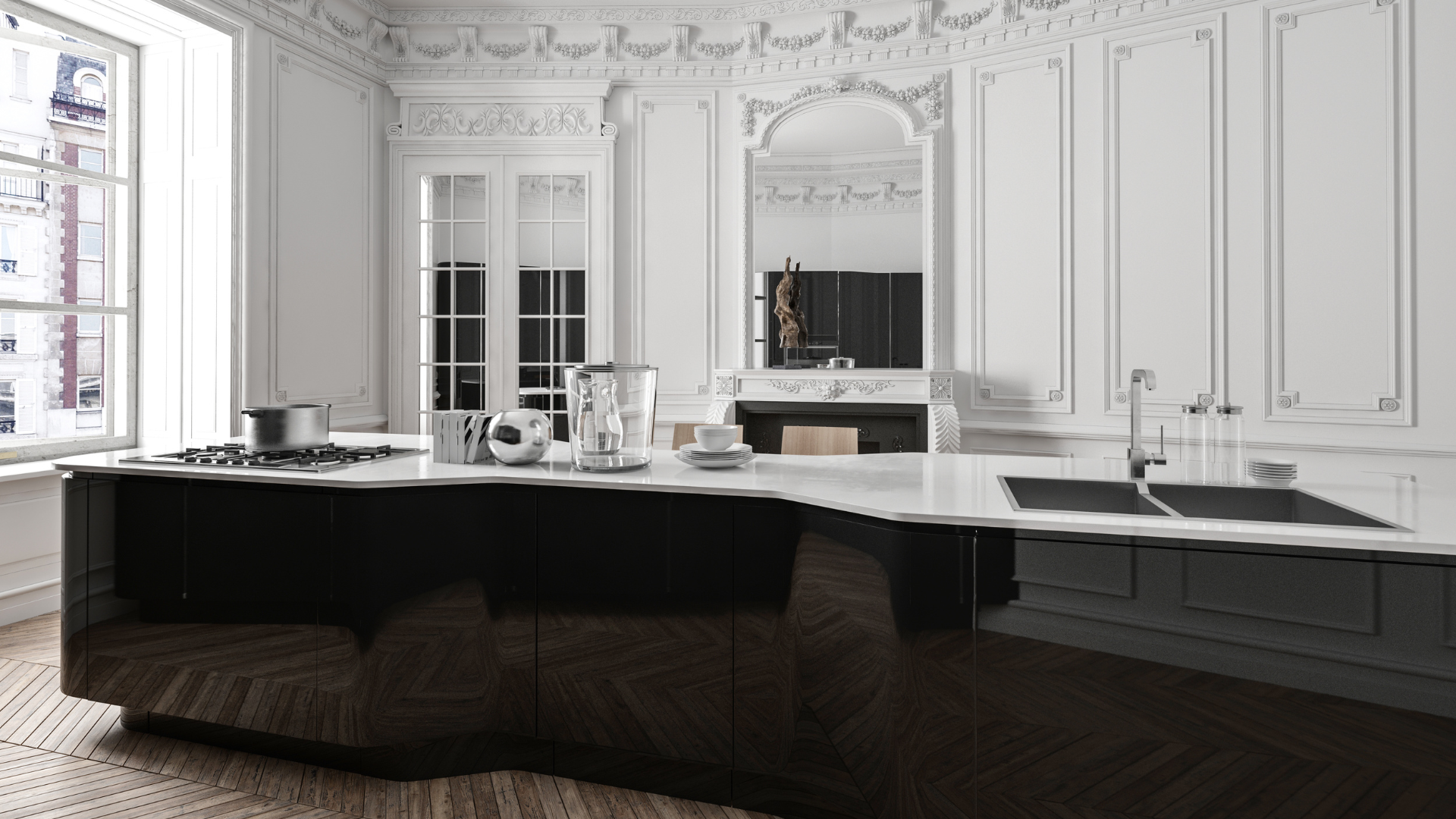 MODERN KITCHEN
Modern kitchens emphasize fuss-free design, smooth, flowing lines, and elegant aesthetics. In light of this, cabinets tend to be simple, and choices without handles are frequently employed. Reflective surfaces provide refinement when combined with high-gloss cabinetry and mirrored or glass backsplashes. Integrated appliances, convenient drawers, and pull-out pantries are just a few of the ingenious storage options available in modern kitchens because of their streamlined appearance. While white remains a popular colour choice, many contemporary kitchens also make excellent use of primary colours like yellow, red, and blue.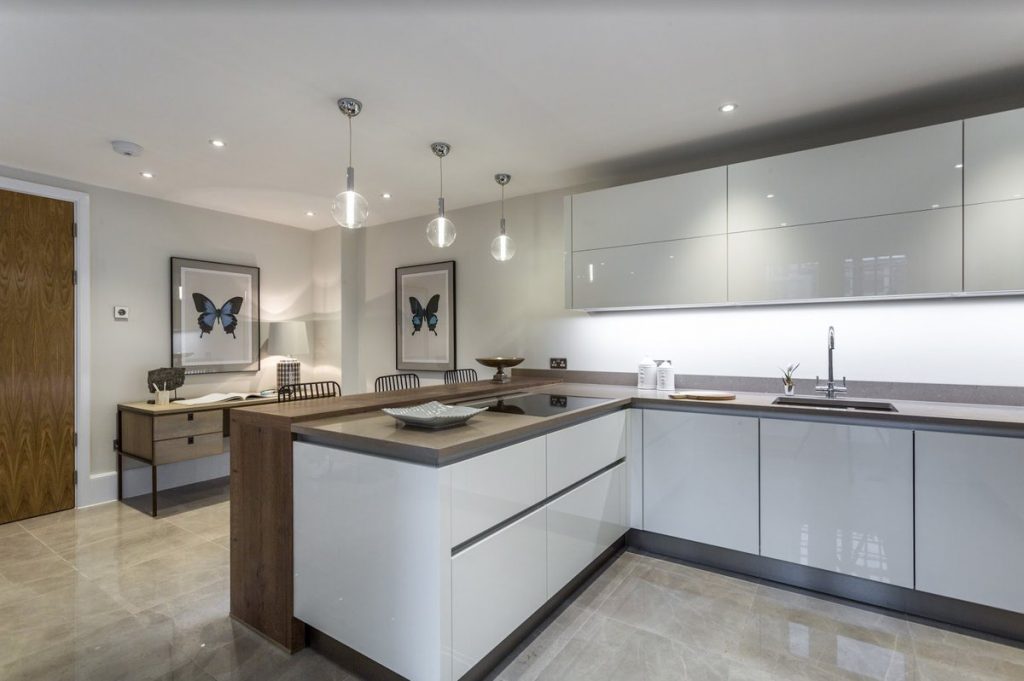 The difference between classic and modern
Before we decide on the kitchen design of the future, take a look at the differences between them!
Shape
Classic kitchens frequently have rounded, organic curves that add warmth, comfort, and a traditional aesthetic to the space. Modern kitchens take the opposite tack, choosing angular, blocky designs with sharp angles to create a cool, tidy, and aesthetically pleasing impression.
Kitchen Floorplan
Because traditional homes feature numerous smaller, single-purpose rooms rather than a few large ones, they have a larger footprint.
Modern floor plans feature seamless, open-concept areas and multifunctional rooms to make the most of available space while keeping a basic look.
A house's dining room, living room, family room, and other living spaces can all be combined into one enormous room with an open kitchen floor plan without any walls between them.
In the arrangement of modern and contemporary kitchens, there is often little barrier between the cooking area and any other living spaces on the same floor. These kitchen layouts are popular choices for people remodelling an existing kitchen as well as for newly constructed residences.
Material
Locally derived materials like bricks, stones, and wood are used in traditional architecture. Those used to be common and occasionally even free, but today they are fairly pricey. Innovative materials, including concrete, plastic, iron, steel, and glass, are widely used in modern design.
Colours and Patterns
As we've already mentioned, classic kitchens have organic shapes. Additionally, they adore earthy, soft colours and tones with floral or cosy designs. Bold colours and contrasting patterns are preferred in modern designs, which are sleeker and more simple.
Kitchen Windows
Window sizes and shapes tend to be smaller and more symmetrically arranged in traditional dwellings. More artificial illumination is consequently needed.
Windows may be produced in a variety of designs and sizes thanks to technology. Because of the huge windows and abundant natural light used in modern designs, the interior spaces feel airy and open.
Shelving and Cabinets
Classic kitchens are dominated by open shelving and cabinet/drawer panelling. Despite the abundance of cabinet space, classic designs prioritize aesthetics over storage efficiency. Traditional cabinets, for example, incorporate more detail and trim, have a variety of shapes and curves, and have a rough and rustic look. They often incorporate features of French and British design, a warmer colour palette, and darker, thicker cabinets than current kitchen designs.
In modern kitchens, the opposite is often the case, with modern designs that are sleeker and smaller. Their cabinet designs have a sleek look with simple, minimal lines and square geometric ridges. Whites, greys, and metallics are commonly used in colour schemes, often in lighter shades. Good for maximizing functionality without compromising aesthetics. Everything has a place.
If you want stylish, sophisticated, and sleek designs, modern kitchen design is for you. However, a conventional home would probably be a better fit for you if you value traditional values and love straightforward, classic architecture.
Keep in mind that you are not limited to one style when designing your kitchen. You can incorporate features from both a classic and a modern kitchen into your design if you enjoy certain characteristics of both. For instance, contemporary pendant lights and stainless steel accents can give a traditional design a modern twist. The functionality of the modern kitchen, such as the pull-out pantries and soft-close drawers, can also be very effectively utilized in the traditional kitchen. On the other hand, vintage elements can give a contemporary design a cosy feel.
There is no right or wrong decision when selecting a kitchen design style. Traditional and modern design components can undoubtedly coexist in the same place as long as the overall aesthetic makes sense, is harmonious, and serves its intended function.
Read more:
11 Top Lighting Ideas For Your Kitchen
10 Kitchen Cabinet Colours That Will Refresh Your Space
Upgrade Your Kitchen with these 9 Affordable Kitchen Cabinet Hacks
With the many benefits of updating your kitchen, we encourage you to contact us to speak with our KSI kitchen experts.
We are offering free consultation for your plan and budget control. We can sit down with you to discuss your vision for your kitchen.
Whether you're looking to make the necessary updates to increase the marketability of your home, increase the functionality of the room, or create more storage space to help with organization, we can help you create the kitchen of your dreams.
The best A to Z kitchen renovation turnkey services in the Greater Montreal Area.
SHARE KSI CUISINE SOLUTIONS WITH FRIENDS