Upgrade Your Cooking Experience with a Modern Kitchen Makeover
Is your kitchen in need of a refresh? Are you tired of cooking in a space that feels outdated and uninspiring? It might be time to consider a modern kitchen makeover. In today's fast-paced world, kitchen remodels are often the number one upgrade project. Because it is one of the most active areas in people's daily lives. Today, the kitchen has transformed into the heart of the home. A place where the family gathers, friends communicate, and culinary creations come to life. Imagine how happy it is for someone who loves to cook to have a kitchen that suits his needs. For example, a well-thought-out hidden compartment, a large kitchen cabinet with multiple functions and huge storage space, or a beautiful and unique faucet, each of which is just right. All these elements will inspire people to cook more with enthusiasm. 
As people's requirements for the kitchen become more and more diversified, the design of the kitchen is also constantly innovating with the times. With the right design elements and features, you can transform your kitchen into a stylish and functional space that enhances your cooking experience. In this blog, we'll explore key elements and design trends to help you create a modern and functional kitchen that inspires creativity and elevates your cooking.
Upgrade Your Cooking Experience with a Modern Kitchen Makeover
Streamlined and minimalist design
Modern kitchens offer a higher level of customization than traditional kitchens. Homeowners can use modular cabinet systems and a range of materials, finishes, and hardware options to design a kitchen to suit their preferences and lifestyle.
The minimalist aesthetic and streamlined design of a modern kitchen are its main distinguishing features. Modern kitchens prioritize clean lines, simplicity, and functionality. Say goodbye to cluttered countertops and unnecessary decorations. Choose sleek, handleless, padded cabinets and drawers. For a uniform, seamless look, consider integrating appliances smoothly into cabinetry. Modern kitchens place great emphasis on functionality, with built-in appliances and clever storage solutions like pull-out shelves and vertical organizers. This allows for better organization of utensils, cookware, and pantry items, making it easier to find and access what you need while cooking. This makes it easy to manage the space while keeping it attractive and uncluttered.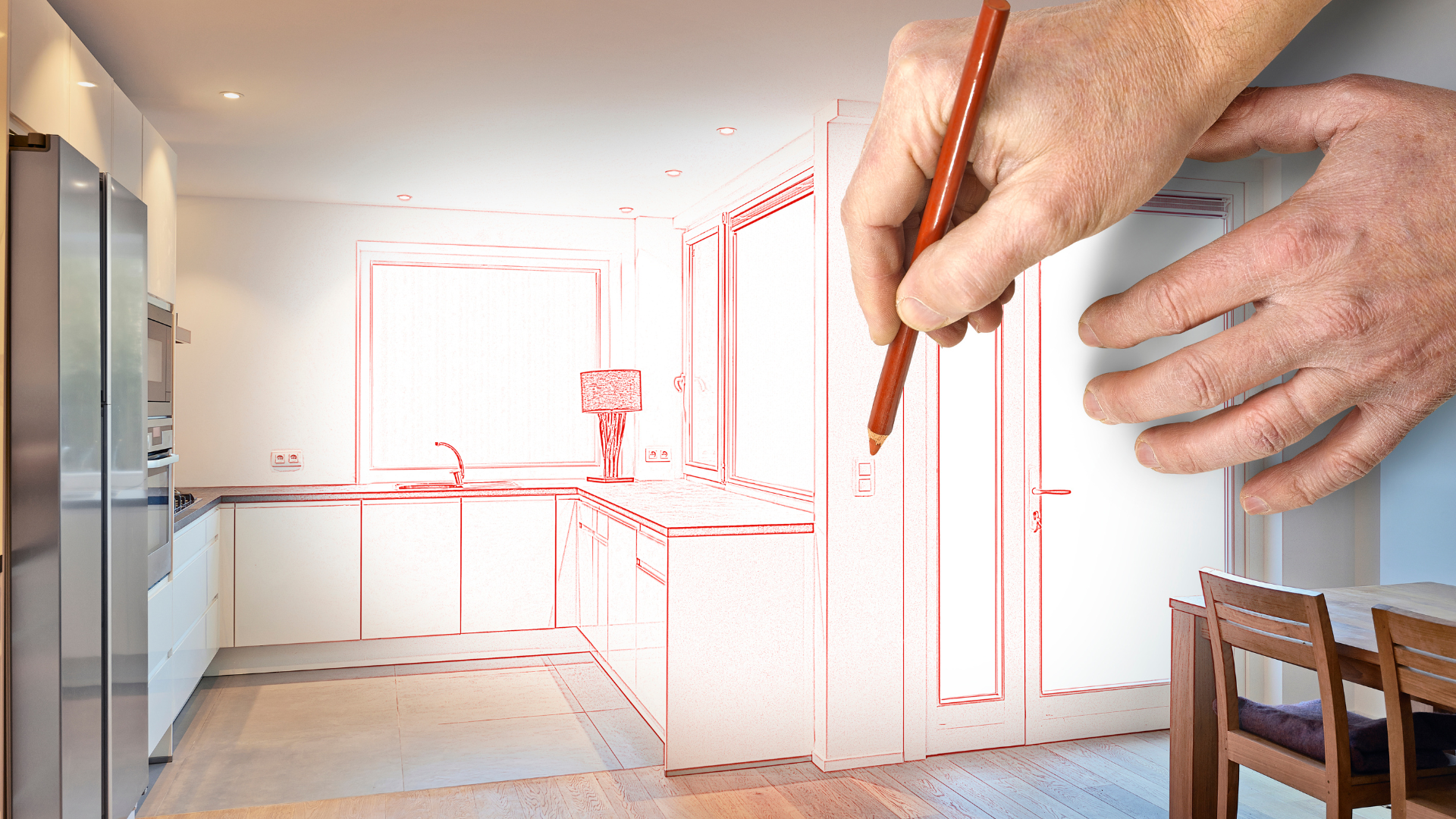 Embrace technology
To truly elevate your culinary experience, your kitchen needs to be equipped with the latest in kitchen technology. To achieve more efficient and enjoyable cooking. From smart refrigerators with touchscreens to Wi-Fi-enabled ovens and voice-controlled lighting, for example, homeowners can benefit from features like recipe recommendations, food inventory management, and integration with voice assistants. These technological advancements have increased the convenience and efficiency of the cooking and meal-planning processes. Thus turning your kitchen into an ideal culinary sanctuary. These technologies not only add fun and convenience but also achieve precise temperature control cooking, save cooking time, and improve energy efficiency.
Functional layout and ergonomics
Modern kitchen remodels prioritize the layout of core functions to optimize kitchen-related workflows for maximum efficiency. The sink, stove, and refrigerator, are known as the "kitchen work triangle." Through careful planning and a rational layout of the triangle area, unnecessary movement between different work areas can be minimized, thus saving time when cooking. However, modern designs go a step further by considering the needs of the user and incorporating ergonomic solutions. Keep kitchen essentials within easy reach with ample storage solutions like deep drawers, pull-out shelves, and organizers. Also consider installing a center island or breakfast bar, which doubles as a prep area, extra storage, and gathering space.
Integration of social spaces
Modern kitchen designs often incorporate open layouts that seamlessly integrate with adjacent living or dining areas. This integration allows for a more inclusive and social cooking experience where family members or guests can interact with the cook while still enjoying their activities. It also makes entertaining and hosting gatherings more convenient, as the kitchen becomes a central hub for socializing.
Enhanced safety features
Modern kitchens incorporate safety features that can help prevent accidents and promote a secure cooking environment. These features include built-in fire suppression systems, childproof locks on cabinets and appliances, automatic shut-off mechanisms, and improved ventilation systems to remove cooking fumes and maintain air quality.
Sleek Surfaces and High-Quality Materials
If you're after a modern aesthetic, many of the materials used in kitchen design are chosen for their durability and ease of maintenance. For example, countertops made of quartz or stainless steel are easy to clean and resistant to stains and scratches. As another example, laminates and varnishes, which are heavily used in modern kitchens, can withstand heat, moisture, and constant wear and tear. These materials are an excellent choice for every cook because of their unmistakable modern appeal and features that make cooking easier to maintain and clean.
Modern kitchens often showcase sleek and modern designs that can enhance the overall aesthetic of a home. With a wide choice of materials, colour palettes, and design styles, homeowners have the flexibility to create a kitchen that reflects their personal taste and complements the rest of the home. For example, combine a monochromatic colour scheme or use contrasting colours for visual interest. Lighter shades can create the illusion of space and lightness, while darker shades can add depth and sophistication. Also, consider incorporating eco-friendly materials like bamboo or recycled glass to promote sustainability.
Ample Lighting
Lighting significantly enhances the functionality and ambiance of a modern kitchen. A combination of ambient, task, and accent lighting will create a bright, welcoming space. Add a touch of elegance and purposeful lighting to specific tasks by hanging pendant lights over a breakfast bar or kitchen island. Food prep is made easier, and under-cabinet lights better illuminate countertops. To create a sense of light and space, make good use of windows and skylights, if possible.
Open Concept Living
Open-concept layouts are often used in modern kitchen designs, blending the kitchen smoothly with the rest of the living room. Removing walls and introducing open shelving or glass partitions can foster interaction between family members and visitors. When preparing meals, the open kitchen facilitates conversation and makes entertaining easier. Plus, it creates an aesthetically pleasing environment that makes the kitchen appear larger and more inviting.
A modern kitchen makeover has the power to transform your cooking experience and elevate your home's overall ambiance. By incorporating a streamlined design, you can create a kitchen that is both aesthetically pleasing and highly functional. From smart appliances to efficient storage solutions, every element of a modern kitchen is carefully curated to enhance your culinary pursuits and inspire your creativity. So, take the leap and give your kitchen the upgrade it deserves. Because a modern kitchen is not just a space to cook, it's a place where memories are made.
Read more:
11 Top Lighting Ideas For Your Kitchen
10 Kitchen Cabinet Colours That Will Refresh Your Space
Upgrade Your Kitchen with these 9 Affordable Kitchen Cabinet Hacks
With the many benefits of updating your kitchen, we encourage you to contact us to speak with our KSI kitchen experts.
We are offering free consultation for your plan and budget control. We can sit down with you to discuss your vision for your kitchen.
Whether you're looking to make the necessary updates to increase the marketability of your home, increase the functionality of the room, or create more storage space to help with organization, we can help you create the kitchen of your dreams.
The best A to Z kitchen renovation turnkey services in the Greater Montreal Area.
SHARE KSI CUISINE SOLUTIONS WITH FRIENDS