10 Practical Ways to Remodel Your Kitchen That You Should Not Miss
Remodelling your kitchen can breathe new life into your home, making it a more functional and enjoyable space. The kitchen is the heart of any home; it is the place where delicious meals are prepared, memories are made, and laughter is shared. Every homeowner who values ​​quality of life hopes to have a comfortable and satisfying kitchen in line with the trend of the times. Therefore, the kitchen is often the first area chosen for remodelling. A successful remodelling project can not only enhance the aesthetics and functionality of the space but also increase the value of your property.
If you're considering remodel your kitchen, you're in for an exciting journey of creativity and change. However, the process of remodeling your kitchen can be overwhelming without proper planning and guidance. In this article, we will explore ten practical ways to remodel your kitchen, helping you create a stunning culinary haven that perfectly aligns with your needs and style.
10 Practical Ways to Remodel Your Kitchen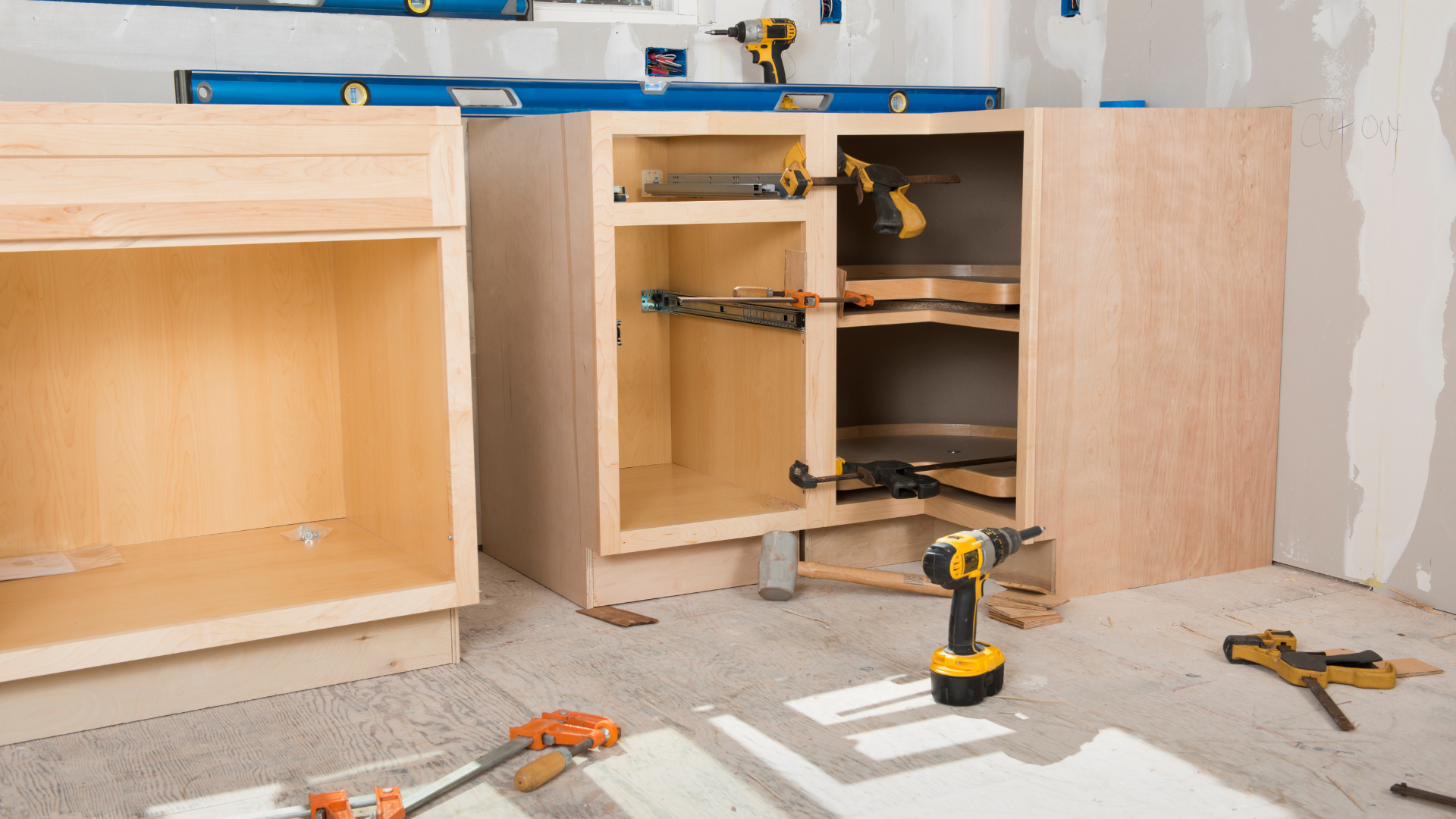 Optimize Kitchen Layout
Movement is minimized when your kitchen is structured using the work triangle, so you can access all of its essential components in the fewest number of steps possible. With minimal movement, you achieve maximum convenience. The work triangle is essentially a line that extends from the sink back towards the hob, refrigerator, and sinks. It has been the industry standard for kitchen design for the past 100 years since it maximizes functionality regardless of the size or form of your kitchen. This design idea also increases the safety of your natural kitchen workflow and provides adequate counter space between all the key equipment.
Upgrade Appliances
Remodeling your kitchen around your old appliances will not help you save money on your kitchen renovation. Older equipment looks out of place in a newly renovated kitchen and might actually detract from its appearance. In addition to being more attractive, new appliances use less energy and have a host of other features and advantages made possible by new technologies.
Remember to include minor appliances as well. Include an appliance garage in your kitchen renovation to keep your toaster, blender, and other small appliances out of sight while not in use. Clear counters enhance the appearance of your kitchen.
Embrace Smart Storage Solutions
No kitchen remodel is complete without optimizing storage space. Make the most of your available square footage by installing smart storage solutions such as pull-out pantry shelves, custom cabinets, and drawer dividers. These innovations will help you keep your kitchen organized, making it easier to find what you need when you need it.
Maximize Storage
Utilize unique storage options for your kitchen remodel, such as a pullout spice rack, to maximize kitchen space. Every space in a kitchen can be used with a custom layout. For more storage, install cabinets on the ceiling. This is an easy fix for small kitchens since it gives the appearance of a bigger room by directing your eyes upward. You can store serving ware and kitchen utensils that you don't use frequently in these tall cabinets.
Illuminate With Style
A lit kitchen is now easier than ever thanks to modern LED technology. You may add illumination within drawers, cabinets, and beneath cabinets. When something is more visible due to the light, finding it is considerably simpler. Having brighter illumination also makes cooking and cleaning easier.
Proper lighting is essential for both functionality and ambiance in kitchen remodeling. Incorporate a mix of task, ambient, and accent lighting to create a warm, inviting atmosphere in your kitchen. Pendant lights above the island or breakfast bar, under-cabinet lighting for countertop tasks, and a statement chandelier in the dining area can all contribute to a beautifully lit kitchen space.
Add a Splash of Colour
Infusing your kitchen with a fresh colour palette can breathe new life into the space. Consider popular trends like muted pastels, bold jewel tones, or timeless neutrals to create the desired mood. Whether you choose to paint the walls, and cabinets, or add colourful accessories, a splash of colour can instantly transform your kitchen's appearance.
Upgrade the Countertops
The kitchen countertops are one of the most prominent features, so choosing the right material is crucial for your kitchen remodel. Granite, quartz, marble, and butcher block are just a few popular options. Consider your lifestyle and maintenance preferences when selecting a countertop material that not only looks stunning but also meets your practical needs.
Utilize the Wall
Incorporate hooks or floating shelves with storage baskets to make the most of your wall space. As a backdrop for decorative design elements like vibrant, patterned tiles, walls can also be used.
Implement practical solutions for the awkward corner
"Blind corner" refers to the intersection of two banks of kitchen cabinets. Due to its depth, darkness, and accessibility, it is frequently wasted space. It's challenging to reach goods placed at the back unless you have particularly long arms and flexibility, even when the design includes a cabinet door.
You can make the awkward kitchen corner more functional with the help of these 10 useful design suggestions. Consider one of these choices:
Lazy Susan or Corner Pull-Out Shelves: Installing a Lazy Susan or corner pull-out shelf allows easy access to items stored in the corner. These rotating or sliding mechanisms maximize space utilization and prevent items from getting lost in the back.
Open Shelves or Floating Shelves: Consider adding open or floating shelves in the corner to create a visually appealing display for decorative items, cookbooks, or frequently used kitchenware.
Diagonal Corner Sink or Cooktop: If your kitchen layout permits, position the sink or cooktop diagonally in the corner. This arrangement not only makes the corner more accessible but also provides a unique design feature.
Corner Drawers: Utilize corner drawers with a unique diagonal or curved design that extends deep into the corner space. These provide ample storage for utensils, cutting boards, and other kitchen essentials.
Corner Breakfast Nook: Transform the corner into a cozy breakfast nook with built-in seating and a small table. It's a great way to utilize the space for casual dining or even as a workspace.
Swing-Out Corner Pantry: Consider installing a swing-out pantry system in the corner. These units utilize vertical space and provide easy access to canned goods, spices, and other pantry items.
Vertical Storage: Mount hooks, racks, or pegboards on the corner walls to hang pots, pans, and kitchen tools. This vertical storage solution keeps frequently used items within reach.
Corner Wine Rack or Bar: Create a mini wine rack or bar in the corner to store your wine bottles, glasses, and other barware. It's a great way to add functionality and style to the space.
Appliance Garage: If the corner is near the countertop and away from the main workspace, consider building an "appliance garage" to store small appliances like toasters, blenders, and coffee makers, keeping the countertops clutter-free.
Corner Lighting: Install corner-specific lighting fixtures, such as pendant lights or wall sconces, to illuminate the space effectively and make it feel inviting.
Add a Workspace
More people than ever are working from home. Consider including a desk in your kitchen remodel if you frequently use your laptop at the counter. Even if you don't work from home, having a designated workplace where you can pay bills, sign homework, or jot down a recipe is useful. Additionally, this design element can help students with their homework.
The chance to transform your kitchen into a cozy, useful room that reflects your style and improves daily life is a great one. You can create a kitchen that not only looks lovely but also serves your practical needs by using these 10 doable methods to redesign your kitchen. Each action leads to a more effective and delightful cooking experience, from improving the kitchen's layout and upgrading the appliances to embracing smart storage options and adding a splash of colour. Additionally, taking care of the uncomfortable area and adding a workspace maximizes the kitchen's utility and turns it into a convivial and people-centered center for your house.
A well-done kitchen renovation will surely make your kitchen a space that you'll enjoy and appreciate for years to come, whether you're an avid cook, a busy professional, or a family with children.
Read more:
11 Top Lighting Ideas For Your Kitchen
10 Kitchen Cabinet Colours That Will Refresh Your Space
Upgrade Your Kitchen with these 9 Affordable Kitchen Cabinet Hacks
With the many benefits of updating your kitchen, we encourage you to contact us to speak with our KSI kitchen experts.
We are offering free consultation for your plan and budget control. We can sit down with you to discuss your vision for your kitchen.
Whether you're looking to make the necessary updates to increase the marketability of your home, increase the functionality of the room, or create more storage space to help with organization, we can help you create the kitchen of your dreams.
The best A to Z kitchen renovation turnkey services in the Greater Montreal Area.
SHARE KSI CUISINE SOLUTIONS WITH FRIENDS