In today's world, where environmental consciousness is on the rise, sustainable practices have become increasingly important, even in the realm of kitchen design. Creating an eco-friendly kitchen not only helps reduce your carbon footprint but also promotes a healthier and more sustainable lifestyle. Fortunately, there are numerous methods to incorporate sustainable design into your house, especially the kitchen, so you can start doing your part to protect the environment. Whether you're renovating your kitchen or starting from scratch, here are eight sustainable kitchen design ideas to inspire you.
Look over our top 8 sustainable kitchen ideas and choose the best one for your lifestyle —we can assure you that becoming green is much simpler than you might imagine!
Top 8 Sustainable Kitchen Ideas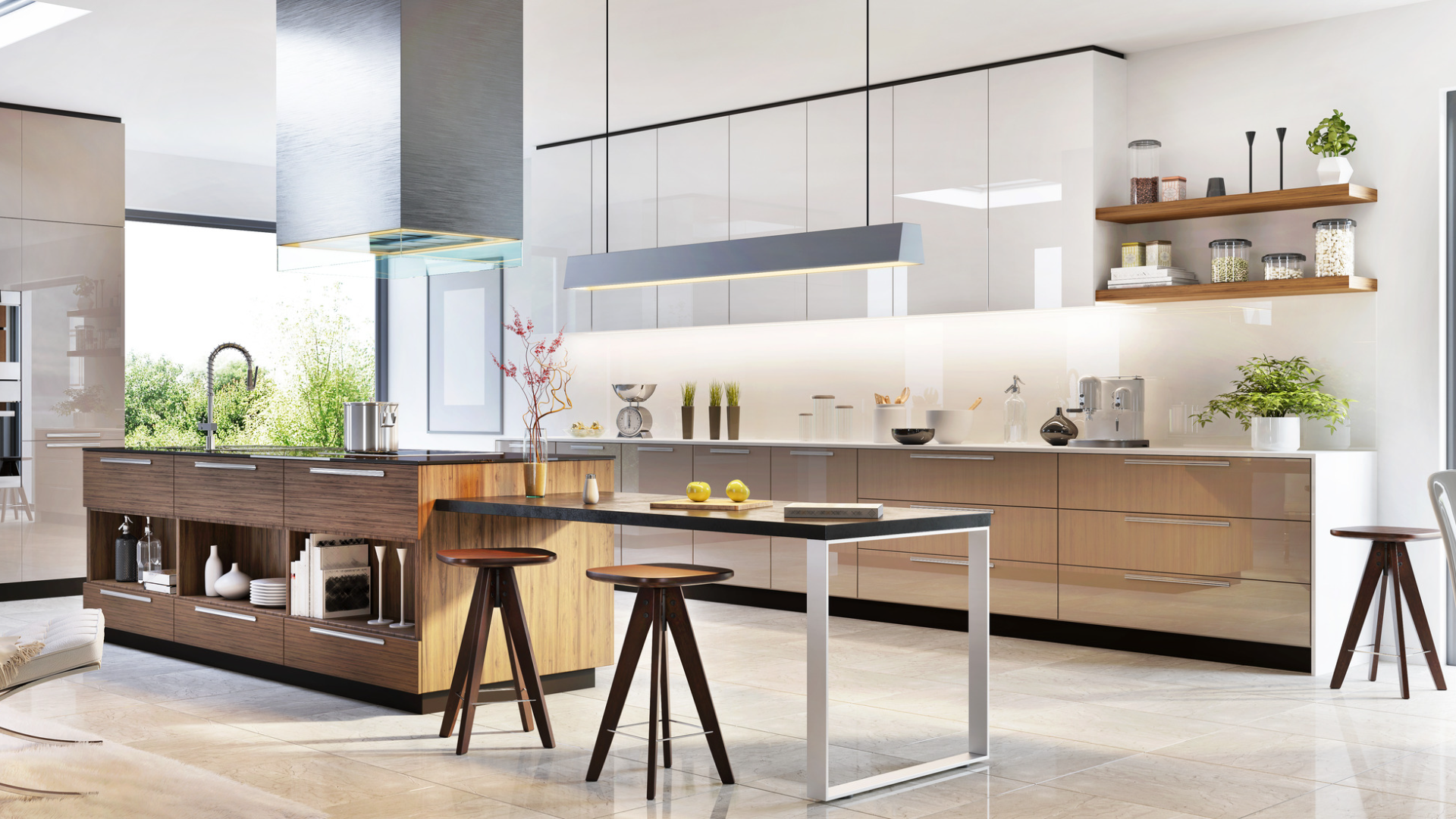 Energy-Efficient Lighting
Nowadays, a lot of homes use energy-efficient lighting, so if you haven't started yet, it's a good time to think about it. When considering lighting for your kitchen, they are an important element for a sustainable kitchen, because they not only save your electricity expenses but also emit significantly less CO2 and greenhouse pollutants.
For example, consider LED lights, which use far less energy and last longer than traditional incandescent bulbs. LED lights emit less heat, keeping your kitchen cooler while reducing the load on your air conditioning system, and saving energy. Another example is installing a motion sensor or a dimmer switch, which will automatically turn off the lights when the kitchen is empty or adjust the brightness according to your needs, thereby further optimizing energy use.
Smart Appliances
The energy efficiency of your sustainable kitchen can be greatly increased by making an investment in smart appliances. An increasing number of contemporary kitchens come with a variety of energy-efficient appliances. Look for appliances with energy-efficient certifications like Energy Star, which demonstrate that they satisfy high energy-efficiency criteria when buying smart refrigerators, dishwashers, and ovens because they are designed to consume less electricity. Additionally, many smart appliances allow users to program them to operate when there is less demand for electricity during off-peak hours, helping to create a more sustainable energy network. These will benefit the environment because your energy usage will be significantly lowered while also lowering your costs and saving you a significant amount of money.
Water Conservation
Water use in the sustainable kitchen is a necessary, ongoing, and regular activity. Everyday activities including drinking water, washing produce, preparing coffee, and cooking pasta are frequently used. It is unimaginable to us.
Today, sustainable kitchen design includes water conservation as a key component. Install low-flow faucets and aerators, for instance, to cut down on water waste while always maintaining optimal water pressure. Or perhaps we can alter a few everyday water usage behaviors. For instance, to use as little water as possible, think about purchasing a dishwasher that is water-efficient and running it continuously at maximum capacity. Create a composting system from kitchen scraps to help minimize food waste and supply nutrient-rich compost for your garden.
Sustainable Materials
By definition, sustainable materials are those that benefit the environment over the course of their useful lives. It also covers how they are installed, where they come from, and how they are disposed of. Generally speaking, woods like oak, bamboo, and timber are excellent natural resources that, when properly managed, provide the ideal sustainable material. We have seen a clear rise in the demand for environmentally friendly materials in kitchen design.
If you aren't seeking to replace your fittings, there are tiny things that you can modify that can have a good impact on the environment. Eco-friendly materials extend beyond our kitchen worktops and cupboards. Here are a few straightforward suggestions that you may implement right away:
We're prepared to wager that most houses use a lot of foil and cling film, which is not a smart idea because it can only be used once and is harmful to the environment. Fortunately, there are several much more ecological options available, such as some reusable beeswax wraps. 
Wooden Bowls – Since we already use them for salads, why not use them for other things as well? Wood is a terrific sustainable resource, as previously noted, thus switching to bowls made of a more natural material is a great idea since our regular bowls tend to crack and wear out with time.
Washable dishcloths – We use dishcloths, let them get soiled, and then discard them. A fantastic method to lessen our carbon footprint is to adopt a different perspective and make investments in items that aren't as readily thrown away. Why not consider purchasing some high-quality dishcloths that are produced from renewable materials and can be used repeatedly? They are easily accessible and can be used and washed repeatedly.
Proper Insulation
Proper insulation is critical to maintaining a sustainable kitchen. High-quality insulation will ensure that your kitchen is well insulated, minimizing heat loss even in the colder months, thereby minimizing stress on your heating system. On the flip side, good insulation also keeps your kitchen cool on hot summer days, reducing the need for air conditioning. For example, we can insulate and upgrade doors, windows, and walls to create a comfortable and sustainable environment.
Efficient Ventilation
In order to maintain a clean and healthy environment, a kitchen ventilation system is crucial. Adequate ventilation is required to ensure the combustion process is complete and to break down dangerous chemicals emitted by appliances, such as carbon monoxide. To eliminate cooking odors, air pollutants, and smoke, you need to install a range hood or exhaust fan. Choosing a model with a variable speed setting allows us to change the ventilation state according to your needs. Good ventilation prevents excessive moisture build-up, while also reducing the risk of mold growth and improving indoor air quality. Create a good and healthy living space for you and your loved ones.
Recycling and Waste Management
You may significantly lessen your impact on the environment while giving your kitchen a sleek, modern appearance by substituting plastic with other materials. It's recommended to consider every option to stop using plastic since it poses a serious threat to the ecosystem. The number of plastic utensils, storage items, and accessories you can see in your kitchen may have completely surpassed your expectations.
Take a look at some substitutions you may start using to reduce the consumption of these goods and make your kitchen as environmentally friendly as possible:
Glass storage jars are always an excellent option for plastic because glass is completely recyclable and uses fewer resources. When filled with pasta, cookies, or herbs, these glass jars would look fantastic on wooden shelves or countertops.
Due to its great durability and environmentally beneficial characteristics, stainless steel is starting to play a significant part in sustainable design.
As more people strive for a sleek, contemporary aesthetic, white, modern kitchens with glass or wood over plastic are becoming more and more popular because they enable people to achieve their desired look and make a room that is much more sustainable.
Natural Lighting and Greenery
Moving on to more ornamental ideas, adding plants to your kitchen can fulfill landscaping design goals as well as give the room a more eco-friendly and sustainable appearance. Plants not only help clean the air in and around your home, but they also aid in lowering pollutants.
Additionally, as plants naturally purify the air, they can enhance indoor air quality while also bringing some natural components into your kitchen. Succulents, herbs, or small potted plants are low-maintenance plants that thrive in the kitchen setting. You may even cultivate your own plants, such as basil or min, to help the environment and maintain their organic nature while also giving Various recipes that offer ingredients from sustainable sources. They not only improve the environment's health but also enhance the appearance of your kitchen.
Your kitchen's use of sustainable kitchen design principles can increase its energy efficiency and environmental protection. There are various ways to design a sustainable kitchen, from water-saving equipment and lighting to smart gadgets and sustainable materials. By putting these sustainable kitchen suggestions into practice, you may improve the environment while also providing yourself and your family with a healthier, more functional kitchen.
Remember that implementing sustainable kitchen practices completely does not have to happen immediately. Choose one or two items from the list to start, then progressively add more. Small adjustments can make a significant difference. Starting in our kitchens, we can work together to make the globe more eco-friendly and productive.
Read more:
11 Top Lighting Ideas For Your Kitchen
10 Kitchen Cabinet Colours That Will Refresh Your Space
Upgrade Your Kitchen with these 9 Affordable Kitchen Cabinet Hacks
With the many benefits of updating your kitchen, we encourage you to contact us to speak with our KSI kitchen experts.
We are offering free consultation for your plan and budget control. We can sit down with you to discuss your vision for your kitchen.
Whether you're looking to make the necessary updates to increase the marketability of your home, increase the functionality of the room, or create more storage space to help with organization, we can help you create the kitchen of your dreams.
The best A to Z kitchen renovation turnkey services in the Greater Montreal Area.
SHARE KSI CUISINE SOLUTIONS WITH FRIENDS