Designing A Kitchen: A Step-by-Step Guide to Plan Your Dream Kitchen Design
The kitchen is the heart of any home, where delicious meals are prepared, conversations are shared, and memories are created. Designing a kitchen that suits your needs and reflects your personal style is an exciting endeavor. However, without proper planning and guidance, the process can quickly become overwhelming. This comprehensive kitchen design guide will take you through the essential steps to help you create your dream kitchen, from initial inspiration to the final touches. Whether you're renovating an existing kitchen or starting from scratch, this kitchen design guide will provide you with the knowledge and tools to make informed decisions and ensure a functional and visually appealing kitchen design.
Designing A Kitchen: A Step-by-Step Guide to Plan Your Dream Kitchen Design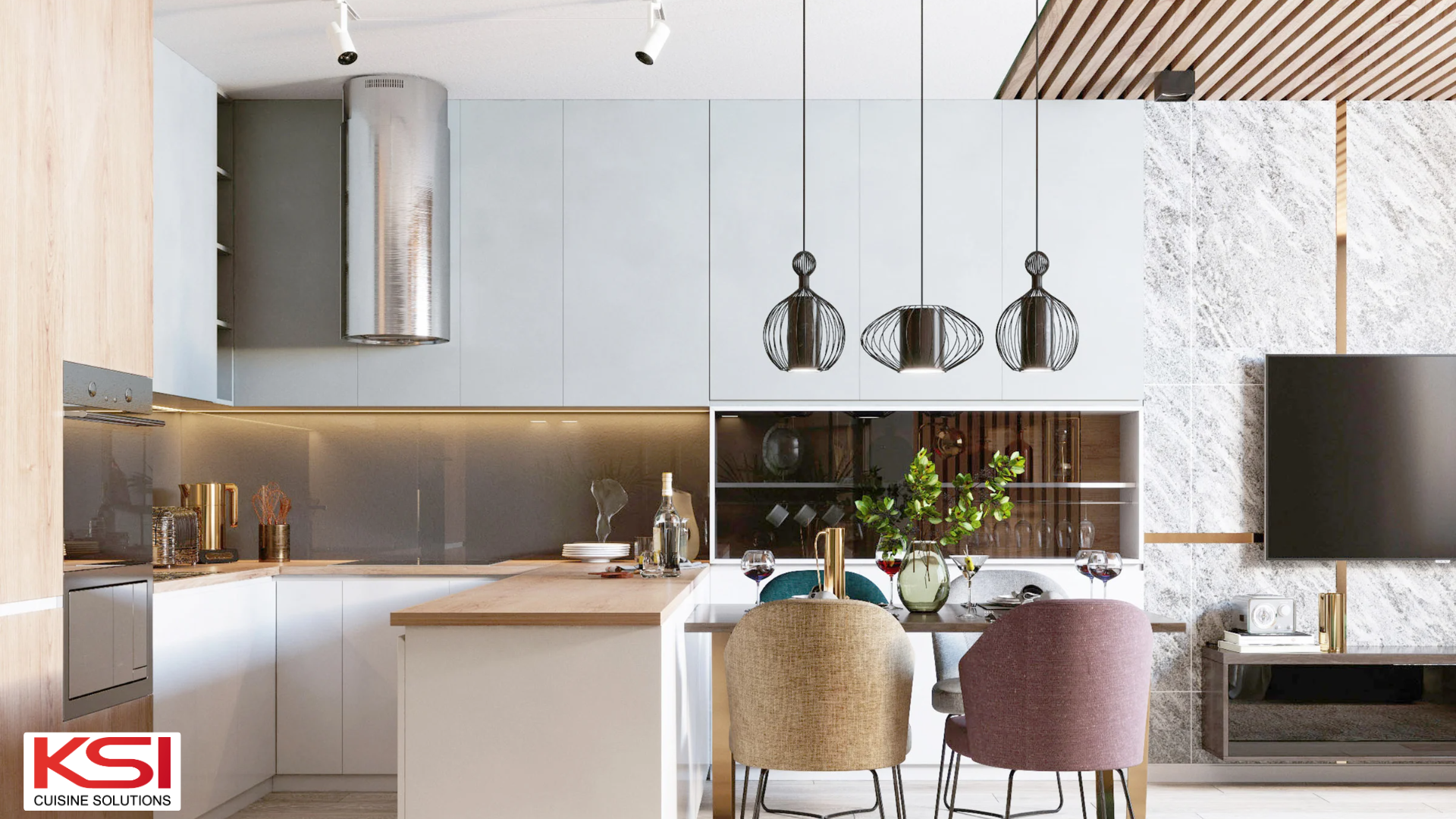 Dream Kitchen Design Step 1: Define Your Vision and Goals 
The first step in designing your dream kitchen is to define your vision and goals. Take some time to think about how you envision your ideal kitchen. Consider your lifestyle, cooking habits, and the overall atmosphere you want to create.
Are you looking for a sleek and modern design or a cozy and rustic feel? Write down your goals and create a vision board or Pinterest board to gather inspiration and ideas.
Dream Kitchen Design Step 2: Assess Your Space and Set a Budget 
Dream kitchen design step 2, assess your existing kitchen space or plan the layout for new construction. Take accurate measurements of the room, noting the location of windows, doors, electrical outlets, and plumbing connections. Consider the workflow and functionality of your kitchen, ensuring that the design allows for efficient movement and easy access to appliances and storage.
Simultaneously, establish a realistic budget for your kitchen project. This will help you prioritize your spending and make informed decisions about materials, appliances, and finishes.
Dream Kitchen Design Step 3: Plan the Layout
The layout of your kitchen plays a crucial role in its functionality. There are several popular kitchen layouts to consider, such as the U-shaped, L-shaped, galley, or island layout. Each layout offers unique advantages, and the choice will depend on your space constraints and preferences.
When planning the layout, focus on creating distinct work zones for preparation, cooking, and cleanup. The kitchen work triangle, formed by the refrigerator, sink, and cooktop, should be well-balanced and allow for smooth movement between these areas. Consider the placement of cabinets, countertops, and appliances to optimize workflow and storage.
Dream Kitchen Design Step 4: Select Materials, Appliances, and Fixtures 
Selecting the right materials, appliances, and fixtures is crucial for both the functionality and aesthetics of your kitchen. Choose durable and easy-to-maintain materials for countertops, backsplashes, flooring, and cabinetry that also align with your design vision.
When it comes to appliances, consider your cooking style, energy efficiency, and available space. Look for appliances that offer the features and capacity you need while fitting seamlessly into the overall design. Similarly, pay attention to the selection of fixtures, such as faucets, sinks, and lighting. These details can significantly enhance the functionality and visual appeal of your kitchen.
Dream Kitchen Design Step 5: Create a Lighting Plan 
Proper lighting is essential in a kitchen to ensure a safe and pleasant cooking experience. Create a lighting plan that combines ambient, task, and accent lighting to meet your specific needs. Consider installing overhead lighting fixtures, under-cabinet lighting for task areas, and decorative lighting to add ambiance. Optimize natural light by maximizing window placement and using light-filtering window treatments.
Dream Kitchen Design Step 6: Add Storage Solutions 
An efficient and well-organized kitchen requires ample storage space. Consider the types of items you need to store and plan for a combination of cabinets, drawers, and pantry solutions. Incorporate innovative storage solutions such as pull-out shelves, lazy Susans, and vertical dividers to maximize every inch of available space. Utilize the kitchen island or a separate pantry area if needed.
Dream Kitchen Design Step 7: Consider the Finishing Touches 
The finishing touches of your kitchen design can truly elevate its overall look and feel. Consider the color scheme, textures, and decorative elements that will bring your vision to life. Choose a color palette that complements the style of your kitchen, whether it's bold and vibrant or subtle and neutral. Add personal touches through decorative backsplashes, unique hardware, and stylish window treatments. Don't forget about the flooring, as it can significantly impact the overall aesthetic of the space.
Dream Kitchen Design Step 8: Seek Professional Help 
Designing a kitchen can be a complex task, and seeking professional help can ensure that you make the most of your space and budget. Consider consulting with an interior designer or kitchen specialist who can provide expert advice and assist you in creating a functional and beautiful kitchen design. They have the knowledge and experience to guide you through the process, offer creative solutions, and help you navigate any challenges that may arise.
Dream Kitchen Design Step 9: Review and Revise 
Once you have completed the initial planning stages and have a detailed design for your dream kitchen, it's important to review and revise your plans. Take a step back and carefully examine your design from various angles. Consider the functionality, flow, and overall aesthetic appeal. Look for any potential challenges or areas that may need adjustment.
During this stage, it can be helpful to seek input from family members or friends who can provide fresh perspectives. Their insights might highlight aspects you may have overlooked or offer valuable suggestions. Take their feedback into consideration and make any necessary revisions to your kitchen design guide.
Remember that designing a kitchen is an iterative process, and it's not uncommon to make changes along the way. By thoroughly reviewing and revising your plans, you can ensure that the final result aligns with your vision and meets your practical needs.
Designing your dream kitchen requires careful planning and consideration of various factors. By following this step-by-step dream kitchen design guide, you can create a space that not only meets your functional needs but also reflects your personal style and enhances your overall home. Remember to define your vision, assess your space, plan the layout, select materials and fixtures wisely, create a lighting plan, incorporate storage solutions, and add the perfect finishing touches.
Don't hesitate to seek professional assistance to ensure the best possible outcome. With careful planning and attention to detail, you can bring your dream kitchen to life and enjoy a space that is both practical and visually stunning for years to come.
Read more:
10 Kitchen Cabinet Colours That Will Refresh Your Space
Upgrade Your Kitchen with these 9 Affordable Kitchen Cabinet Hacks
With the many benefits of updating your kitchen, we encourage you to contact us to speak with our KSI kitchen experts.
We are offering free consultation for your plan and budget control. We can sit down with you to discuss your vision for your kitchen.
Whether you're looking to make the necessary updates to increase the marketability of your home, increase the functionality of the room, or create more storage space to help with organization, we can help you create the kitchen of your dreams.
The best A to Z kitchen renovation turnkey services in the Greater Montreal Area.
SHARE KSI CUISINE SOLUTIONS WITH FRIENDS