Finding a plan for organizing your kitchen that works for you doesn't have to be complicated, and you probably don't need anything fancy or professionally designed. A kitchen can be made to appear larger, even though it might at first appear quite small. However, that doesn't mean you should completely disregard kitchen cabinet storage if you want to maximize your kitchen cabinet storage and efficiency in a small space. Even though there may not be such a thing as a perfectly organized kitchen. Some smart kitchen cabinet storage alternatives can free up pantries, cabinets, and other small spaces, help you save time during mealtimes, and most importantly, improve the vibe of your home. In this article, we will look at a few space-saving accessories that are smart and can help you maximize the space in your kitchen cabinets.
Maximizing Your Kitchen Cabinet Storage with These Five Smart Accessories
Pull-Out Shelves and Drawers
A pull-out drawer organizer can add functionality to a kitchen cabinet that is a little awkward—possibly it is short or deep—revealing neatly stacked cookware. You won't ever need to crouch down inside the cabinet to grab a pot from the back or navigate a noisy avalanche while searching for a misplaced pot lid.
By utilizing the entire depth of the cabinet, pull-out shelves and drawers can make it simpler to reach items kept at the back. These accessories can be installed in both upper and lower cabinets, making it possible to store everything from pots and pans to spices and canned goods in an organized manner. Because they improve visibility and accessibility while lowering the possibility of lost or forgotten items, pull-out shelves and drawers are one of the simplest ways to add more kitchen cabinet storage to your kitchen.
Door-Mounted Organizers
Utilizing every square inch of space, including cabinet doors, is the name of the game when it comes to kitchen organization. Kitchen cabinet storage solutions for items you use frequently, such as cutting boards and plastic bags, include door-mounted racks and baskets. If there isn't room for a separate spice drawer, this smart accessory is ideal for kitchen cabinet storage. Nothing is more satisfying than this rack for all your pot and pan lids if you have deep cabinets.
Cabinet doors' interiors are frequently underutilized. You can make use of this area and add more storage options by attaching door-mounted organizers. For example, door-mounted spice racks can be installed to free up valuable shelf space, and door-mounted bins or baskets can store kitchenware or cleaning supplies. These door-mounted organizers can help keep frequently used items close at hand while maximizing kitchen cabinet storage space. They are also simple to install.
Adjustable Shelving Systems
Organizing inside the lines of shelving is the first error people make when using cabinets. Most shelves are adjustable. Additionally, you ought to adjust the shelves to better match the height of your items. Hanging racks and tiered stands can turn a single shelf into two or three if there is still a lot of empty space on each one. Because they keep related items together and prevent endless stacking, these dividers are excellent for cabinets that contain dishes and bowls of various sizes when you need to maximize your kitchen cabinet storage.
Adjustable shelving systems can not only provide flexibility and adaptability to accommodate items of varying heights but also allow you to customize the space according to your specific requirements. Kitchen items range in size and shape, from small appliances to tall bottles. By utilizing adjustable shelves, you can easily change the height of each shelf to accommodate items of various heights. Thus, you can make the best use possible of the vertical space inside your cabinets and cut down on waste in your kitchen cabinet storage space.
Stackable Containers and Baskets
When it comes to organizing snacks, small kitchen appliances, and dry goods, stackable containers and baskets are the best options to maximize your kitchen cabinet storage. You can not only make the most of your cabinets' vertical space by using these space-saving options but also make the most of your cabinet's height by stacking containers or using modular baskets to prevent empty space. Transparent containers or labels can help with quick item identification, improving the efficiency and organization of your kitchen. These large capacity bins are excellent for setting up a spotless and organized kitchen cabinet or pantry.
Stackable containers and baskets also provide convenient access to your stored items. With their stackable design, you can easily access items from the top or remove a specific container without disturbing others. This makes it effortless to retrieve ingredients, snacks, or kitchen tools whenever you need them. Moreover, stackable containers and baskets are versatile beyond kitchen cabinets. They can be used in pantry shelving, refrigerator storage, or even other areas of your home for organization purposes.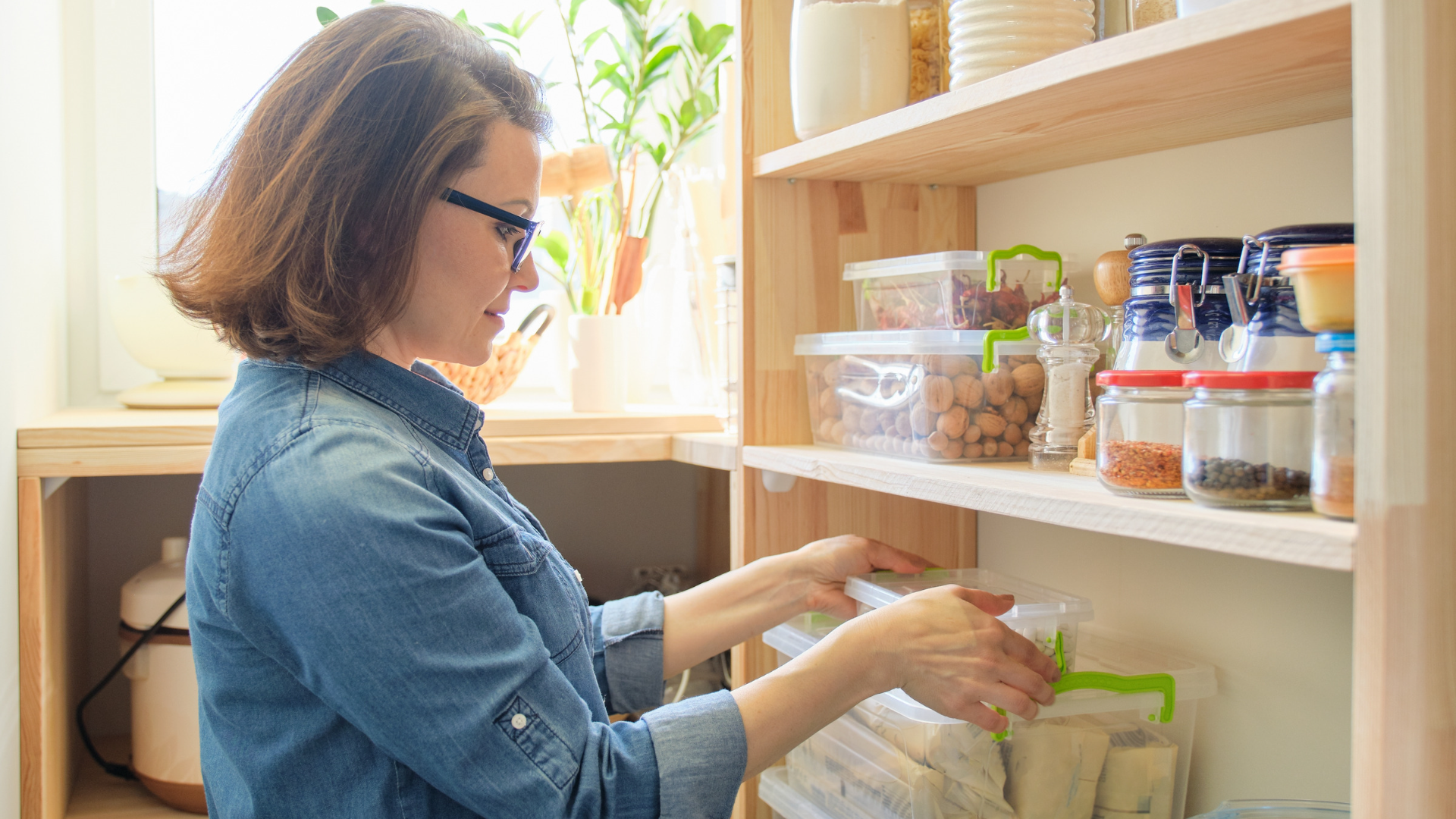 Under-Shelf Racks and Dividers
The uses for under-shelf racks and dividers to maximize your kitchen cabinet storage are practically endless! The vertical space between shelves is frequently overlooked, which is ideal for using under-shelf racks and dividers. By simply screwing these accessories to the underside of a shelf, more kitchen cabinet storage options are made available. While dividers can keep cutting boards, baking sheets, and trays neatly organized, under-shelf racks are ideal for hanging cups, mugs, or even utensils. You can also make more room for other items on the main shelves by making effective use of the vertical space.
These accessories are user-friendly and easy to install. Most under-shelf racks and dividers feature adjustable hooks, clamps, or brackets that can be easily attached to the underside of a shelf in the cabinets. They require no tools and can be repositioned or removed as needed. This adjustability allows you to customize the height or position of the rack or divider to accommodate items of varying sizes.
No matter how big or small your kitchen is, maintaining organization doesn't have to be difficult. Take a look at some smart accessory solutions above and find your own ways to maximize kitchen cabinet storage space. They're all simple to do, and, best of all, most only cost a few dollars. Consider whether items you have multiples of should be kept, and if a seventh spatula seems like one too many, donate the others. Remember that you don't have to organize your entire kitchen at once if the thought of doing so makes you feel overwhelmed. Beginning with one cluttered cupboard, work your way through the others one at a time.
Read more:
11 Top Lighting Ideas For Your Kitchen
10 Kitchen Cabinet Colours That Will Refresh Your Space
Upgrade Your Kitchen with these 9 Affordable Kitchen Cabinet Hacks
With the many benefits of updating your kitchen, we encourage you to contact us to speak with our KSI kitchen experts.
We are offering free consultation for your plan and budget control. We can sit down with you to discuss your vision for your kitchen.
Whether you're looking to make the necessary updates to increase the marketability of your home, increase the functionality of the room, or create more storage space to help with organization, we can help you create the kitchen of your dreams.
The best A to Z kitchen renovation turnkey services in the Greater Montreal Area.
SHARE KSI CUISINE SOLUTIONS WITH FRIENDS