The Pros and Cons of Open Shelving in Your Kitchen Cabinets
​​Even though the open kitchen shelving trend in kitchens has been around for a while, it doesn't appear to be slowing down. Open kitchen shelving has become very popular among homeowners. Even though it's not a style that appeals to everyone, it could be a wonderful choice if you want to give your room a fresh, contemporary feel.
While kitchen open shelves have become so popular, they are also a topic of debate among homeowners and interior designers. Compared to a kitchen with wall-to-wall cabinets, open kitchen shelves allow your kitchen to display more personality. The display of everything from plants to bowls to cookbooks to mugs adds colour and texture to the room. However, you may skip open kitchen shelving if you are constantly attempting to control a large mess at home. The pros and cons of open kitchen shelving can be somewhat contentious when it comes to functionality. It can be highly beneficial if you are a dedicated cook to keep your regular tools, materials, and serving utensils close at hand. While there are various possible issues with open kitchen shelves that should absolutely be taken into account, let's take a look at the pros and cons of adopting open kitchen shelving and see if it's the right choice for you.
The Pros and Cons of Open Kitchen Shelving:
Pros of Open Kitchen Shelving
Stylish
The open kitchen shelves' stylish design and ability to be dressed for the seasons is one advantage. You will enjoy the variety of functional items, attractive cookbooks, and home décor. By displaying your colorful plates, stylish glassware, and attractive cookbooks, you can personalize your space and create a captivating focal point.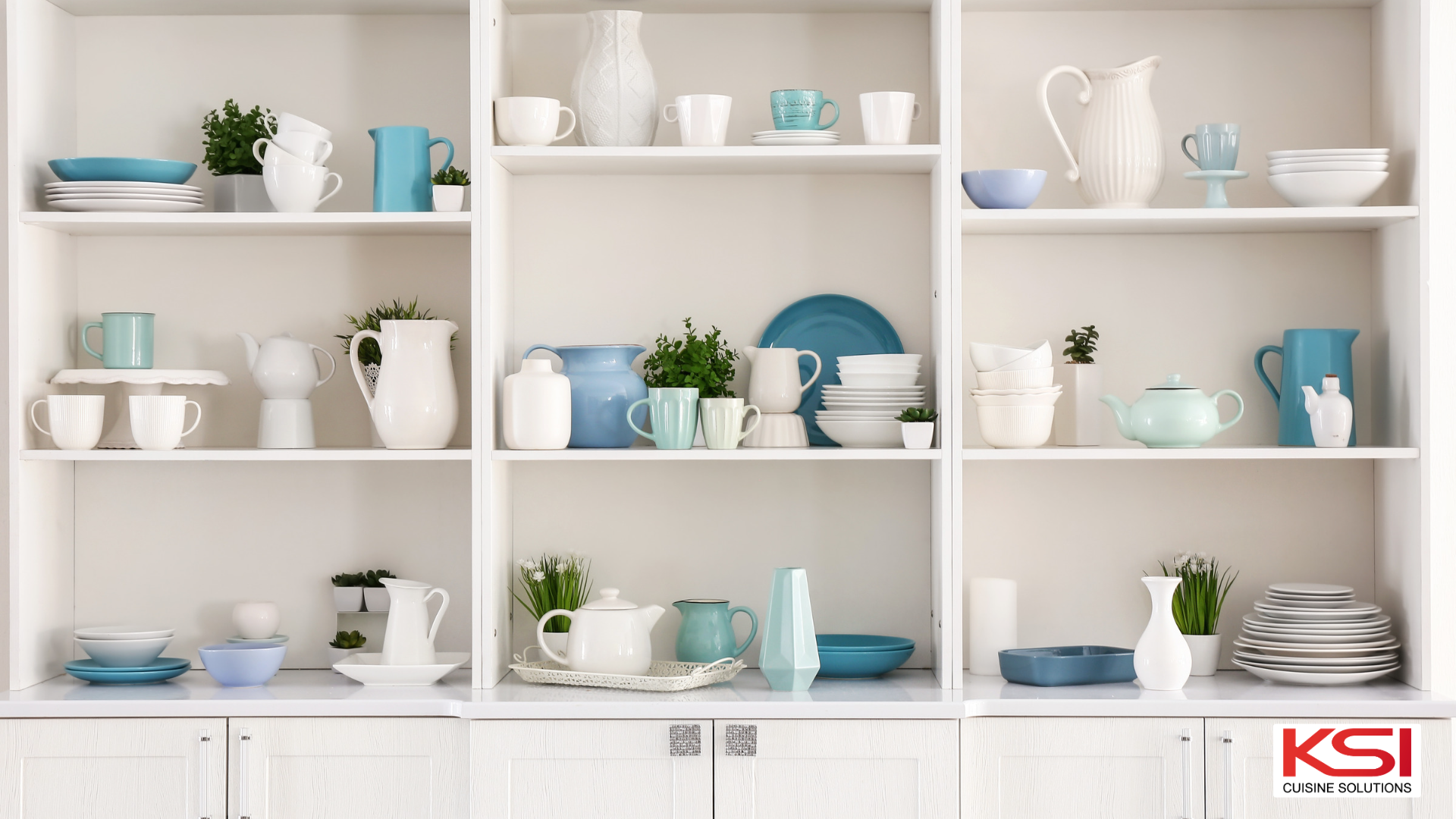 Easy Access and Convenience
You will have quick access to all your kitchen essentials, including glasses, dishes, and cookware, thanks to kitchen open shelves. Your home life will be on display, making guests feel at home, and no one will need to ask where the glasses are. Furthermore, not having to worry about opening and closing cabinet doors makes loading the dishwasher a little easier. However, it goes without saying that your dishes should complement the design of your room since they are now on display. You'll need to keep things simple and well-organized. Nobody enjoys having their clutter on display for everyone to see!
You could also use this as an opportunity to clean up your kitchen and get rid of all the dishes and kitchenware you've been meaning to donate but have been keeping hidden in the back of the cabinets.
Aesthetic
By eliminating cabinet doors, kitchen open shelves can make a small kitchen appear more spacious and airier. Additionally, you can use the wall behind as a design element, whether it be with a striking paint color, a gorgeous backsplash, or natural wood. The kitchen open shelves themselves come in a variety of styles, from ultramodern and sleek to rustic and unfinished, so you can design your kitchen around your storage needs. Have some lovely vases, pitchers, or serving ware to show off? Even if you don't use these items frequently, kitchen open shelves are a great way to give them regular aesthetic use.
Cost
Kitchen open shelves can be a more cost-effective option compared to traditional cabinets. Instead of investing in expensive cabinet doors and hardware, you can allocate your budget toward high-quality shelving materials and attractive decorative items. Additionally, open kitchen shelving installation is often simpler and requires less time and labor.
For those who adore the style but aren't ready to fully commit, choosing built-in kitchen open shelves flanked by closed cabinets is a great compromise. Using glass cabinet doors is another fantastic solution for people who want to put their items on display but are leery of the open concept. While preventing dust accumulation, this look can still give your kitchen the open, airy feeling of kitchen open shelves.
Showcasing Unique Collections
If you have a collection of vintage china, colorful pottery, or unique cookware, open shelving provides the perfect opportunity to put it on display. Rather than hiding these items away, you can create a curated gallery-like arrangement, showcasing your unique taste and personality.
Cons of Open Kitchen Shelving
Maintenance and Cleaning
Kitchen open shelves require consistent upkeep to maintain their aesthetic appeal. Without cabinet doors, your kitchenware is exposed to dust, grease, and cooking residue. Regular cleaning becomes essential to keep your items looking their best. Additionally, arranging items in an aesthetically pleasing manner can be time-consuming.
Cluttered Appearance
While kitchen open shelves offer an opportunity to display your kitchenware, they can also create a cluttered look if not organized properly. Ensuring that each item has its designated place and keeping the shelves tidy can be a challenge. If you prefer a streamlined and minimalist kitchen aesthetic, open shelving may not be the ideal choice.
Limited Storage and Privacy
Unlike closed cabinets that provide ample storage space and conceal clutter, kitchen open shelves have limited capacity. They are best suited for showcasing a select few items rather than storing an entire kitchen inventory. Additionally, kitchen open shelves lack privacy, making it challenging to hide less attractive or mismatched dishes.
Susceptibility to Damage
Without the protection of cabinet doors, items displayed on open shelves are more susceptible to accidental damage. Everyday cooking activities, such as chopping ingredients or reaching for a nearby item, can result in accidental bumps or breakages. This risk is particularly significant if you have small children or pets in the house.
Regular Organizing and Styling
Kitchen open shelves require regular organizing and styling to maintain an attractive appearance. Rearranging items and keeping the shelves visually appealing can become time-consuming. Shelves can appear crowded and cluttered if you're not careful. To prevent this, it's best to develop a theme for the items you display and keep in mind the adage "less is more". After that, carefully arrange each item on the shelf so that it complements rather than detracts from the overall design theme you want to achieve.
More power over you if you remain steadfastly committed to the concept of kitchen open shelves. They can showcase a minimalist and rustic lifestyle, communicate modern sophistication with clean lines, and give a small kitchen an airy, open feel but it might not be for everyone. Kitchen open shelves need routine maintenance, they can look cluttered if not organized properly and they have a small amount of storage space. 
You can ultimately decide whether open kitchen shelving fits your needs and aesthetic goals by weighing the pros and cons mentioned in this blog. Remember, there is no perfect solution, so you can also think about combining kitchen open shelves with closed cabinets to balance the functionality and aesthetics in your kitchen. By carefully considering your requirements and preferences, you can design a kitchen that reflects your unique style and meets your functional needs.
Read more:
10 Kitchen Cabinet Colours That Will Refresh Your Space
Upgrade Your Kitchen with these 9 Affordable Kitchen Cabinet Hacks
With the many benefits of updating your kitchen, we encourage you to contact us to speak with our KSI kitchen experts.
We are offering free consultation for your plan and budget control. We can sit down with you to discuss your vision for your kitchen.
Whether you're looking to make the necessary updates to increase the marketability of your home, increase the functionality of the room, or create more storage space to help with organization, we can help you create the kitchen of your dreams.
The best A to Z kitchen renovation turnkey services in the Greater Montreal Area.
SHARE KSI CUISINE SOLUTIONS WITH FRIENDS