Kitchen cabinets are a crucial element of any kitchen design, and with new trends emerging every year, it can be difficult to keep up. Whether you're planning a full kitchen renovation or simply looking to update your cabinets, staying informed about the latest kitchen trends can help you create a kitchen that is both stylish and functional. In 2023, homeowners will be seeking innovative and eco-friendly ways to upgrade their kitchen spaces. From bold colors to sustainable materials, here are some of the kitchen cabinet trends you won't want to miss this year.
Kitchen Cabinet Trends 2023
Bold Colors
In 2023, bold and striking colors will make a statement in kitchen design. From deep greens to vivid blues, homeowners are using color to add a pop of personality to their kitchen spaces. Painted cabinets in vibrant hues can add a fun and playful touch to your kitchen while remaining sophisticated and stylish. Additionally, with the trend toward open-plan living, the kitchen is becoming an increasingly important space for socializing and entertaining. Bold colors can help to create a warm and inviting atmosphere in the heart of your home.
Mixed Materials
Another kitchen cabinet trend for 2023 is the use of mixed materials. This refers to the combination of different materials, such as wood, metal, and glass, within the same kitchen. The idea is to create a unique, eclectic look that sets the kitchen apart. This trend can be seen in kitchens with a mix of wooden cabinets, metal accents, and glass-front cabinets, which not only add texture but also allow homeowners to display their favorite dishes and glassware.
Sustainable Materials
Sustainability is becoming increasingly important in all aspects of home design, and kitchen cabinets are no exception. In 2023, eco-friendly materials such as bamboo, cork, and recycled plastic are becoming popular choices for kitchen cabinets. These materials are not only environmentally friendly, but they are also durable and long-lasting. Bamboo, for example, is a rapidly renewable resource that is also moisture-resistant and insect-resistant. Cork is another sustainable option that is both eco-friendly and practical, with a unique texture that adds visual interest to your kitchen.
Textured Finishes
Textured is a big kitchen cabinet trend for 2023. We're seeing a rise in the use of textured finishes, such as a matte finish or a hand-scraped finish, to add depth and dimension to kitchen cabinets. This trend is especially popular in farmhouse-style kitchens, where the textured finishes provide a rustic, lived-in feel. Textured finishes also work well in contemporary kitchens, where they add an element of interest and help to break up the clean lines and sharp angles.
Open Shelving
Open shelving is a trend that has been around for a while, but it continues to gain popularity in 2023. Open shelving allows homeowners to display their favorite dishes, glassware, and decor items, while also adding a touch of personality to the kitchen. This trend works particularly well in small kitchens, where open shelving can help to create the illusion of more space. Open shelving can also be incorporated into a variety of kitchen styles, including farmhouse, contemporary, and modern kitchens.
Minimalist Designs
Minimalism is a popular design trend that has taken over in recent years, and it shows no signs of slowing down. Sleek and simple kitchen cabinet designs are becoming increasingly popular, with clean lines and hidden hardware offering a modern and understated look. This minimalist aesthetic is perfect for those who want to create a calm and clutter-free kitchen. Furthermore, minimalist cabinets often feature innovative storage solutions, such as pull-out pantries and built-in organizers, that maximize the use of space.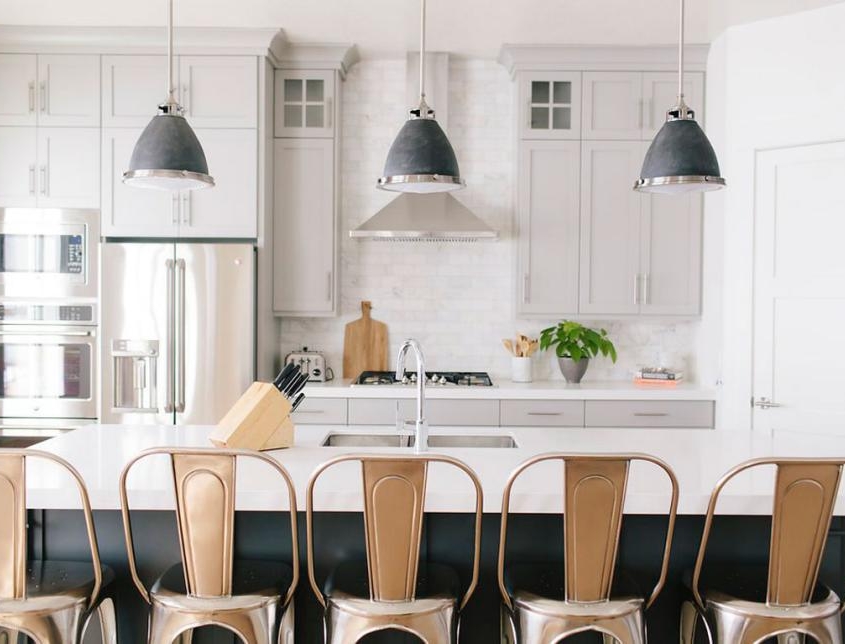 Hidden storage is another trend that is gaining popularity in 2023. This refers to cabinetry that has been designed to blend seamlessly into the kitchen, while still providing ample storage space. Hidden storage can be achieved using false panels or cleverly designed cabinetry that integrates with the kitchen island or countertops. This kitchen cabinet trend is especially popular in modern kitchens, where clean lines and minimalism are key design elements. Hidden storage not only adds functionality to the kitchen, but it also helps to maintain the sleek, uncluttered look that is so sought after in modern design.
Smart Technology
The rise of smart technology is making its way into the kitchen and cabinets are no exception. This year, you'll see more and more cabinets with built-in smart technology, such as lighting and motion sensors, that make the kitchen a more functional and convenient space. This can include things like LED lighting inside the cabinets that automatically turn on when the door is opened, or sensors that trigger a light when you approach the cabinet. These features not only add a high-tech touch to the kitchen but also make it easier to see what you need when you need it.
Dual-Toned Cabinets
Dual-toned cabinets are a great way to add visual interest and depth to your kitchen. This trend involves combining two different colors or finishes to create a unique and eye-catching look. For example, you might choose to have your lower cabinets in a bold color, while your upper cabinets are left in a neutral finish. This allows you to make a statement in your kitchen while still maintaining a balanced and cohesive look. Additionally, dual-toned cabinets can help to define different zones within your kitchen, making it easier to organize and maximize your space.
Shaker-Style Cabinets
Shaker-style cabinets are a timeless classic that continue to be popular in 2023. Shaker-style cabinets are characterized by their simple, clean lines and unadorned style. This style works well in a variety of kitchen styles, including farmhouse, contemporary, and traditional kitchens. In 2023, we're seeing a kitchen trend toward using shaker-style cabinets in bold colors, such as deep blue or forest green, to add a touch of personality to the kitchen.
Glass Front Cabinets
Glass front cabinets have been around for a while, but they continue to be popular in 2023. These cabinets add a touch of elegance and sophistication to the kitchen and can be used to display beautiful dishware, glassware, or other decorative items. Additionally, glass front cabinets allow light to pass through, helping to make the kitchen feel more open and airier. In 2023, you can expect to see a mix of clear and frosted glass fronts, as well as colored glass that adds a pop of color to the kitchen.
Rustic Charm
The rustic, country-style kitchen continues to be popular in 2023, with cabinets made from reclaimed wood, barn doors, and other elements that bring a touch of the outdoors into the kitchen. These kitchens are warm, inviting, and provide a connection to nature, making them perfect for families or those who enjoy entertaining guests. Rustic cabinets can be paired with natural stone countertops, such as granite or marble, for a beautiful and functional kitchen.
The kitchen cabinet trends of 2023 are all about making a statement and adding personality to the kitchen. Whether you prefer bold colors, mixed materials, or sustainable materials, there is a trend that will appeal to you. From minimalist design solutions to dual-toned cabinets, the kitchen cabinet trends of 2023 are designed to provide both functionality and style. So, whether you're planning a kitchen remodel or simply updating your existing kitchen, there are plenty of options available to help you create the kitchen of your dreams.
With the many benefits of updating your kitchen, we encourage you to contact us to speak with our KSI kitchen experts.
We are offering free consultation for your plan and budget control. We can sit down with you to discuss your vision for your kitchen.
Whether you're looking to make the necessary updates to increase the marketability of your home, increase the functionality of the room, or create more storage space to help with organization, we can help you create the kitchen of your dreams.
The best A to Z kitchen renovation turnkey services in the Greater Montreal Area.
SHARE KSI CUISINE SOLUTIONS WITH FRIENDS