If you're thinking of something different for your kitchen design, then think pink. A pink kitchen is a sure fire way to inject a boost of positivity and personality into an interior scheme.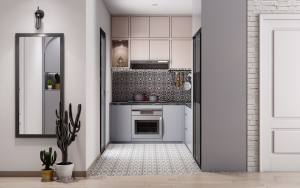 If you're into brights then a hot pink backsplash could bring the colour blast you crave; for quieter tastes there are beautiful pastel pink kitchen cabinets that look divine finished with a white marble worktop.
You can also easily add pink to an existing kitchen installation by introducing pink appliances and pink kitchen accessories, or even just a lick of blush paint.
Here are some tips and tricks to make your kitchen design look rosy.
Turn up the contrast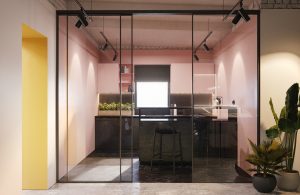 If your kitchen is going to be on show in an open plan scheme then you might as well make it pop. The light pink kitchen units and pink wall décor in this space sits atop black base units and black floor for a high contrast result.
Add in drama with dark cabinets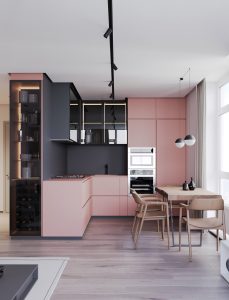 When we first think of a pastel kitchen we might think of an ultra light and airy space, but pastel pink kitchen units look just as good when teamed with black or grey cabinets and décor. The raw wood dining table situated within this L-shaped kitchen arrangement helps bring a quiet balance between the two ends of the colour spectrum.
Paint with light and shade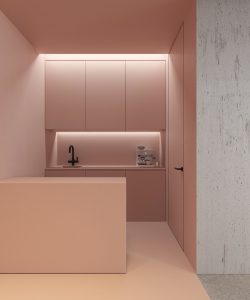 This all out blush pink minimalist kitchen creates visually interesting tone by using areas of light and shade. Strip lights around the frame of the backsplash and the ceiling perimeter help add dimension to the flat colour.
Accessorise pink kitchen decoration with warm metallic accents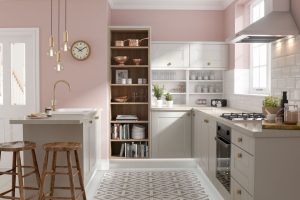 Gold lights and copper kitchen accessories look gleaming and gorgeous against blush pink.
Give it just hint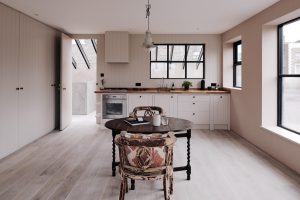 It's possible to find a hint of pink in white paints, greys and beige to bring just a delicate note of rosiness to a room. This simplistic interior layout is based on the traditional Japanese aesthetic of Wabi-Sabi. The idea centres around the acceptance of transience and imperfection, which can be translated as rustic understated elegance and aged beauty.
Balance out bold colour
These bright flamingo pink kitchen cabinets make a wild wall of colour, and yet the overall scheme still comes across as well tamed. A marble backsplash and countertop add sophistication to the arrangement. A black dining table and plush grey fabric dining chairs take the colour scheme down a couple of notches.
Use reflection to colour your cabinets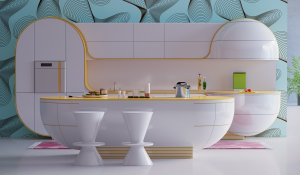 This inspirational kitchen design shows how you can introduce a subtle pink glow just by reflecting pink flooring or a pink kitchen rug off glossy white surfaced units.
Pink accent wall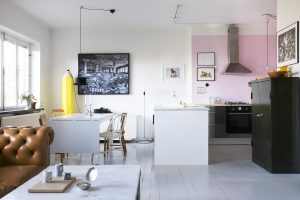 One pink accent wall can add a quirky kick to a plain open plan.
Dress the countertop with mini vases of floral blooms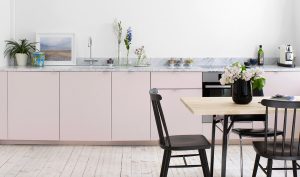 A sweet pastel pink kitchen works well with nature's greenery, and understated flora go well with the delicate look.
Coordinate with colour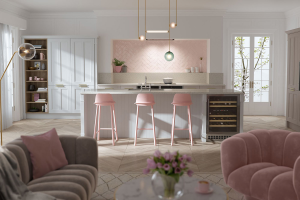 This pastel themed kitchen is coloured by a gorgeous tile backsplash in a herringbone design and matching pink kitchen stools. A pink tea set, pitcher and planter pepper the shelves with colour coordinated accessories.
Take your pink scheme to new heights with a pink painted ceiling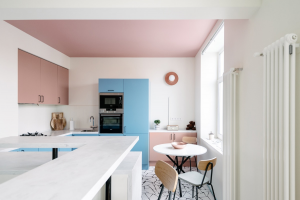 This effect works particularly well in rooms with a lofty ceiling height as adding colour up high can help the space appear warmer. Beware painting a low ceiling in strong colour as the effect can be overbearing and make your room feel smaller.
Create a classic beauty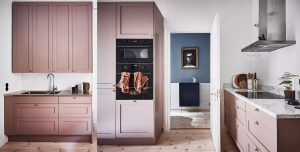 A pink kitchen doesn't have to come across as ultra modern or quirky. This dusky pink kitchen has a beautiful classic vibe.
With the many benefits of updating your kitchen, we encourage you to contact us to speak with our KSI kitchen experts.
We are offering free consultation for your plan and budget control. We can sit down with you to discuss your vision for your kitchen.
Whether you're looking to make the necessary updates to increase the marketability of your home, increase the functionality of the room, or create more storage space to help with organization, we can help you create the kitchen of your dreams.
The best A to Z kitchen renovation turnkey services in the Greater Montreal Area.
SHARE KSI CUISINE SOLUTIONS WITH FRIENDS