Open-Plan Farmhouse Kitchen With Unique Accents. This open-plan farmhouse kitchen features all-white cabinetry and a warm butcher-block island. Above the island are two unique, silver pendant lights situated behind an exposed wood header. Barn wood is wrapped around the vent hood and ties in with the various other wood elements.
If you're looking to design the modern farmhouse kitchen of your dreams, look no further than these stunning ideas. Each example mixes the three essential ingredients for creating a drool-worthy cooking space: Modern features, rustic elements, and industrial-inspired accents. When blended just right, the result is a sophisticated kitchen that's also warm and inviting.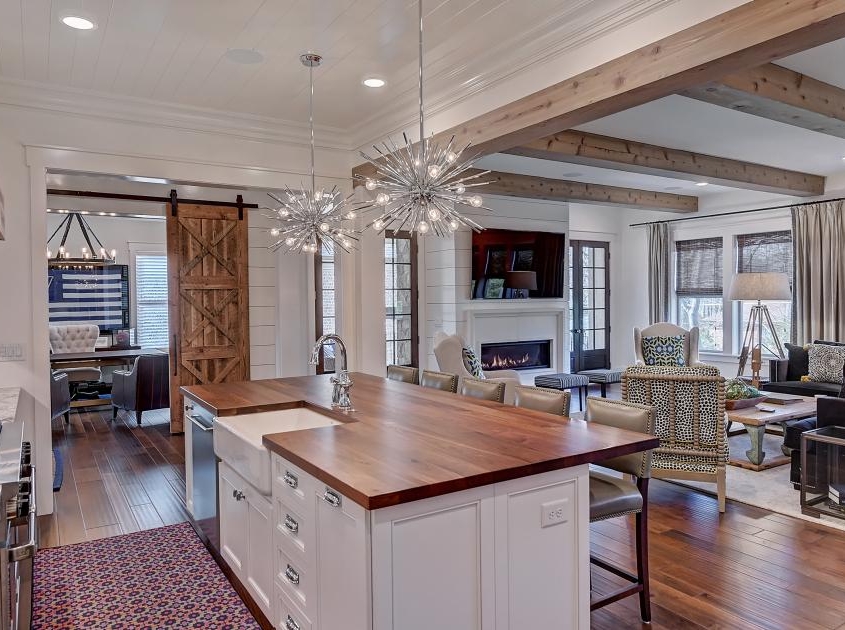 Butcher Block Island
This open-concept farmhouse kitchen features white cabinetry, stainless steel appliances and a butcher block island with an integrated farmhouse sink. A Barnwood-wrapped range hood ties in with the floor and other wood elements while the elegant, silver pendant lights offer a bit of glam.
There are no hard-set rules for modern farmhouse colours. However, a winning palette seen in many spaces combines white, black, and natural wood tones. For instance, this dreamy kitchen features white quartz countertops, shaker cabinets, and an island wrapped in walnut wood.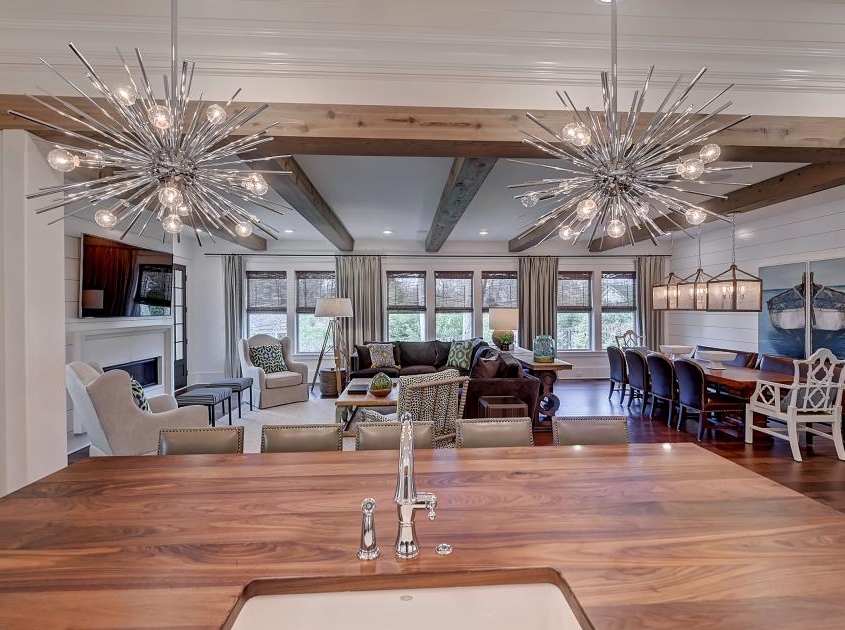 Open-Concept Farmhouse
This open-concept farmhouse features hardwood floors throughout. The open-plan kitchen is filled with white cabinetry and a white shiplap ceiling contrasted by a dark hardwood floor and various other warm, wooden elements. Exposed beams can be seen stretching through the living space.
When it comes to modern farmhouse style, period-inspired lighting is a must-have. This gorgeous kitchen features three different examples.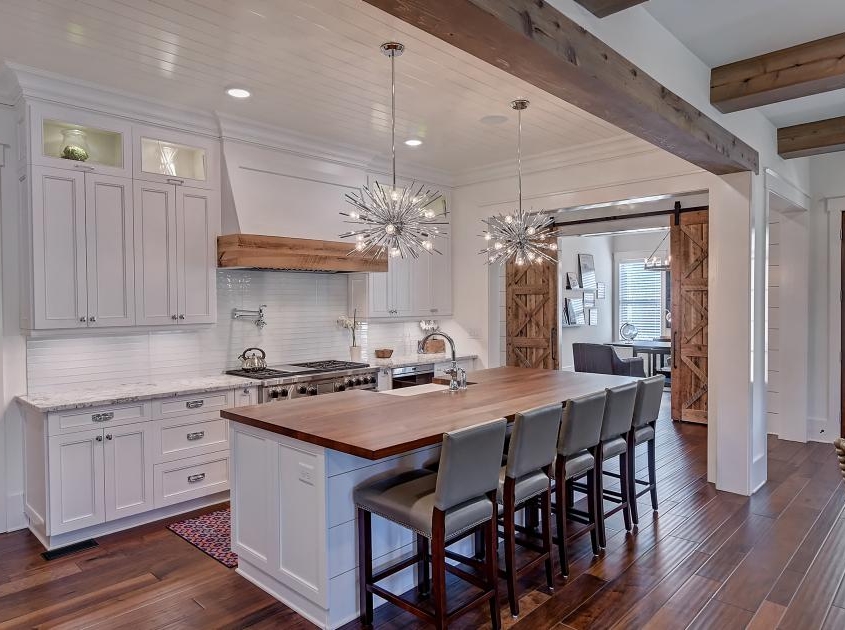 A Modern Farmhouse Kitchen With Large Butcher Block Island
This modern farmhouse kitchen is centred around an expansive butcher block island with an apron-front, farmhouse sink and integrated dishwasher. The rear of the island features seating for five and faces an open-concept living space with exposed beams and an abundance of natural light.
A Beautiful Stainless Steel Gas Range in a Farmhouse Kitchen
This modern farmhouse kitchen features a beautiful stainless steel gas range situated beneath a large vent hood. The hood has been wrapped in barn wood to add warmth to the mostly white space and a pot filler has been installed on the white tile backsplash.
This modern farmhouse kitchen keeps function top of mind with separate zones created for different purposes. For instance, the food prep area features a spice rack and crate filled with cooking utensils. There's also a coffee station with everything needed to get brewing.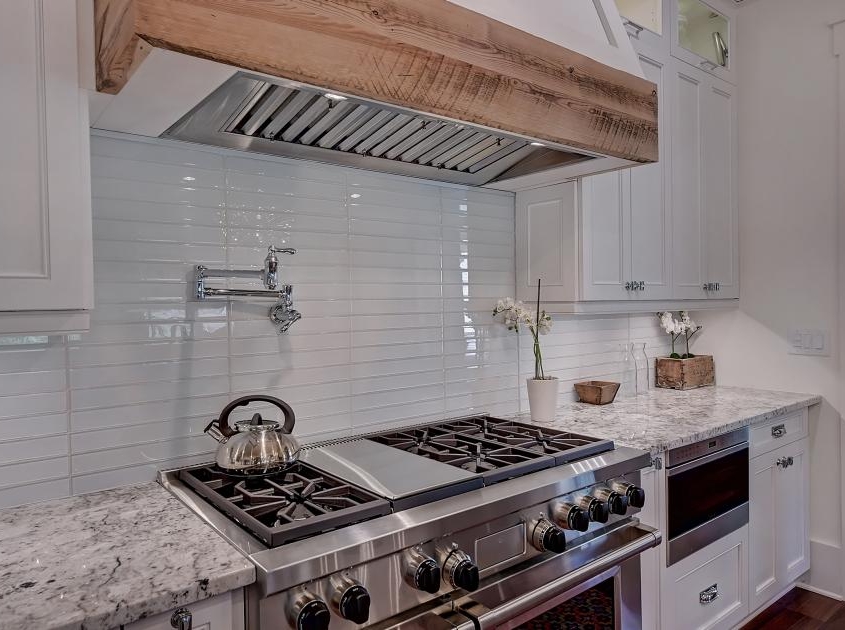 Modern Farmhouse Kitchen Opening to Living Room and Dining Area
This open-concept, modern farmhouse kitchen features a large butcher-block island that faces an expansive living room and dining area. The rooms feature exposed wooden beams throughout and an entire wall of windows providing the space with ample natural light.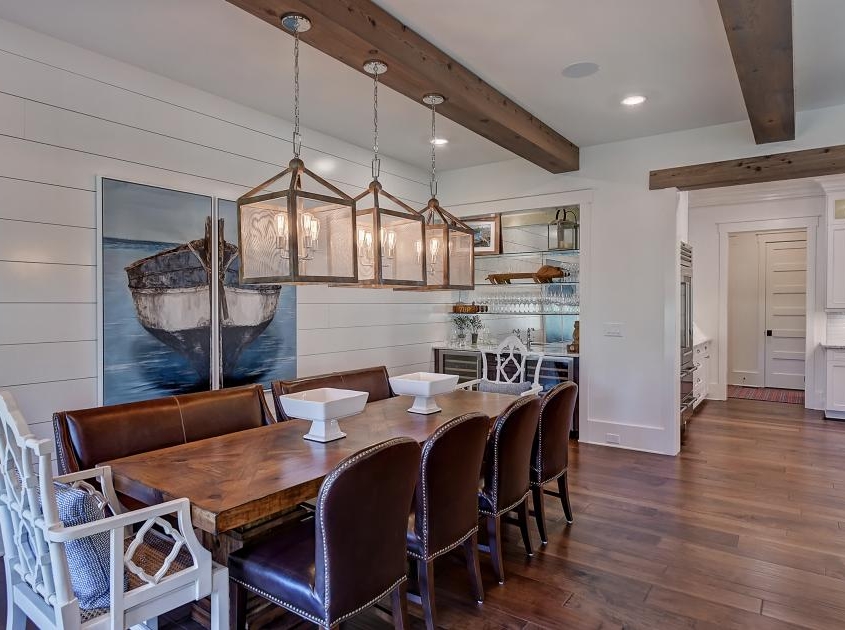 Modern Farmhouse Dining Room With Exposed Beams and Farm Table
This modern farmhouse dining room features stunning exposed beams above a long farm table. Three unique pendant lights are suspended in a row in place of a chandelier while recessed lighting is tucked between the beams. Leather chairs and benches sit opposite one another at the table and two ornate dining chairs sit at the table's ends.
Now you're ready! Enjoy shopping for your new kitchen! With the many benefits of updating your kitchen, we encourage you to contact us to speak with our KSI kitchen experts.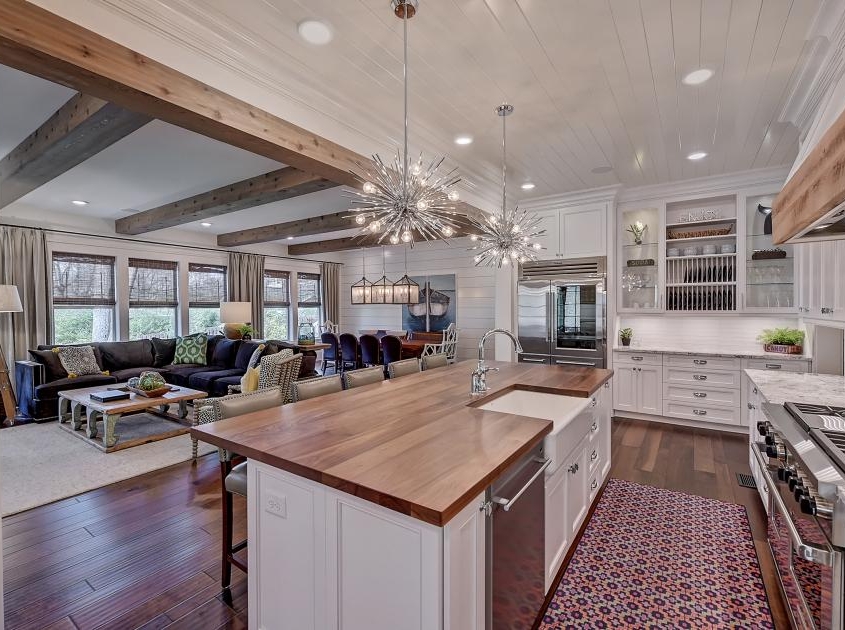 We are offering a free consultation for your plan and budget control. We can sit down with you to discuss your vision for your kitchen.
Whether you're looking to make the necessary updates to increase the marketability of your home, increase the functionality of the room, or create more storage space to help with organization, we can help you create the kitchen of your dreams.
The best A to Z kitchen renovation turnkey services in the Greater Montreal Area.
SHARE KSI CUISINE SOLUTIONS WITH FRIENDS