A Taste of Summer: Enchanting Kitchens With Colorful Accents. Transitioning from spring to summer in terms of colours is far easier than moving from summer to fall. This year it is the same as the most popular colours of the next few months are pegged to be the same as those already trending in the last few. This makes for a perfect scenario where slight tweaks and changes in accents can get the job done. From the ever-popular blue in its more greenish shades to an unexpected hue that will leave you 'blushing' – this is a look at summer kitchen trends for 2022 along with a few new inspirations.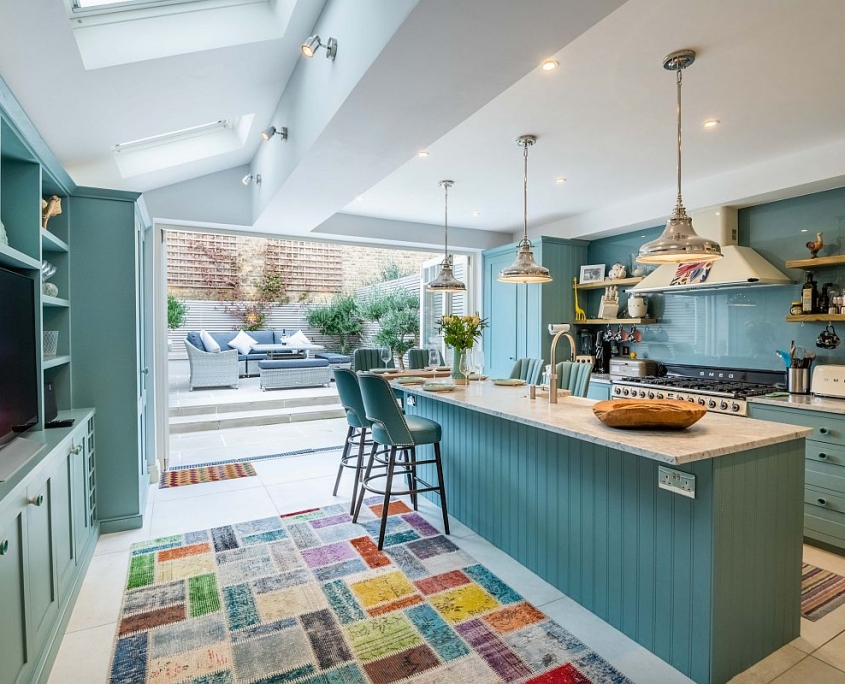 Coastal Cottage kitchen
Always a Blue
There is always a blue that comes to your rescue – when it comes to interior decorating and colour, this is a philosophy that we firmly believe in. As spring gives way to summer this year, it is an idea that still holds true with bright blues setting the tone pretty much everywhere. If you want an even more unique and trendy option, then try a shade of the colour that has a bit of green thrown into the mix. Teal, aqua, and turquoise are all the shades that will fit in well with your summer kitchen theme and they will serve you well beyond this season too. As is the case every time; you just cannot go wrong with blue.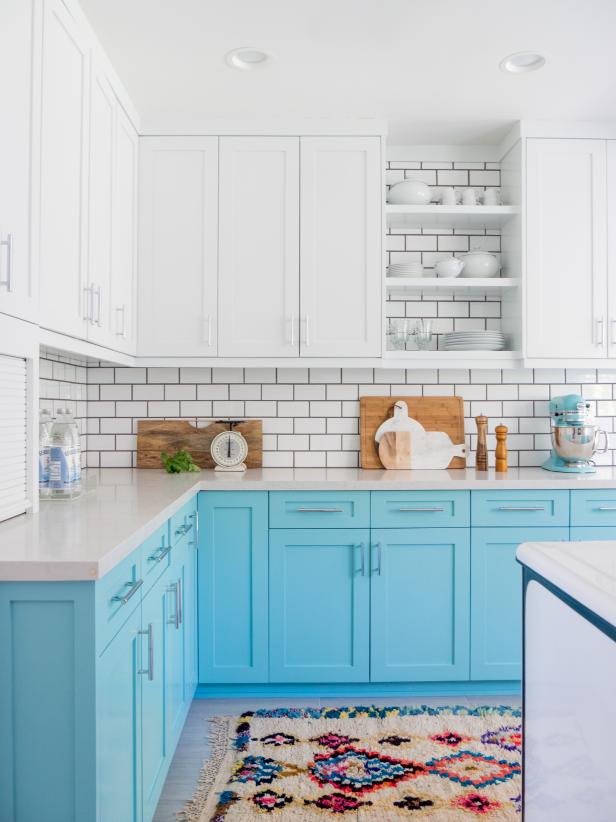 Light Pinks Make a Surprise Entry
We have been surprised at the way in which pinks are being increasingly used in rooms beyond the feminine bedroom. This is especially true in the case of light pinks, pastel pinks and shades of blush that are a hit in the fashion design universe as well. Pinks bring a sense of freshness to the kitchen and ensure that your home is definitely one-of-a-kind. It is also a colour that does well in each fall and that makes a great choice as you will not have to alter the kitchen just a few months down the line. Ready for pink?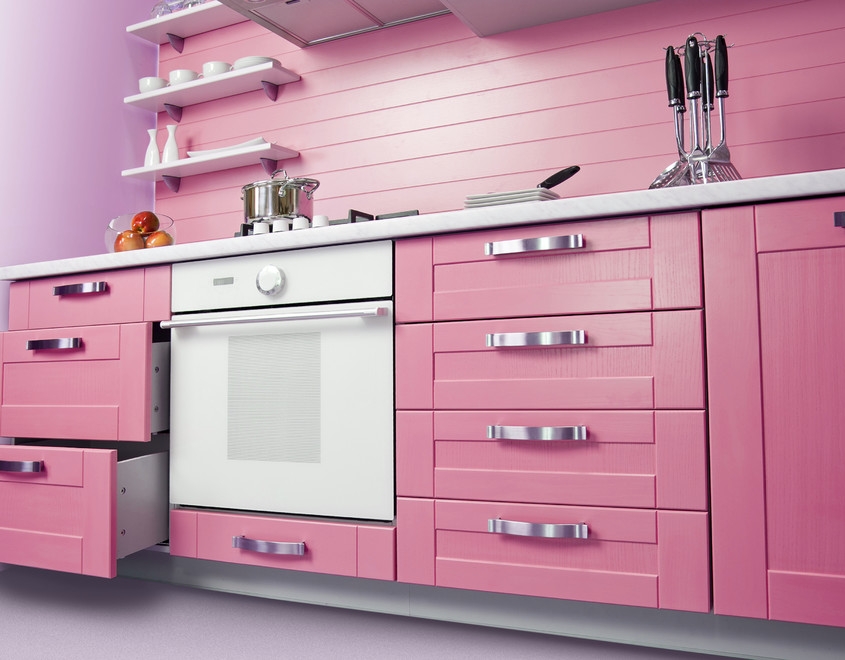 Cuisine Moderne Modern Kitchen
Green is In Once Again
For the last couple of seasons, we have seen homeowners shift steadily towards green and this is set to continue in the summer of 2020 as well with green kitchens leading the pack. There are several different ways in which this can be done. But our absolute favourite is a herb garden or indoor plants that bring green in a way that is truly refreshing and healthy. If you love the planet and want a healthier home, then now is a great time to make the switch.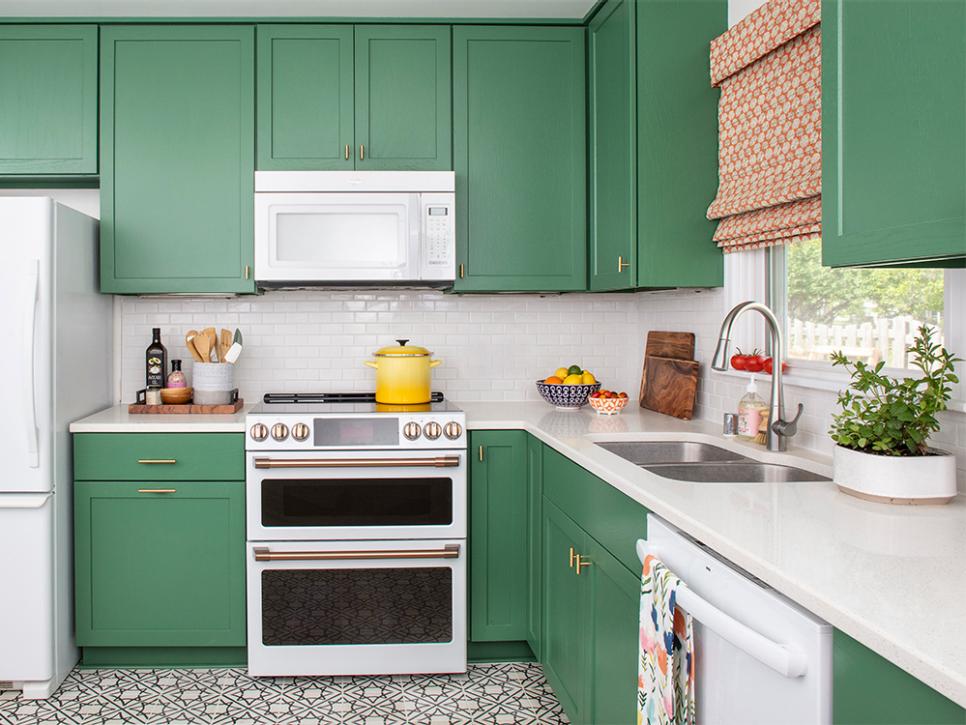 Cuisine Moderne Modern Kitchen
White, Wood and a Style that is Relaxing
It might feel like we are going back to this again and again, but the white and wood look in the kitchen is something you can just not ignore. This is another colour scheme that one just cannot ignore and it also allows you to shift between styles with ease. There is not much we can add to this that you already do not know other than the fact that it is a colour trend that you just cannot afford to miss in 2022.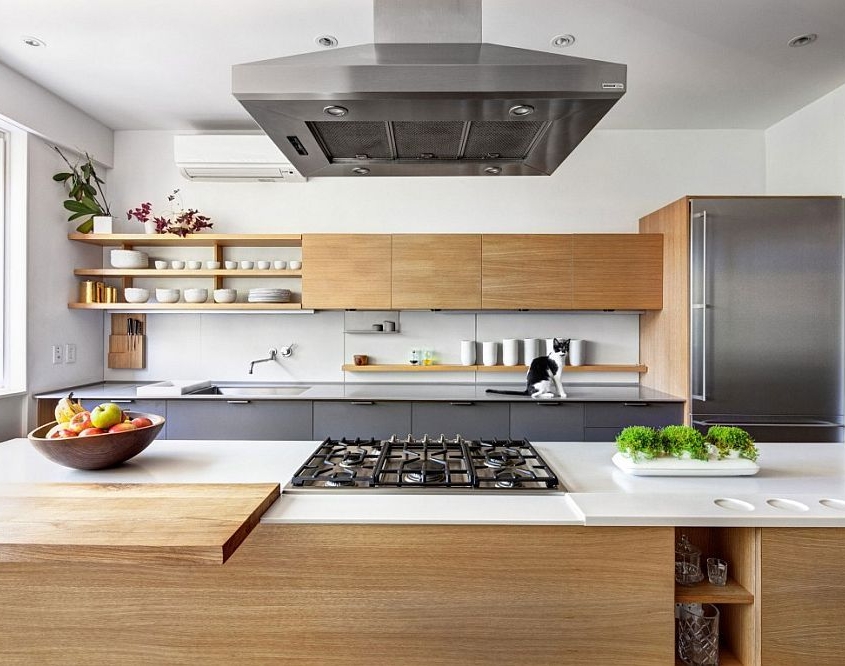 Cuisine-Industrielle-Industrial-Kitchen
Rustic Red
The kitchen is the heart of the home. Make it happy, too, with gorgeous colours from subtle to standout.
This open-plan kitchen with contemporary and midcentury-modern elements features dramatically exposed rafters, bright red cabinets and a turquoise tile backsplash.
Say Yes to Color
This fun open-plan kitchen sparks all kinds of joy with its hot pink refrigerator and royal blue eating bar.
Sunny and Bright
It's time to kiss boring kitchen designs goodbye. Yellow trim around the windows of this whimsical kitchen boosts the room's bright, sunny mood, while a graphic backsplash creates a cheery atmosphere.
Modern Kitchen
Bold Beauty
To make the kitchen look cohesive, designer Caitlin Murray matched the bold, black marble backsplash to the island. The cabinets coordinate with the island's striking blue base as well, further tying the room together.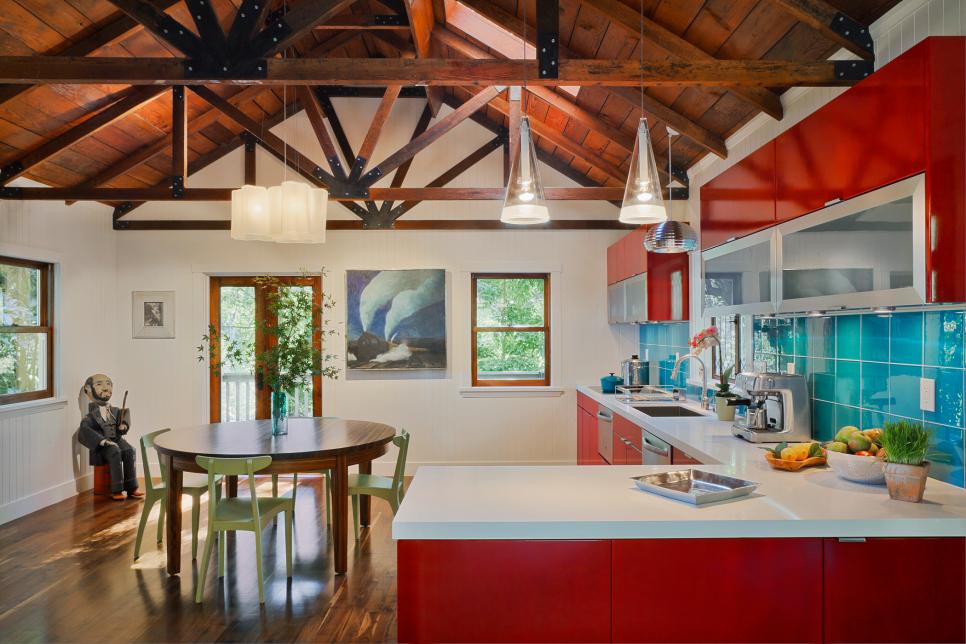 Modern Kitchen
Wow With Wallpaper
Wallpaper is an ideal way to bring striking colour and fun patterns to your space. Here, a bright orange oven complements the playful wallpaper beyond.
Classic Charm
Rich green cabinets, a custom Italian range and built-in bench seating make this kitchen irresistibly charming. A classic white backsplash helps to simplify the look of the space while also bringing in modern elegance.
Hues of Blues
In this glamorous kitchen, the blue of the cabinetry is brightened by brass accents: in the range hood, pendant lights and faucets. Hand-painted ceramic tiles mark out a bold, dynamic pattern while sticking to the blue theme.
Modern Kitchen
Punch of Purple
Give an eye-catching twist to a neutral kitchen by accenting the space with gorgeous, rich colour, like the showstopping eggplant purple island seen here.
A Riot of Color
With its bright green-and-blue pattern, the backsplash brings fun to this open-plan kitchen. On the ceiling, reclaimed wood is an ideal foil for cheerful colours.
Modern Kitchen
Happy Accents
A peek into this kitchen reveals a chic, white space with pops of colour found in the barstools and accessories. The graphic gray-and-white backsplash visually draws your eye into the space.
Cavern Clay
Sherwin-Williams' 2019 Color of the Year, Cavern Clay, steals the show in this kitchen space. The warm, rich tone perfectly pairs with the white accents in the contemporary area.
Copper Chic
The dynamic pattern of the chic backsplash creates subtle plays of colour and texture, accented by copper oven doors and hood.
A Versatile Shade
A huge plus to choosing a rich shade like blue, besides the versatility, is that the colour allows for hardware and accents to really pop. Here, deep blue cabinets provide a beautiful backdrop for gorgeous gold hardware and glam barstools to shine.
Green Light
According to feng shui principles, you can't go wrong with green, the colour of balance and renewal. The cabinets in this remodelled kitchen were given new life, thanks to a coat of stylish green paint.
Navy Blue Royale
When choosing a colour for kitchen design, go all out and embrace the shade. A handsome navy blue is seen in the cabinets and subway tile backsplash, while light wood floating shelves and accents add eye-catching contrast. This kitchen definitely proves there's no such thing as too much blue.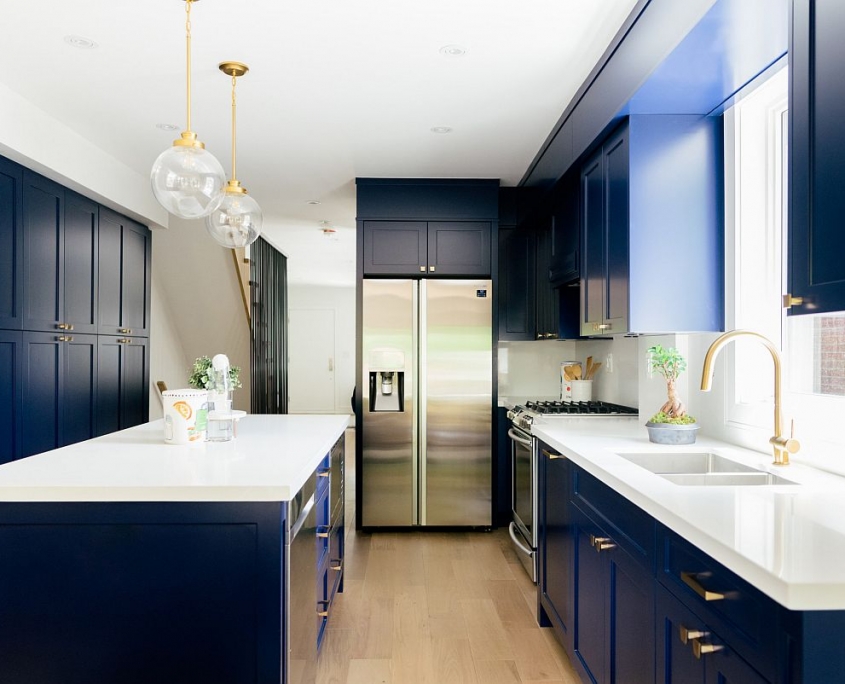 Explore options for adding a splash of colour to the kitchen with these inspiring photos.
Traditional Kitchen
High Style
The combination of black cabinets and copper finishes makes a statement in this kitchen. The cabinets are given a weathered look to reflect the home's Colonial style, while the copper hood adds metallic glam to the space.
All the Colors
This kitchen features white cabinets paired with a full-height blue glass tile backsplash. Chairs in all different shades pack a colorful punch at the wooden, family-style table.
Rich With Warmth
Get transported to a tranquil and relaxing environment every time you step into the kitchen with a calming colour palette of blue. Here, updated, Shaker-style cabinets boast a beautiful hue that coordinates with the bold buffalo check flooring.
Modern Kitchen
Garden Party
Pattern and texture are key in this urban contemporary kitchen. The bold peony and vine backsplash makes a dramatic statement and is offset by sleek wood cabinets. The vibrant pink island is colour-matched to the BlueStar stove, and contemporary pendant lights illuminate the space.
Coastal Kitchen
Vivid Splash
Four red, high-back chairs sit beneath the modern, panda white slab kitchen island in this modern kitchen. The black-and-white pattern continues in the backsplash, with modern floating storage shelves and cabinetry.
Coastal Kitchen
Vivid Splash
Four red, high-back chairs sit beneath the modern, panda white slab kitchen island in this modern kitchen. The black-and-white pattern continues in the backsplash, with modern floating storage shelves and cabinetry.
A Calming Space
Make the kitchen your new favourite room with a blue-filled makeover. This contemporary space is flooded with a divine shade of periwinkle blue, from the flat-panel cabinets to the side wall to the chic island.
Modern Kitchen
Eye-Catching Black and Gold
Black and gold combine to create a sleek profile in this streamlined, modern kitchen. A mix of dark and light cabinetry is unified by dark countertops and an eye-catching backsplash that brings the mix of hues together.
Modern Kitchen
Cheerfully Inspired
This transitional kitchen is ready to shine with eggshell blue cabinets, stainless steel appliances and a fun-tiled backsplash. The colourful cabinets bring a stylish and retro vibe to the uplifting and sleek space.
Modern Kitchen
Trend-Setting
From flat black cabinets to shiny copper subway tiles, this gorgeous kitchen is brimming with modern elements. A cozy copper wall draws warmth into the space while serving as a trendy background for styled shelving and appliances.
Coastal Kitchen
Seaside Vibes
Create an inviting and full-of-life space with a bright blue-and-white kitchen. Sky blue walls and a sea-inspired backsplash bring a happy personality to the space, while bright white cabinets pack a crisp-and-clean punch.
Moody + Tranquil
If deep hues in the kitchen area are a little too intimidating for you, consider adding just touches throughout. A blue island complements the fun-patterned backsplash to add just the right amount of colour without going overboard.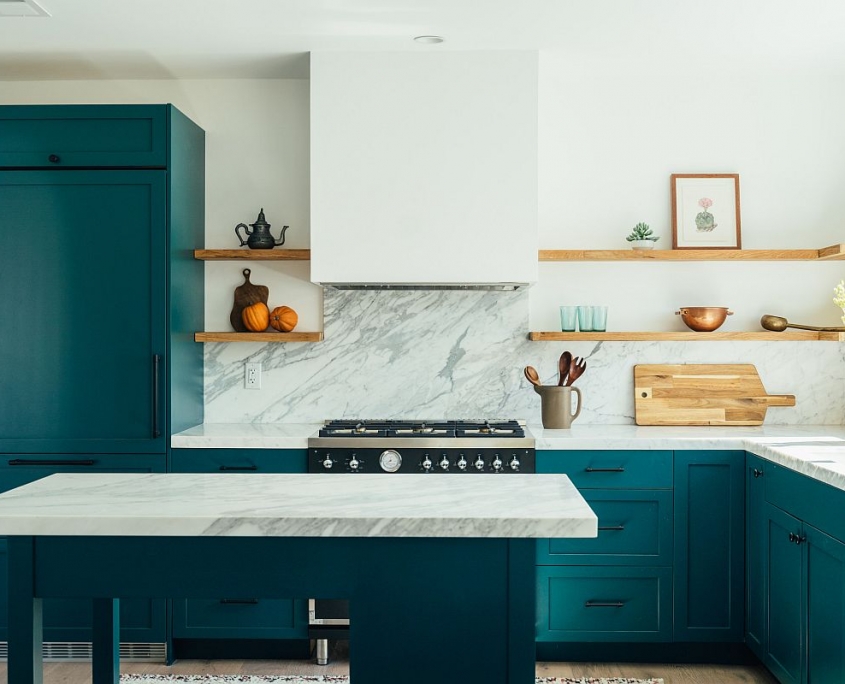 Modern Kitchen
Happy Days
The sunny yellow cabinets make this small kitchen feel brighter. The sunny colour, along with the industrial-style lighting, gray tile backsplash and stainless steel appliances create a balanced, modern kitchen.
Coastal Kitchen
Bold Ocean Blue
As seen on Home Town, new lower cabinets painted in bold ocean blue stand out sharply against the white subway tile and light gray concrete countertops.
With the many benefits of updating your kitchen, we encourage you to contact us to speak with our KSI kitchen experts.
We are offering free consultation for your plan and budget control. We can sit down with you to discuss your vision for your kitchen.
Whether you're looking to make the necessary updates to increase the marketability of your home, increase the functionality of the room, or create more storage space to help with organization, we can help you create the kitchen of your dreams.
The best A to Z kitchen renovation turnkey services in the Greater Montreal Area.
SHARE KSI CUISINE SOLUTIONS WITH FRIENDS