Bright White Kitchen With Contemporary Vibe. There's a reason white kitchens are such a classic. They're bright, clean, and don't require a lot of stressful colour decisions when decorating. And if you're worried white kitchens might be boring, these examples will convince you otherwise. We're spotlighting twenty insanely cool white kitchens to inspire any upcoming renovations and/or Pinterest boards that need a fresh update. Whatever your interior design style, you'll find a chic white kitchen to dream about.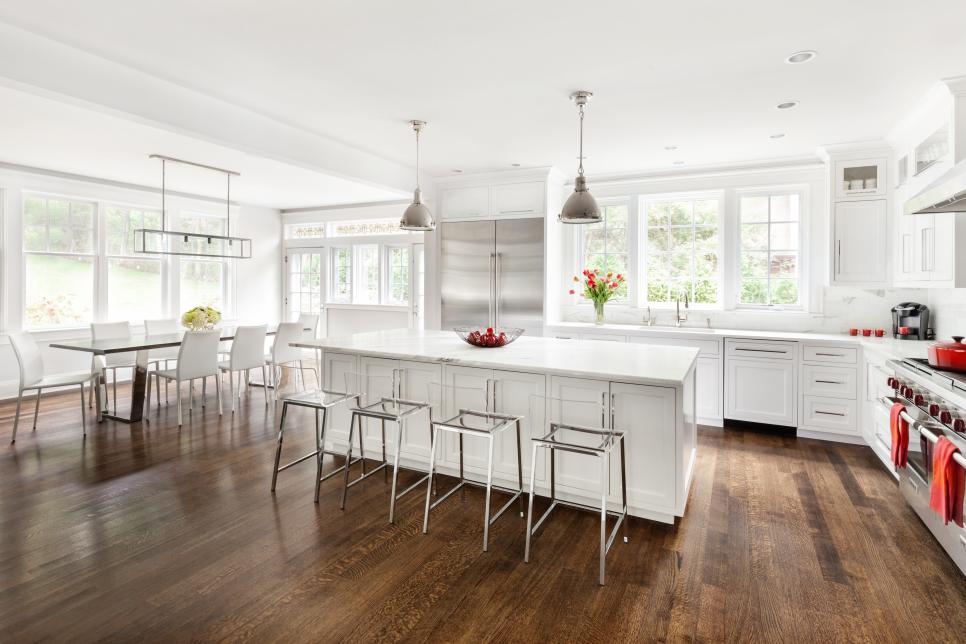 Bright White Transitional Kitchen And Foyer
A simple, black farmhouse-style front door opens up to the large living and kitchen area at the center of this beachfront home. White walls and cabinetry maximize the open space's bright and airy feel.
The marble counters, subway tile backsplash, and white cabinetry are classic and timeless. "We live in the kitchen," says the designer. "We use the barstools to do homework or have breakfast in the morning before the kids go to school.
Keep cabinets and walls all white and get dimension from your floor. Choose a pattern in a neutral colour if you don't want it to attract too much attention.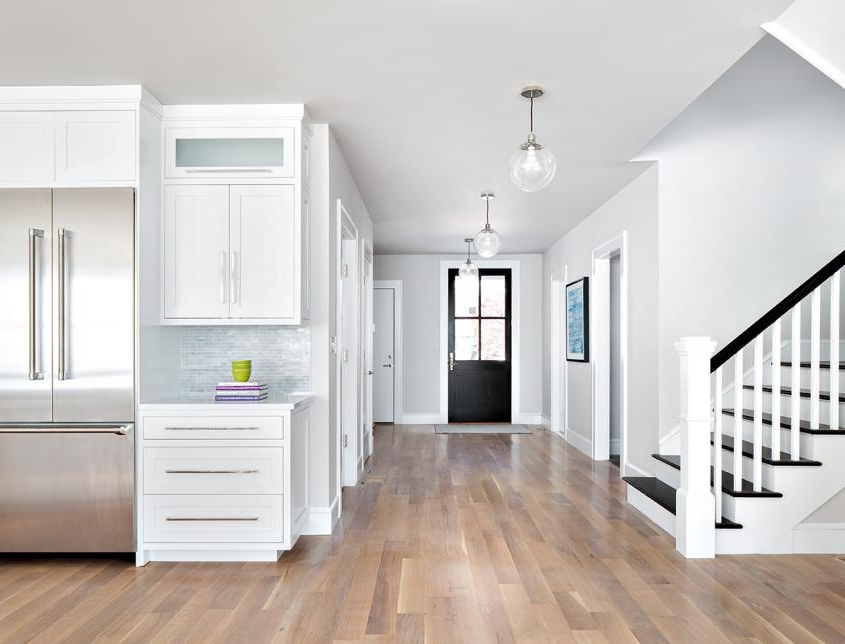 White Transitional Kitchen With Stainless Steel Island Countertop
White Shaker cabinets and white quartz countertops give this open kitchen a clean, bright, and airy feel. The stainless steel island countertop is a sturdy, easily-maintained surface that's perfect for this prep and eat-in area. Chrome bar stools with glass seats add a minimal modern look and keep with the airy design.
Keep it sparse and simple. All you need to add some dimension to an all-white kitchen is wooden counter stools, and maybe a solitary plant leaf.
Relaxing Living Room With Entertainment Center
A large white built-in serves as the perfect entertainment center in this calming living room. This convenient entertainment center offers both shelves for books and decor and lower cabinets to hide electronics and cords.
All white is classic, but it can get blah, fast. Warm it up and add contrast without breaking out of the light colour scheme with cream and earth-toned rug.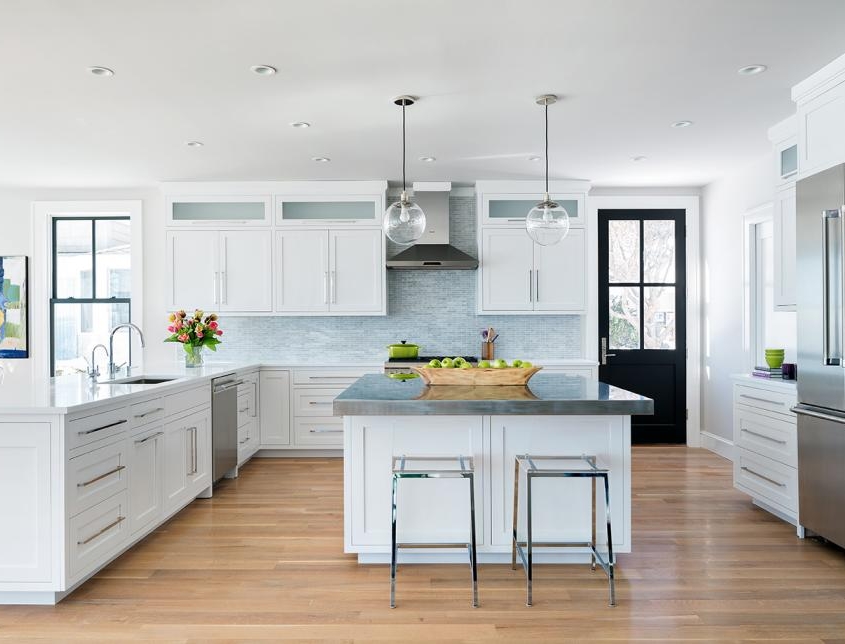 Living Room With Plush Gray Sectional
A plush gray sectional is comfortable for the whole family in this fun, contemporary living room. Built-in shelves with lower drawers keep the TV and all other electronics in their place, while blue and gray accents add a relaxing but colourful vibe.
If you've got an insanely small kitchen, go with all white for a lighter and brighter space. Tiled walls, brass hardware, and a milk-glass chandelier make it feel less monochromatic.
Highly Fun White Mudroom
A highly practical space—the mudroom—also becomes fun with a rainbow assortment of colours, courtesy of bright storage baskets, and everyday items like jackets and shoes. (Photo By Claire Paquin)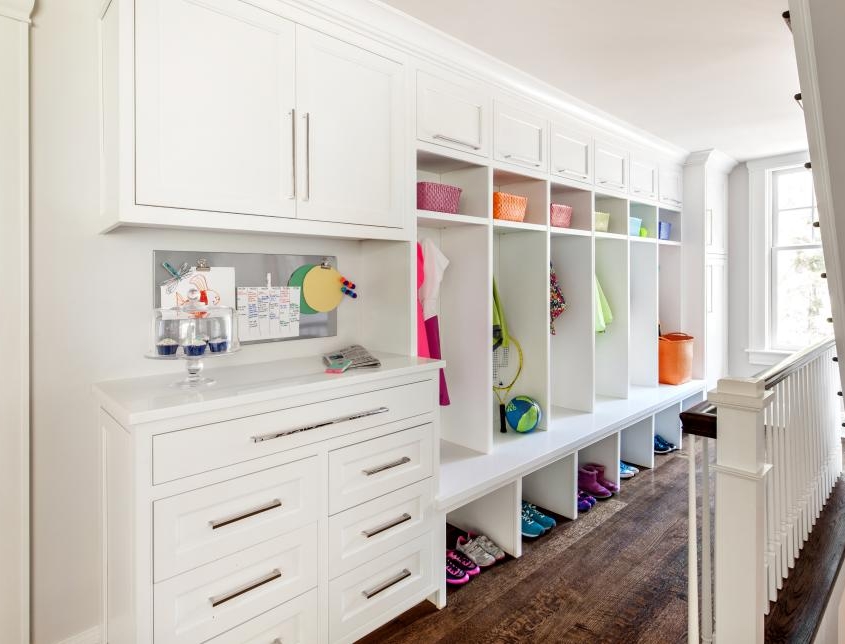 With the many benefits of updating your kitchen, we encourage you to contact us to speak with our KSI kitchen experts.
We are offering a free consultation for your plan and budget control. We can sit down with you to discuss your vision for your kitchen.
Whether you're looking to make the necessary updates to increase the marketability of your home, improve the functionality of the room, or create more storage space to help with organization, we can help you create the kitchen of your dreams.
The best A to Z kitchen renovation turnkey services in the Greater Montreal Area.
SHARE KSI CUISINE SOLUTIONS WITH FRIENDS