Modern Rustic Kitchen for Easy Entertaining. Though defined by clean lines and white walls, this modern kitchen by designer Brooke Wagner also features hints of farmhouse style: wood beams, floating shelves and even a farmhouse sink. In turn, the space is beautifully balanced, with an eat-in island and dining table for easy entertaining.
Farmhouse Elements
This open kitchen by designer Brooke Wagner takes all the best features of modern, farmhouse and boho style and blends them together. The result? A space that's functional, fresh and totally unprecedented.
Cottage Kitchen
Black Pendants Brighten Modern Kitchen
While a large picture window provides plenty of natural light, this kitchen is also equipped with recessed lighting. In turn, the owners can enjoy the space no matter what time of day it is.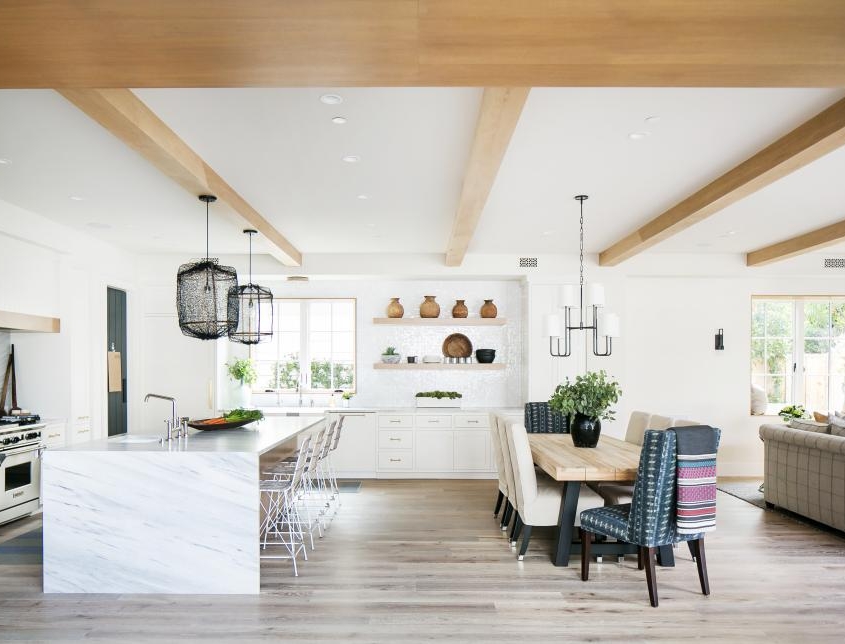 Cottage Kitchen
Kitchen Includes Marble Waterfall Island
The marble continues down the sides of the kitchen island, creating a cool, waterfall-like visual. In turn, this feature is both stylish and functional.
Cottage Kitchen
Wood Island & Wall Treatments Tie Space Together
Because the kitchen is so open, designer Brooke Wagner used light wood accents to tie the space together. Thus, in addition to the wood beams and island, the room features wood around the windows, above the range and over the doorway.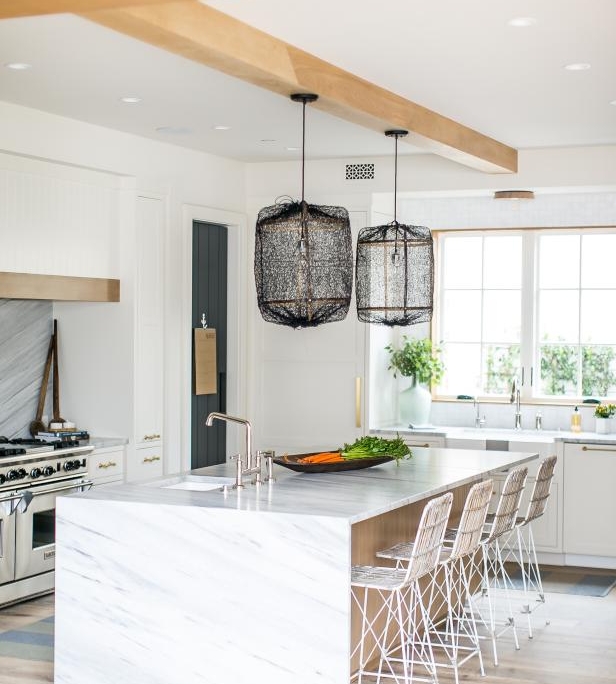 Cottage Kitchen
Kitchen Includes Built-In Bookshelf
Okay, how cute is this? Instead of stacking their cookbooks in a corner, the owners can make use of this beautiful built-in bookshelf. A glass door protects the pages from wayward spills.
Cottage Kitchen
Marble Backsplash in Modern White Kitchen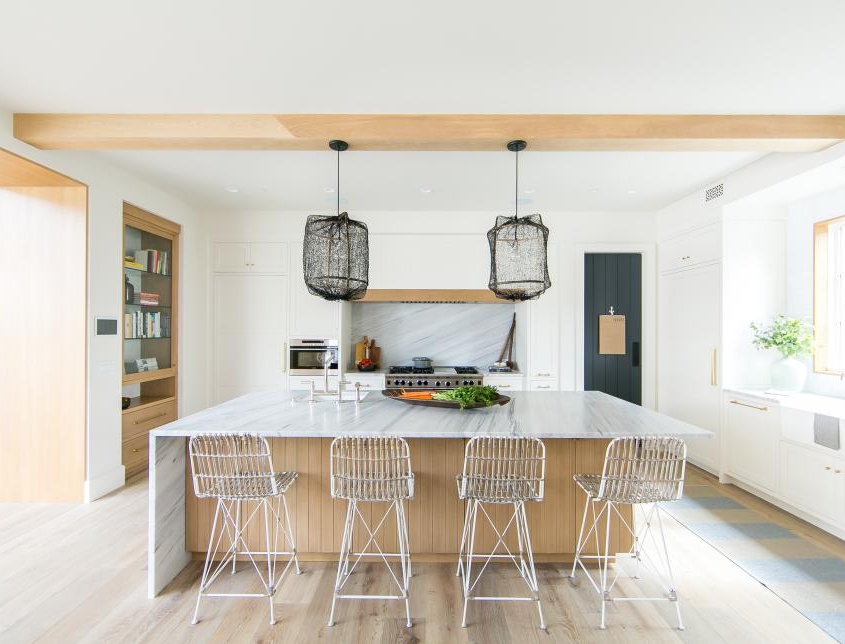 In addition to the countertops, the kitchen boasts a beautiful marble backsplash. The feature's light grey veins add subtle visual interest and movement to space.
Cottage Kitchen
Marble Countertops Create Cohesion
You'll notice that the cabinets on the other side of the room are topped with marble, too. With these in place, designer Brooke Wagner was able to make the space look clean and cohesive.
Cottage Kitchen
Farmhouse Sink and Wood-Trimmed Window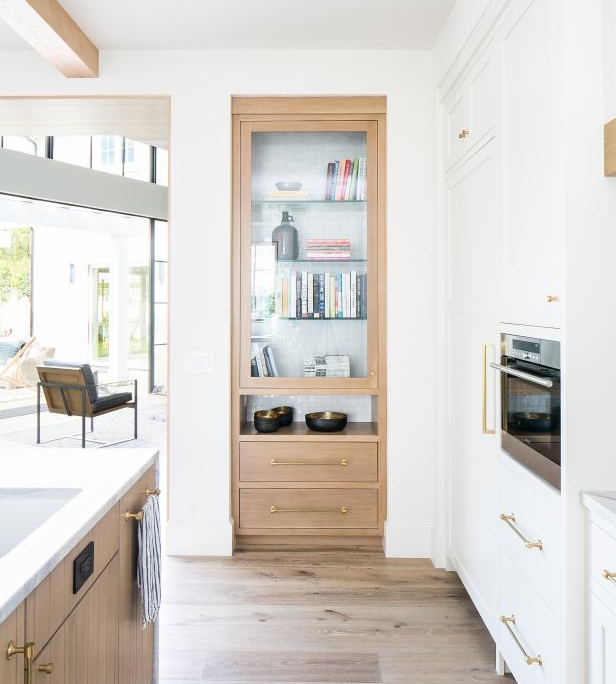 The kitchen actually comes with two sinks: one for meal prep and a second for washing dishes. When matched with a large picture window and wood shelves, this space has all the fresh, farmhouse style of a project on Fixer Upper.
Cottage Kitchen
Sink With Floating Shelves
Those wood beams actually work overtime, both infusing the space with warmth and drawing the eye to the far wall. Here, a farmhouse sink and floating shelves give the owners a stylish station for washing dishes.
Wood Beams Infuse Kitchen With Warmth
Because the kitchen is defined by clean lines and crisp white walls, it was important to infuse the space with some warmth. Wood ceiling beams, hardwood floors, and a matching dining set easily get the job done.
Cottage Kitchen
Island, Dining Table Allow for Entertaining
This open kitchen truly has everything the owners need for entertaining: stainless appliances, a large eat-in island, and a dining set that comfortably seats eight guests. All that's missing now is the bottle of wine!
Natural elements take a bold turn in this high-contrast, lodge-inspired space. A long dining table and cowhide-covered bench crowned with a woven fibre chandelier give way to dark, floor-to-ceiling cabinetry, a marble island and a bar with an inset cooktop and large iron windows.
Cottage Kitchen
Dining Area and an Open Plan Kitchen
The rustic living space features an open-concept kitchen and an in-kitchen dining room. Wood cabinets line the walls, creating a warm, country-looking space. A wood dining table is decorated with seasonal accents and sits below a woven chandelier. A neutral, woven rug grounds the entire room.
Cottage Kitchen
Stoneware Vases Filled With Decorative Branches Sit Atop a Wood Dining Table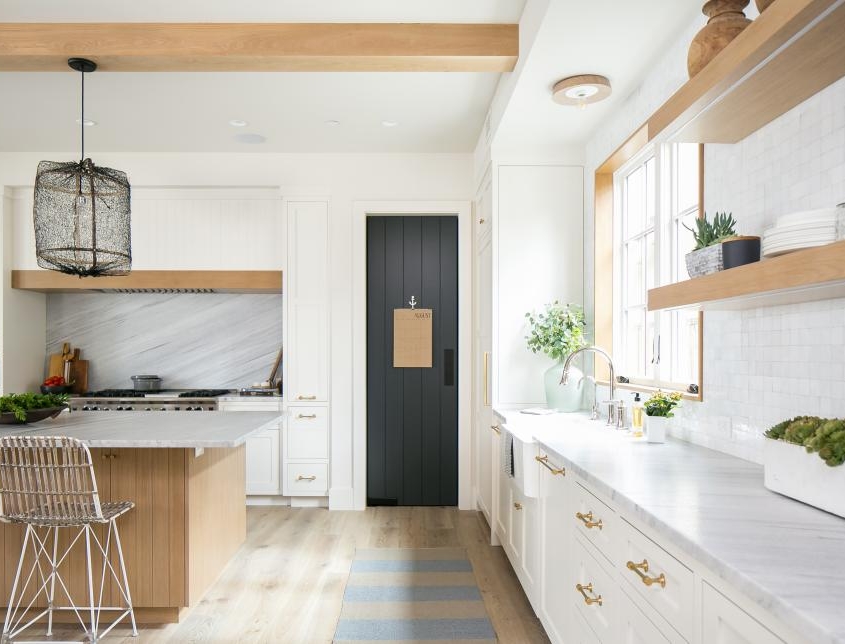 A woven chandelier hangs above a dining table in a rustic kitchen. Stoneware vases, filled with colourful branches, create a seasonal tablescape on a wood dining table. Behind the table hangs a wood wine cabinet that features glass doors that showcase the bar essentials housed inside.
Cottage Kitchen
A Large Island, Wood Cabinetry and Brass Pendants
A rustic kitchen is brought to life with warm wood cabinets that house a variety of dinnerware and decorative accents. Brass pendants hang above a large island that features marble countertops and an inset cooktop. Leather and wood barstools sit against the island providing an in-kitchen dining area. A large window brings ample light into the space.
A Marble-Topped Kitchen Island, Wood Cabinets and Brass Pendants
Floor-to-ceiling wood cabinets accent an open-concept kitchen, creating a warm, rustic vibe. Brass pendants hang over a marble-topped island that sits in the center of the space. A large, iron window lets ample light into the kitchen and brings the views of the outdoors in.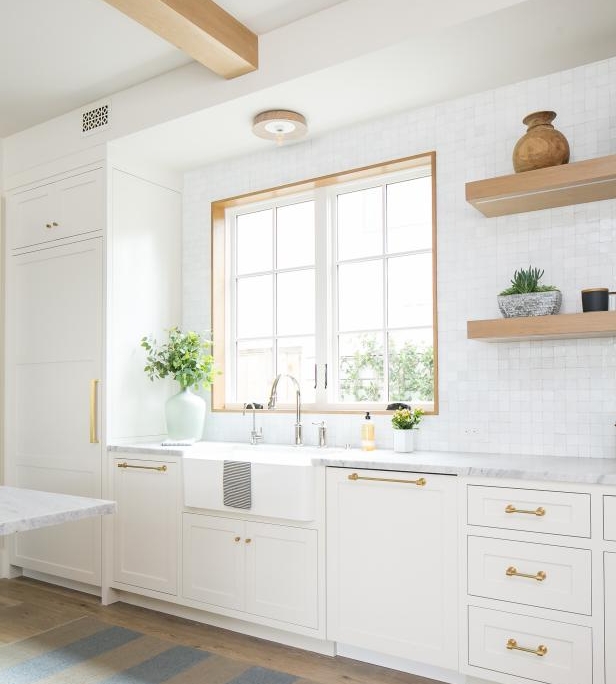 Cottage Kitchen
A Marble-Toped Island Features Stoneware Vases That Houses Colorful Branches
Glass-fronted doors showcase the unique dinnerware that is housed within floor-to-ceiling wood cabinets. Two stoneware vases, that hold colorful branches, sit on a marble-topped kitchen island. A brass pendant hangs above the kitchen island ensuring that there's ample lighting in the workspace.
Cottage Kitchen
Wood Cabinetry Lines the Back of a Rustic Kitchen That Features a Large Marble-Topped Island
Wood cabinetry lines the back wall in a warm, country-style kitchen. A large iron window lets ample light into the kitchen, ensuring that the dark wood cabinets don't overwhelm the space. Rustic accents create a unique vignette on the marble countertops at the back of the kitchen. An animal skull adorns the upper cabinet, adding to the overall rustic feel of the space. (Photos By: Brooke Wagner&Vernich)
With the many benefits of updating your kitchen, we encourage you to contact us to speak with our KSI kitchen experts.
We are offering a free consultation for your plan and budget control. We can sit down with you to discuss your vision for your kitchen.
Whether you're looking to make the necessary updates to increase the marketability of your home, increase the functionality of the room, or create more storage space to help with organization, we can help you create the kitchen of your dreams.
The best A to Z kitchen renovation turnkey services in the Greater Montreal Area.
SHARE KSI CUISINE SOLUTIONS WITH FRIENDS