Enchanting and Functional Kitchen Layout Options. From a modern galley kitchen to a Scandinavian-inspired eat-in, explore dozens of kitchen design styles and layout options to spark an idea for your next kitchen remodel.
Natural Earth Tones
In the spacious kitchen, earth tones pair up with fresh neutrals for an easy, relaxed tone. Wolfe and Miele appliances and wide paths around the island make the chef's job a little easier.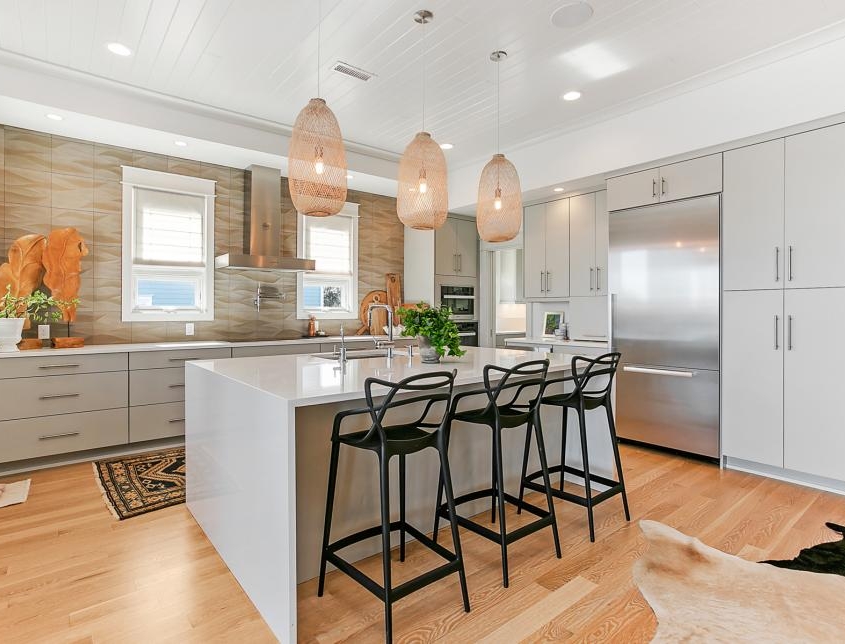 All our marble and gold dreams have come true in this gorgeous kitchen. The soft gray perimeter of the space is contrasted with gorgeous golden accents and the island's blue-gray base. A solid marble slab for the kitchen's backsplash helps brighten and visually open up the room — a luxurious way to make the walls disappear.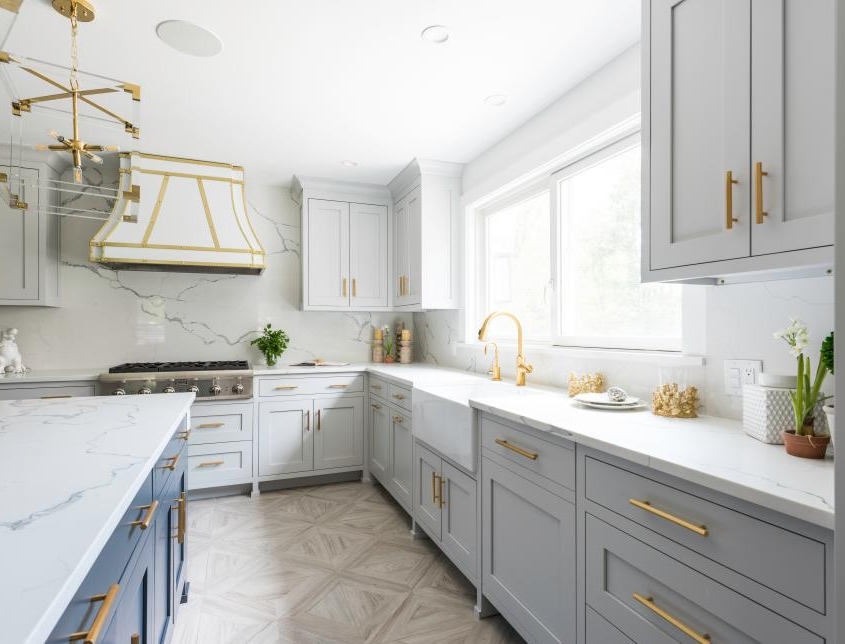 Gorgeous in Green
This galley kitchen was designed to be a functional-yet-stylish space that allows for effortless cooking and entertaining. Thus, the room features a deep sink and stainless appliances, gorgeous green cabinets and a wood dining table that seats six.
Dine-In
Why not dine in the heart of the kitchen? This spacious gray kitchen features an island made for an intimate dining experience that can seat up to 7.
Minimalist Meets Modern
A rich wooden island serves as the main prep area in this minimalist space that is brimming with a sleek design. Four modern-rustic barstools complement the island while providing the perfect spot to enjoy a quick meal.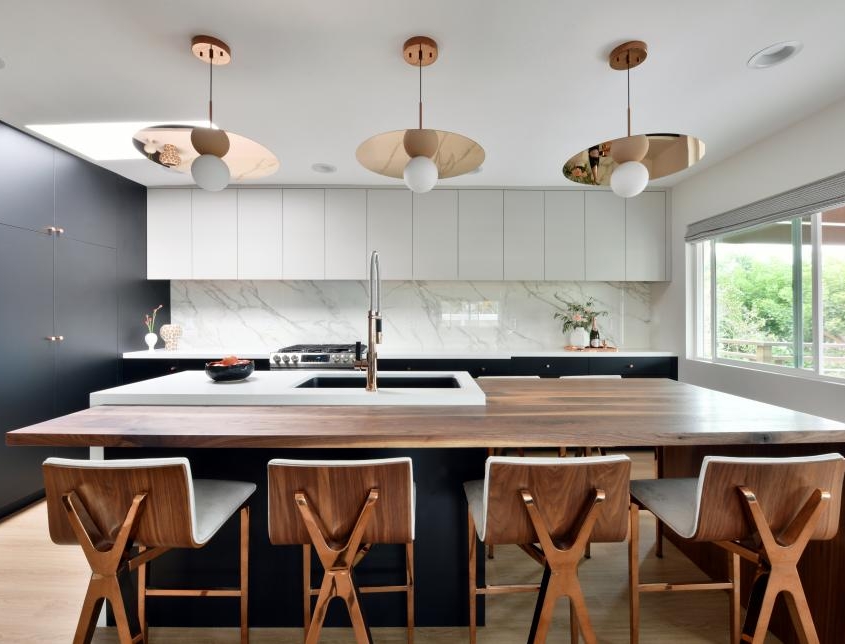 Charming Farmhouse
The kitchen's welcoming feel draws on charming farmhouse details, including a farmhouse sink, blue patterned backsplash and black wood barstools. For light, there's a large bank of windows over the sink and a skylight, as well as two pretty glass pendants.
Modern Kitchen
Floor-to-ceiling glass lets sunlight pour into this modern galley kitchen and puts the oceanfront vistas front and center. Neutral tones throughout the space allow for the blues of the waves to pop in the background.
Dramatic Patterns
The ceiling can be the perfect place to try out a dramatic colour or pattern, or in the case of this kitchen, both! The wide stripes draw the eye up and have the added effect of making the room seem larger.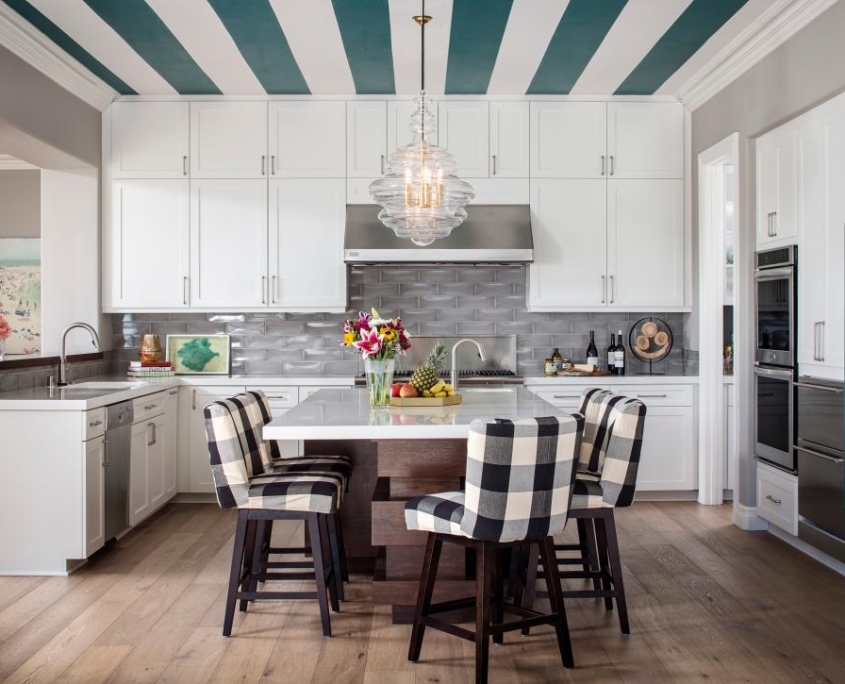 This was a renovation of a family's existing home. What inspired the remodel?
The weekends were filled with friends, families, food and flowing wine in a large open kitchen. They loved having the ability to cook, share, and laugh together, which was inspiration enough.
They have a large family; two busy teenage boys and a young daughter. With everyone going in different directions, they wanted to create a space to come together, cook, and eat.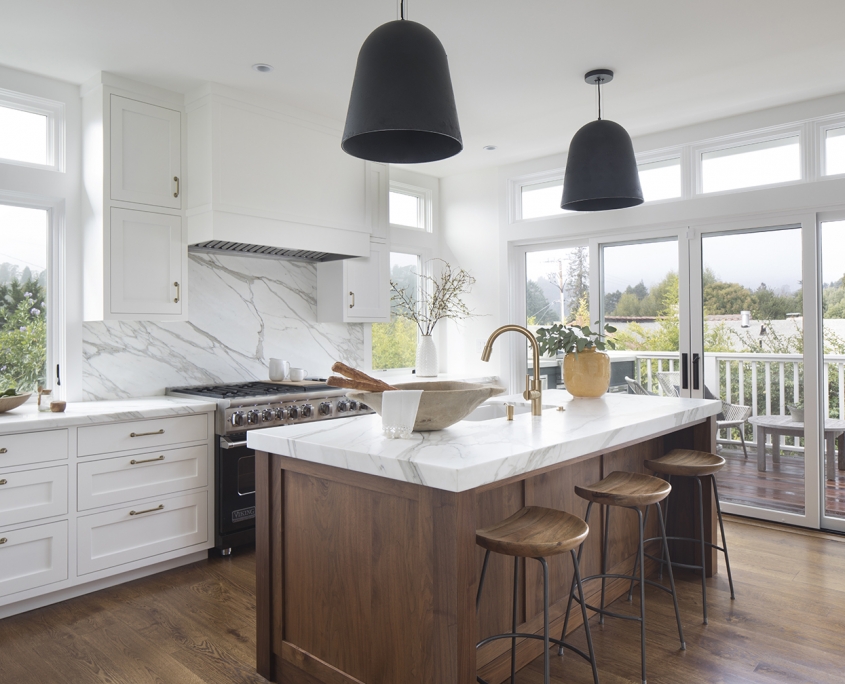 The only real requirement was to help create a space to cook and gather as family and friends with an open plan and some good organization – breakfast bar, root vegetable drawer, bar, a knife drawer, and a spot for electronics.
The client envisioned everyone gathering around and sharing tasks. They first selected the range and built around that with beautiful white marble and clean white cabinetry, some refined industrial finishes, a large island with a warm stain, and some oversized black pendants.
They wanted the space to feel comfortable, not too precious, but beautiful and interesting, classic with an edge.
How has the renovation changed how the homeowners use their homes?
The client said moving back into their home after a year of work was an entirely natural transition. They never felt like they had to relearn the space or reorient themselves. The home felt the way it should have – it now made sense, and was laid out for the way they live.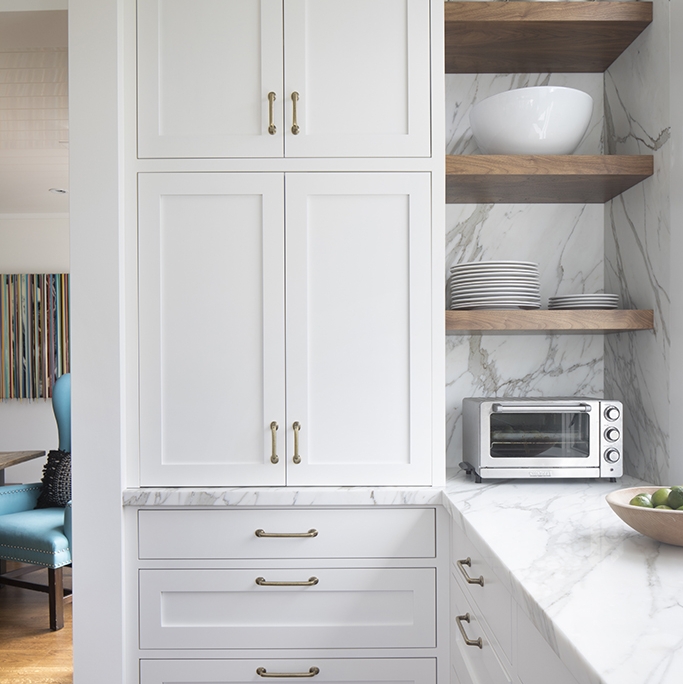 They had been squeezing their life into a box that didn't fit. Now, entertaining is simple, not stressful for them.
The client can cook dinner with one, two, or all three of the kids. Her grandfather was a chef, and she grew up with the understanding that the kitchen was the heart of the home and now that is what they have. (Photos By: Paul Dyer)
With the many benefits of updating your kitchen, we encourage you to contact us to speak with our KSI kitchen experts.
We are offering a free consultation for your plan and budget control. We can sit down with you to discuss your vision for your kitchen.
Whether you're looking to make the necessary updates to increase the marketability of your home, increase the functionality of the room, or create more storage space to help with organization, we can help you create the kitchen of your dreams.
The best A to Z kitchen renovation turnkey services in the Greater Montreal Area.
SHARE KSI CUISINE SOLUTIONS WITH FRIENDS