11 Kitchen Renovation Ideas You Should Know
With the potential for high expenses, time-consuming detailed work, and stress, kitchen renovations can be overwhelming and challenging. It's no surprise that the phrase "renovation" might evoke unpleasant emotions. Despite these obstacles, renovations give us the opportunity to create the space of our dreams. A kitchen renovation can transform an uninviting, cramped space into one that is practical, elegant, and enjoyable to spend time in. With complete control over the redesign, you can include features you've always wanted while removing others you don't need.
Taking on a renovation job, on the other hand, can be stressful, and it's easy to feel lost as to where to begin. As a result, we've put together a list of 11 kitchen renovation ideas to help you find inspiration and start the process of designing your ideal kitchen. These suggestions can help you tackle the initial step in your kitchen renovation and determine how you want your makeover to look.
11 Kitchen Renovation Ideas
Upgrade Your Cabinets
Upgrading your cabinets is a smart investment during a kitchen renovation. By enhancing the look and functionality of your cabinets, you can create a kitchen that not only looks great but also works well for your needs.
Cabinets are one of the most prominent features in your kitchen, and upgrading them can significantly improve its look and functionality. Therefore, upgrading your cabinets is a kitchen renovation idea that you won't regret. There are several ways to upgrade your kitchen cabinets during a renovation. You can choose to install new cabinets, reface or paint your existing ones, or replace the hardware for a fresh new look. New cabinets offer the most significant transformation, as they can be customized to fit your exact needs and style preferences. You can choose from a variety of materials, including wood, metal, and glass, and select from various finishes, such as painted or stained.
Add a Kitchen Island
Adding a kitchen island is a great kitchen renovation idea to maximize your kitchen's space and functionality by incorporating an island.
A kitchen island adds seating and counter space, and it can even be converted into a workstation with open shelves on the sides for storing commonly used things like cutting boards, cheese graters, and butcher blocks. A well-designed island may improve the efficiency of your kitchen and make meal preparation easier.
Install Under Cabinet Lighting
Under cabinet lighting is a kitchen renovation idea you must know about because it provides directed light to your countertops, eliminating shadows and making it easier to see what you're doing while preparing food. This can be especially helpful when working with knives or other sharp utensils.
Under-cabinet lighting can add ambiance and functionality to your kitchen. It not only illuminates your workspace but also adds a layer of style to your kitchen design. Choose from LED or halogen lights that come in a variety of colors and brightness levels. LED under cabinet lighting is an energy-efficient option that uses less electricity than traditional light bulbs. This can save you money on your energy bill over time and reduce your carbon footprint.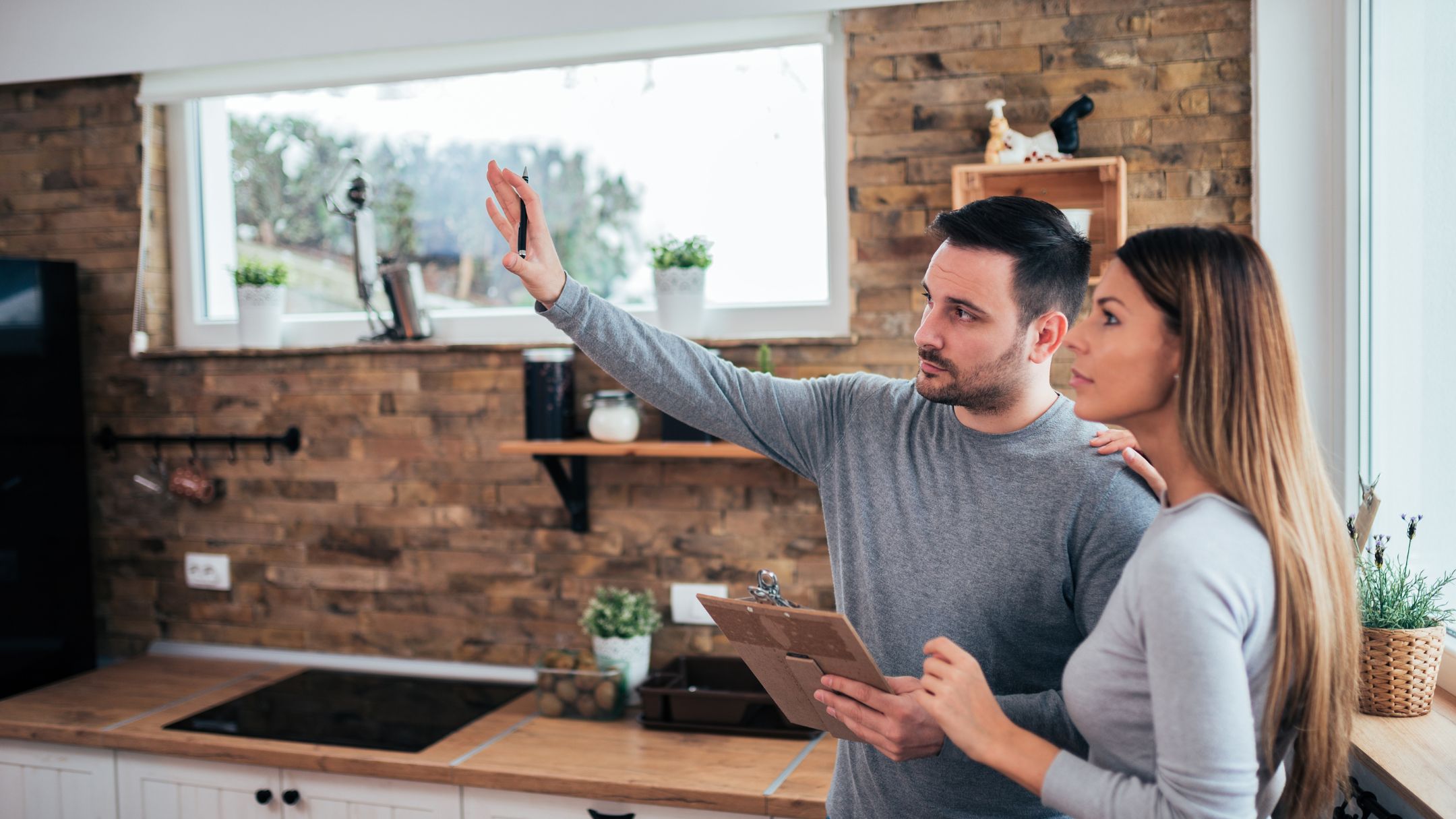 Replace Your Countertops
Replacing your countertops is another essential kitchen renovation idea you should consider. Countertops are one of the most prominent features in your kitchen, and they can make a big impact on the overall look and functionality of the space. Upgrading to a more durable and stain-resistant material, such as granite or quartz, can make your kitchen more functional and practical. You can also choose a material that is easier to clean and maintain, such as a solid surface or laminate.
Replacing your countertops is a worthwhile investment in your kitchen renovation project. It can improve the aesthetics and functionality of your space, increase the value of your home, and provide customization options that fit your unique needs and preferences.
Upgrade Your Appliances
Upgrading your appliances is a smart and practical kitchen renovation idea. Not only do new appliances add a fresh and modern look to your kitchen, but they also provide many benefits, including improved functionality and energy efficiency.
Old, outdated appliances can be a source of frustration in your kitchen. Consider upgrading your appliances with more energy-efficient and modern versions that include advanced features such as smart technology, various cooking modes, and self-cleaning capabilities.
Install a Tile Backsplash
Another kitchen renovation idea is to install a tile backsplash. A backsplash not only adds visual interest to your kitchen, but it also protects your walls from splatters and spills. There are endless options for materials, from classic subway tiles to bold, patterned cement tiles. And if you're feeling creative, you can even make a backsplash out of unexpected materials like wine corks or pennies.
Additionally, you can take extra measures to protect your walls and backsplash from moisture and stains by applying wax or laminate coatings. By taking these precautions, you can ensure that your kitchen remains clean, shiny, and beautiful for years to come.
Add Open Shelving
Adding open shelving is another great kitchen renovation idea that can make a big impact. Open shelving allows you to display your favorite dishes, glassware, and other decorative items while also creating additional storage space for your everyday kitchen essentials.
There are many different materials and styles of open shelving to choose from, including wood, metal, glass, and even floating shelves. You can opt for a rustic, farmhouse-inspired look with reclaimed wood shelves or go for a modern, industrial vibe with sleek metal shelves.
Replace Your Flooring
Your kitchen floor endures a lot of foot traffic, spills, and stains. Upgrading your flooring can not only improve your kitchen's look but also make it more durable and easy to clean. Consider materials like hardwood, tile, or vinyl, depending on your style and budget.
Incorporate Smart Storage Solutions
Storage is a crucial element in any kitchen renovation. Consider incorporating smart storage solutions as one of your kitchen renovation ideas, like pull-out drawers, vertical dividers, or corner cabinets, to maximize your space and keep your kitchen organized.
Upgrade your Sink and Faucet
Your sink and faucet are two items that get a lot of use in the kitchen, so upgrading them can make a big impact. A new sink can be deeper, wider, or more stylish than your old one, while a new faucet can have features like a pull-down sprayer, touchless activation, or a higher arc for easier filling of pots and pans.
Create a Dedicated Cooking Zone
The DIY trend has gained immense popularity in recent years. While hiring an interior designer can be helpful in reorganizing your kitchen's floor plan for optimal functionality, you can still add personal touches to make the space feel more like home.
These personalized features add character and warmth to your kitchen, making it a more inviting and desirable space. Of course, if you plan on selling your house in the future, it's important to keep in mind that potential buyers may not share your personal taste. In this case, it's best to stick with subtle pieces of furniture, such as customized bar stools or a stylish range hood, that appeal to a wider range of buyers and add overall value to the property.
Kitchen renovation can be a challenging task, but with the right ideas and planning, you can create a space that not only fulfills your needs but also reflects your style and personality. While remodeling your kitchen, keep these 11 kitchen renovation ideas in mind to create a space that is stylish, functional, and efficient.
With the many benefits of updating your kitchen, we encourage you to contact us to speak with our KSI kitchen experts.
We are offering free consultation for your plan and budget control. We can sit down with you to discuss your vision for your kitchen.
Whether you're looking to make the necessary updates to increase the marketability of your home, increase the functionality of the room, or create more storage space to help with organization, we can help you create the kitchen of your dreams.
The best A to Z kitchen renovation turnkey services in the Greater Montreal Area.
SHARE KSI CUISINE SOLUTIONS WITH FRIENDS