Kitchen remodeling is an excellent way to improve the functionality and aesthetics of your kitchen. Whether you are planning a complete kitchen overhaul or just want to make some minor upgrades, there are a plethora of kitchen remodeling ideas that you can consider.
12 Amazing Kitchen Remodeling Ideas in 2023
What Are the Hottest Kitchen Designs in 2023?
Although a stove, oven, and sink will always be essential in a kitchen, trends in color and materials are constantly evolving. Here are some of the current hottest trends in kitchen remodels:
Painted Cabinets: Move away from traditional wood tones and inject some energy into your kitchen with bold and bright hues of blue, red, green, or yellow.
Smart Appliances: By connecting your oven, dishwasher, or even toaster to the internet, you can conveniently control your kitchen appliances from your smart device, adding convenience and ease to your cooking routine.
Double Islands: Add more countertops and storage space while simultaneously creating a unique and appealing kitchen design by incorporating two islands – one for food prep and the other for casual dining.
Butcherblock Countertops: While granite has been a dominant material for countertops in recent years, butcher block provides a lighter and more casual feel that adds an inviting and comfortable touch to any kitchen.
Classic Materials: Incorporating timeless elements such as vintage stools, an antique teapot, or reclaimed tile can add a distinctive and personalized touch to modern kitchens, creating a unique and eclectic vibe.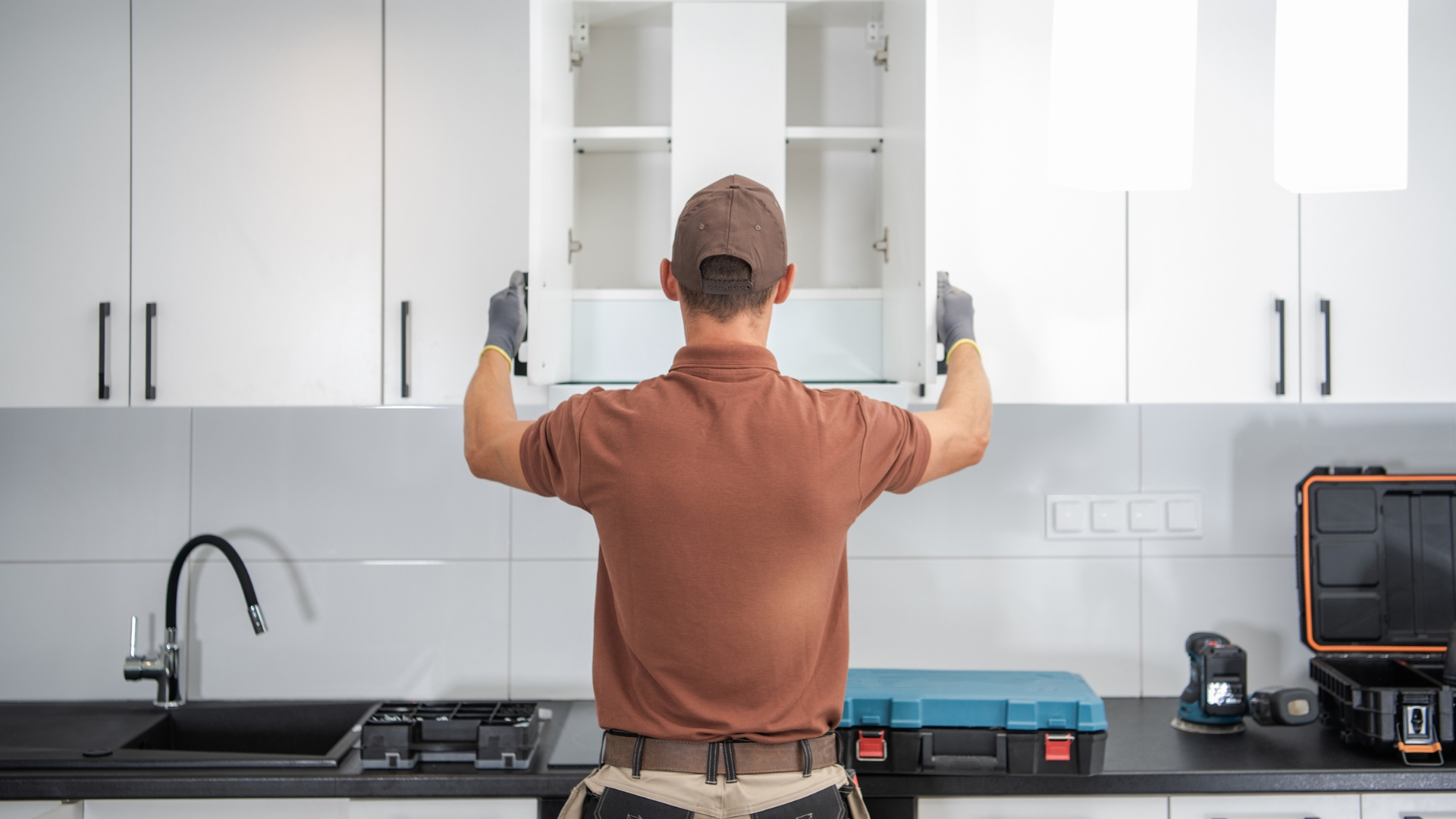 Having gained a grasp of the fundamentals of kitchen design, it's time to ignite your creativity with some kitchen design recommendations to transform your own cooking space. Whether your kitchen has a specific layout or not, these decorating ideas will assist you in renovating your décor and features, enhancing both style and functionality for an added touch of elegance in the heart of your abode. In this blog post, we will share with you 12 amazing kitchen remodeling ideas that you can incorporate into your kitchen design in 2023.
Open Shelving
Open shelving has been popular for a while, but it's still going strong in 2023 as one of the kitchen remodeling ideas that you should not miss. Open shelving not only provides easy access to your most-used kitchen items, but it can also add visual interest to your space. You can mix and match dishware, glasses, and vases to create a beautiful, personalized look. This kitchen design involves removing upper cabinets and replacing them with open shelves. Open shelves allow you to showcase your favorite kitchenware and add a touch of personality to your kitchen.
Two-Tone Cabinets
Two-tone cabinets are another kitchen remodeling idea that is gaining popularity. This kitchen design involves painting or staining the upper cabinets in a different color than the lower cabinets. Two-tone cabinets add visual interest to your kitchen and create a unique focal point.
Statement Lighting
Statement lighting is an excellent way to add character to your kitchen. A large pendant light or a chandelier can serve as a centerpiece in your kitchen and create a warm and inviting ambiance. Consider installing dimmer switches to adjust the lighting according to your mood and needs.
Quartz Countertops
Quartz countertops are a durable and low-maintenance option for your kitchen. They are resistant to scratches, stains, and heat, making them an ideal choice for busy kitchens. Quartz countertops come in a wide range of colors and patterns, allowing you to find the perfect match for your kitchen design.
Statement Backsplashes
One of the biggest kitchen design trends in 2023 is bold, eye-catching backsplashes. Gone are the days of plain, boring backsplashes – instead, homeowners are opting for statement-making tiles, patterns, and colors. A statement backsplash can add personality to your kitchen and make a real statement.
Built-In Appliances
Built-in appliances are a great way to create a seamless and cohesive look in your kitchen. Built-in appliances, such as a refrigerator or dishwasher, are designed to fit flush with your cabinetry, creating a streamlined look. Built-in appliances also free up valuable counter space.
Kitchen Island
A kitchen island is a versatile and practical addition to any kitchen. It provides extra storage and workspace, making it an ideal spot for food prep and cooking. A kitchen island can also serve as a gathering spot for family and friends.
Glass Cabinet Doors
Glass cabinet doors are a fantastic way to showcase your favorite kitchenware and add a touch of elegance to your kitchen. They allow you to display your dishes and glasses while keeping them dust-free. Glass cabinet doors also create an illusion of more space in your kitchen.
Smart Appliances
Smart appliances are becoming more popular in modern kitchens. These appliances are connected to your home's Wi-Fi network, allowing you to control them using your smartphone or tablet. Smart appliances, such as a smart oven or a smart refrigerator, can help you save time and energy in the kitchen.
Hidden storage is an excellent way to keep your kitchen clutter-free. Consider installing pull-out drawers or cabinets that are hidden behind a panel or a door. Hidden storage allows you to keep your kitchen essentials within reach while keeping them out of sight.
Matte Finishes
Matte finishes are a trendy and sophisticated kitchen renovation idea for your kitchen. Matte finishes are available in a wide range of colors, including black, gray, and navy blue. They add a touch of texture to your kitchen design and are also resistant to fingerprints and smudges, making them a low-maintenance option.
Outdoor Kitchens
Finally, one kitchen design trend that's really taking off in 2023 is outdoor kitchens. With more and more homeowners looking to create a seamless indoor-outdoor living space, outdoor kitchens are becoming increasingly popular. A well-designed outdoor kitchen can be an extension of your indoor space, providing a comfortable and convenient place to cook and entertain while enjoying the fresh air and natural beauty of your backyard.
In conclusion, kitchen remodeling is an excellent way to enhance the functionality and aesthetic appeal of your kitchen. The kitchen remodeling ideas mentioned above, such as open shelving, statement lighting, built-in appliances, a kitchen island, and matte finishes, can help you create a beautiful and functional kitchen design that reflects your personal style and meets your needs. Consider incorporating these ideas into your kitchen remodeling project in 2023 to create the kitchen of your dreams!
With the many benefits of updating your kitchen, we encourage you to contact us to speak with our KSI kitchen experts.
We are offering free consultation for your plan and budget control. We can sit down with you to discuss your vision for your kitchen.
Whether you're looking to make the necessary updates to increase the marketability of your home, increase the functionality of the room, or create more storage space to help with organization, we can help you create the kitchen of your dreams.
The best A to Z kitchen renovation turnkey services in the Greater Montreal Area.
SHARE KSI CUISINE SOLUTIONS WITH FRIENDS