Floating kitchen shelves and cabinets are two popular storage solutions in modern kitchens. While they both serve the same purpose, they have different advantages and disadvantages, making them better suited for different kitchen styles and needs.
Here are some comparisons of floating kitchen shelves and cabinets to help you decide which one is right for you.
Table of Contents
What Are Floating Kitchen Shelves and Kitchen Cabinets?
Floating kitchen shelves are shelves that are attached to the wall without any visible supports. They are made from a variety of materials, including wood, metal, and glass, and can be customized to fit any kitchen space. Floating shelves are a great choice if you want to create an open, airy look in your kitchen. They provide additional storage without taking up floor space, and they can also be used to display decorative items.
Cabinets are traditional storage solutions in the kitchen. They come in a variety of styles, from traditional to contemporary, and are typically made from wood or laminate. Cabinets provide concealed storage, which can be a major advantage in keeping your kitchen looking tidy.
Kitchen Shelves vs Cabinets: Strength
Cabinets support the most weight of any kitchen storage solution. Cabinets can support up to a few hundred pounds once properly installed, depending on the quality of the screws used (each screw should provide roughly 75 pounds of support).
Floating shelves, on the other hand, do not provide as much support. Since floating shelves are attached to the wall without visible supports, they can appear to be flimsy and less sturdy than cabinets. They are also not ideal for storing heavy items, as they can sag or even come off the wall if not properly supported.
Different types of shelves can support varying amounts of weight, typically ranging from 30 to 75 pounds. Some can support more weight depending on the shelf material, depth, and number of studs used. Choose a style that can support large pots, heavy dishware, and mid-size appliances if you intend to use your shelves for these items. Both shelves and cabinets have a recommended weight capacity, so do some research before deciding on a brand.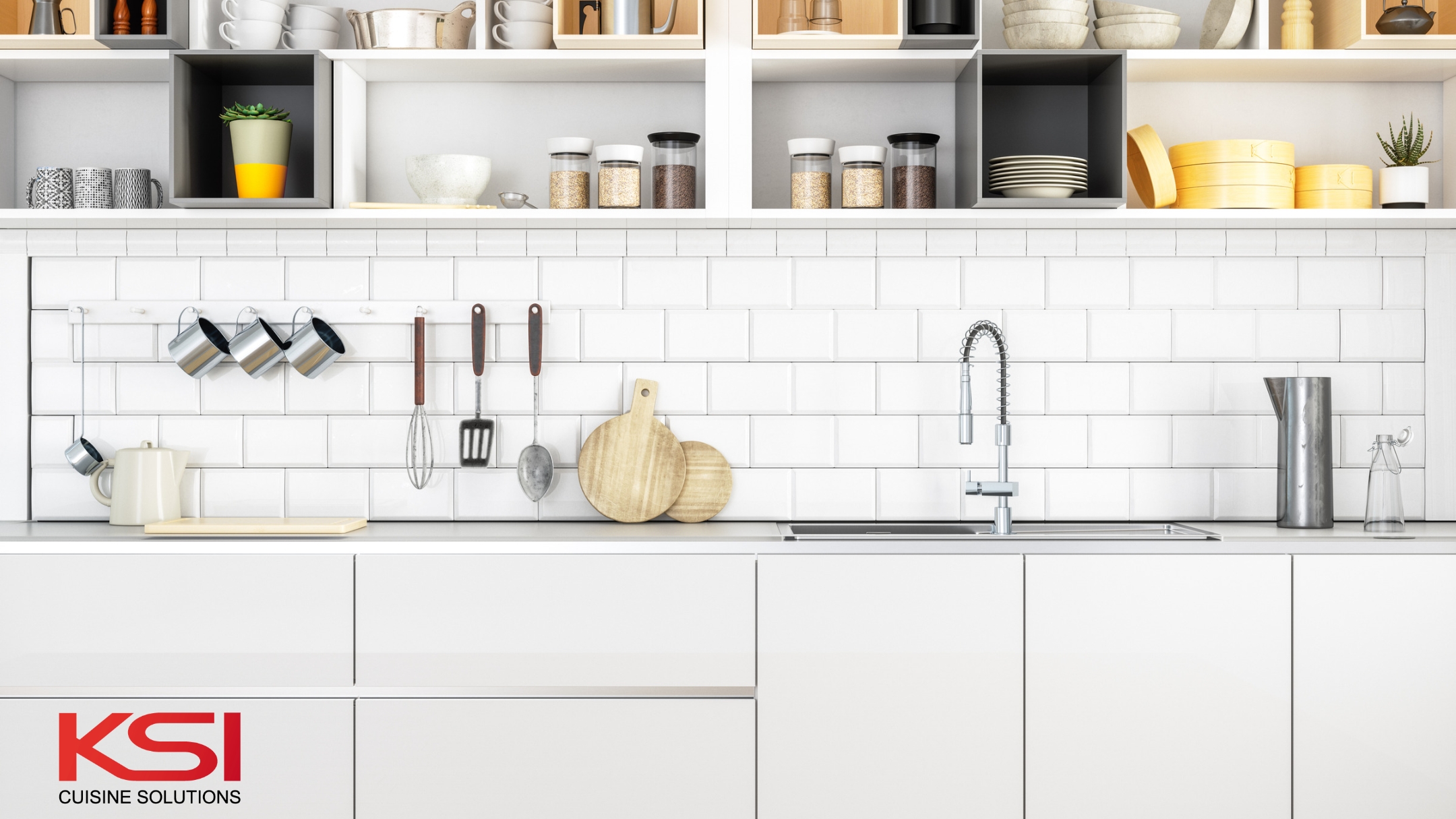 Kitchen Shelves vs Cabinets: Storage and Decoration
Closed-door cabinets are by far the most functional kitchen storage solution. Because you don't have to worry about presentation, cabinets can store far more items than open shelving, allowing you to clutter and cram the cabinets as much as you want.
Floating shelving is ideal for displaying your glassware and dishware. If you have larger shelves with plenty of space, you can even get creative with decoration, allowing your personality to shine through. They're an excellent place to add warmth.
The visual appeal of displaying beautiful kitchen objects and ornamentation is one of the most endearing qualities of shelving storage. If you are a neat and organized person, floating shelves will work well in your kitchen.
Kitchen Shelves vs Cabinets: Design Flexibility
Both cabinets and shelves have a wide range of stains and paint available in a variety of wood species and alternative materials, such as thermofoil. However, cabinets provide the most versatility through the creative aesthetic obtained only through decorative door styles.
Floating shelves offer a great deal of design flexibility as well. An entire kitchen, or even just one wall of closed cabinets, may appear less custom and more boring or bland. Going with shelving is a good way to incorporate some distinct inventiveness within the kitchen if you want a more visually interesting kitchen design.
Using floating wood shelves in a kitchen with painted cabinets is one way to achieve a modern look. The wood grain shelving will not only contrast with the painted cabinets but will also provide unique storage and presentation options. Another effective way to break up a large wall of cabinets is to place multiple shelves between two cabinets.
Kitchen Shelves vs Cabinets: Cost
Cabinets are much more expensive than open shelves. If staying on budget is one of your top priorities, going with an open-shelf style could be a great way to save money.  A simple base cabinet can cost around $500, not to mention more upscale options like MDF with premium paint or cherry wood with an elegant stain. High-quality floating shelves may not be as cheap as you think. While they are a less expensive option than kitchen cabinets, high-end options can still cost hundreds of dollars. It all comes down to the material of the shelves and their thickness.
Along with the same kitchen cabinet pricing factors mentioned above (material used and finish applied), the thickness of the shelf will determine how much material is required. A thinner shelf made of thermofoil is significantly less expensive than a thicker shelf made of walnut. If you're looking for low-cost floating shelves, stores like Home Depot, Wal-Mart, and Amazon sell them (ranging from $30 to $80) that you can install yourself. They will not be as strong or as durable as shelves made by cabinet or woodworking manufacturers, but they are an excellent way to save money while adding some light shelving to your kitchen.
Kitchen Shelves vs Cabinets: Keeping A Clean Space
Closed-door cabinet maintenance is thought to be easier than floating shelf maintenance. You won't have to worry about a cluttered presentation or dust accumulating within your cabinets with closed-door because the doors conceal the inside contents. All you need is a quick and thorough cabinet door cleaning, and you're good to go!
Floating shelves can be difficult to clean, as crumbs and spills can accumulate in the gaps between the shelf and the wall. Another issue is that shelves require more frequent cleaning because they are always on display. If you're not willing to dust frequently, this cabinet style may not be for you. Using shelves for storage is ideal if you are extremely organized and conscientious about your presentation. If not, try using your floating shelves with a "less is more" approach. Make sure your dishware complements the style of kitchen you're attempting to create. Choose neutral and functional dishes and add some decorative pieces to mix them up. 
Both floating kitchen shelves and cabinets have their own unique advantages and disadvantages. It's important to consider your specific kitchen needs and design preferences when choosing between the two. If you want an open and airy look, floating shelves may be the right choice for you. If you value concealed storage and durability, then cabinets might be a better option. Ultimately, the choice between floating shelves and cabinets will depend on your personal preferences and the specific needs of your kitchen.
Consider a combination if you want to incorporate floating shelves with kitchen cabinets in your kitchen design but still value the functionality of regular cabinetry. In fact, a well-balanced mix of floating shelves and cabinets is the ideal way to make kitchen storage unique while also adding personality to your design. As previously stated, you may want to use floating shelves in a popular location such as a corner, beside a window, or above a cooktop. If you have a large enough space, you can also put shelves between two upper cabinets. Getting creative with your storage space is the best way to achieve your ideal kitchen aesthetic.
With the many benefits of updating your kitchen, we encourage you to contact us to speak with our KSI kitchen experts.
We are offering free consultation for your plan and budget control. We can sit down with you to discuss your vision for your kitchen.
Whether you're looking to make the necessary updates to increase the marketability of your home, increase the functionality of the room, or create more storage space to help with organization, we can help you create the kitchen of your dreams.
The best A to Z kitchen renovation turnkey services in the Greater Montreal Area.
SHARE KSI CUISINE SOLUTIONS WITH FRIENDS