The Ultimate Guide to Choosing the Perfect Kitchen Cabinet
Kitchen cabinets are essential to the heart of your home. They set the tone for your culinary travels while also reflecting your individual personality. So, it's no surprise that deciding on the best kitchen cabinet style for your home might be a little overwhelming. But don't worry, we've got you covered!
This post will walk you through the process of choosing the best cabinets for your needs, preferences, and budget. Let's get started!
Table of Contents
Choose Kitchen Cabinet Material
To choose kitchen cabinets, you must first select the appropriate material. The material of the cabinet will determine its longevity, aesthetics, and maintenance requirements. Wood, MDF, plywood, and particleboard are among the materials used to make kitchen cabinets. When selecting kitchen cabinets, consider the following three popular cabinet materials.
Solid Wood
Solid wood kitchen cabinets are beautiful and one-of-a-kind. When you choose kitchen cabinets, solid wood is a material that gives your kitchen a natural wood gloss, depending on the finish. Furnishings are also important in extending the life of your solid wood kitchen cabinets.
It is a popular choice for various applications due to its many benefits, including its durability and longevity as a sturdy material, ability to provide a natural and timeless look to a kitchen, and its availability in various wood types that offer distinct colors, grains, and patterns. Another advantage is its ease of repair for scratches and dents. 
If you're looking to choose kitchen cabinets, it's important to keep in mind that wood can expand and contract when exposed to changing humidity levels, which may require special care and maintenance. Additionally, the cost of solid wood is typically higher than other materials, making it a more significant investment.
Plywood
When you choose kitchen cabinets, it's important to consider your budget. If you have a limited kitchen remodeling budget, plywood is an excellent choice. When it comes to sprucing up your kitchen, the material is also simple to paint in the color of your choice.
Utilizing plywood presents several advantages when it comes to choosing kitchen cabinets, such as its affordability, lightweight nature, and ease of repair using wood filler. Furthermore, plywood is available in various grades, providing options that cater to different budget constraints. Nevertheless, it is important to be mindful of the material's potential flaws, such as knots and gaps, during installation. Plywood's brittleness is also a drawback, as it may break easily if overloaded.
Medium Density Fiberboard (MDF)
MDF kitchen cabinets are popular among many homeowners because of their versatility and low cost. It is simple to clean and can last for many years if properly cared for. Furthermore, because of its high density and consistent structure, it is simple to create 3D cabinet door designs with high-speed CN cutting tools. When building kitchen cabinets, MDF can be cut into various shapes and sizes. 
If you choose kitchen cabinets made of MDF, make sure to work with a skilled carpenter or cabinet maker who can ensure that the cabinets are properly constructed and finished to minimize the risk of damage and ensure the safety of your family. It's also a good idea to choose low-VOC finishes and adhesives to minimize the environmental impact.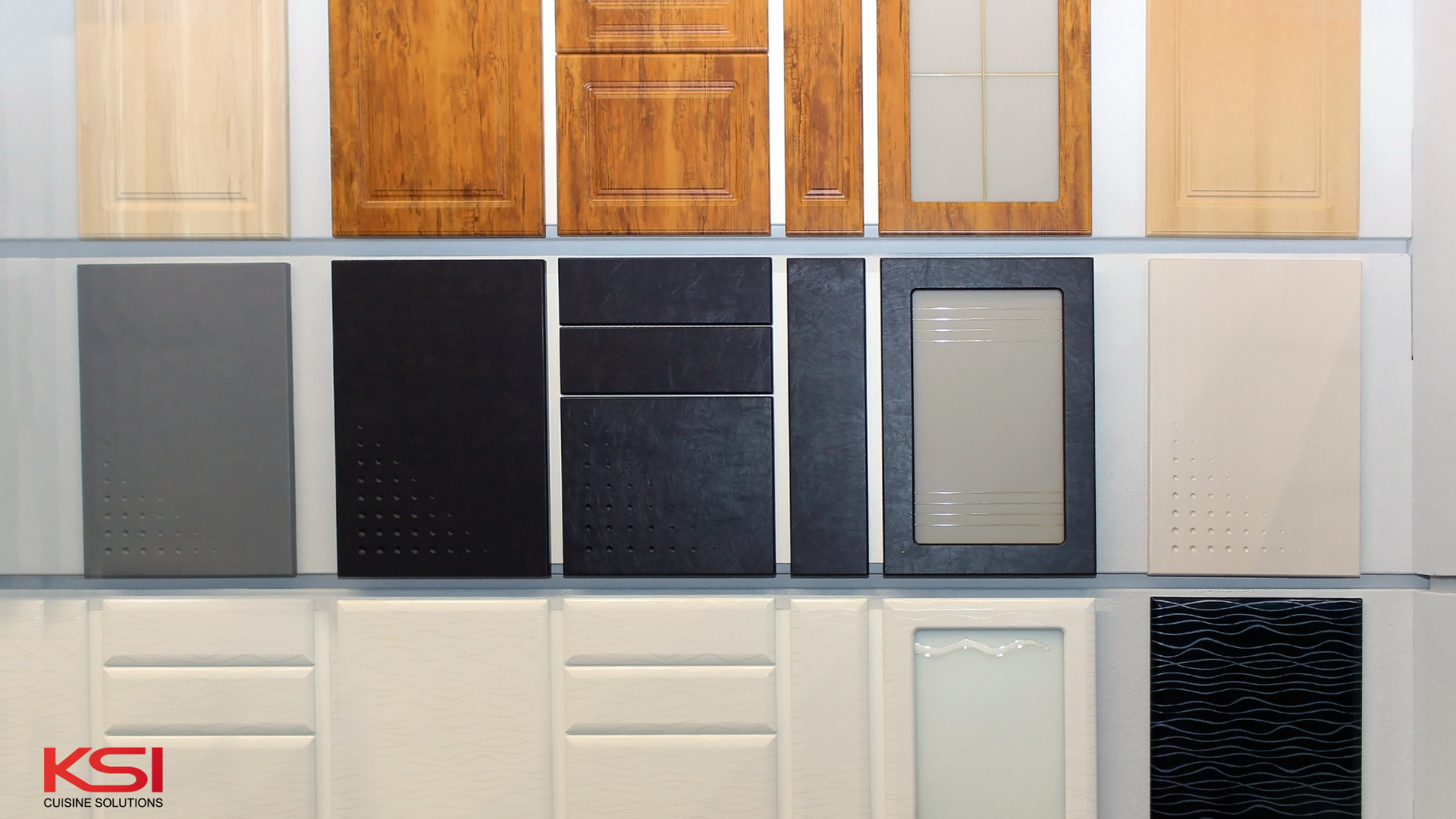 Choose Kitchen Cabinet Color
The color of your kitchen cabinets can make a big difference in the overall look of your kitchen. Select a color that complements the style and color scheme of your kitchen. Here are some popular colors when you choose kitchen cabinets:
Black Kitchen Cabinet: Black kitchen cabinets are a bold and dramatic choice that can create a sophisticated and chic look, especially when paired with white or metallic accents.
Natural Wood Kitchen Cabinet: A warm and inviting option that can showcase the beauty of natural wood grains and create a rustic or traditional feel.
Dual-Tone Cabinet Colors: It is important to consider the overall design and color scheme of your kitchen when you choose kitchen cabinets. If your kitchen is large enough, you don't have to stick to a single-color scheme. Instead, you can go for a two-toned kitchen design, which is the concept behind dual toning the perimeter of your kitchen cabinets with the back of your island.
Decide on the Storage Options
Another factor that you need to take into consideration when choosing kitchen cabinets is the storage options for the kitchen. The storage options in your kitchen cabinets can make a big difference in your kitchen's functionality. Consider the different storage options available, such as pull-out shelves, lazy susans, and corner cabinets. Think about your storage needs and select the options that will work best for you.
Pull-Out Shelves
Pull-out shelves, also known as roll-out shelves, are shelving units that are designed to slide out of cabinets or pantries for easier access to stored items. These shelves are typically installed on tracks and can be pulled out completely, allowing you to access the entire shelf without having to reach to the back of the cabinet.
Kitchen pull-out shelves offer several advantages, including improved accessibility to items at the back of your cabinets, better organization of kitchen items, and increased storage space in a compact area. They are easy to install and can be added to almost any cabinet or pantry.
However, it's important to note that over time, the sliding mechanisms of pull-out shelves may wear out, resulting in instability or difficulty in operation. Moreover, due to weight limitations, they may not be ideal for storing heavy items compared to fixed shelves.
Lazy Susans
A Lazy Susan is a rotating tray that is typically used in kitchens and dining rooms to hold items like spices, condiments, and serving dishes. The Lazy Susan is designed to rotate easily, allowing you to access the items on the tray without having to reach over or move other items out of the way. They offer several benefits, including increased accessibility to items in hard-to-reach corners, enhanced organization by allowing easy categorization and grouping of items, and a neat appearance that conceals clutter.
There are also some drawbacks to using Lazy Susans, such as limited storage capacity for larger or irregularly shaped objects, potential stability issues due to the rotational mechanism, and difficulties in cleaning and maintaining crevices where dust and debris can accumulate.
Corner Cabinet
Corner cabinets are often used in kitchens to make the most of corner spaces that might otherwise go unused. These cabinets are designed to fit into a corner and typically have a unique shape that allows for more storage space than traditional cabinets. They can add visual interest and be customized to suit different storage needs, while also offering additional counter space in smaller kitchens.
While there are so many benefits to using corner cabinets in the kitchen, you also need to be aware that accessing items at the back of deeper corner cabinets may be challenging, and some corner cabinet designs can be impractical and result in wasted space. Additionally, their size and shape can limit the types of items that can be stored inside.
Don't Forget About the Maintenance
It is critical to consider maintenance when you choose kitchen cabinets. Many people are so focused on the appearance of the cabinets that they overlook the maintenance required to keep them looking excellent. Proper maintenance keeps your cabinets in great shape and allows them to last for many years. Neglecting maintenance can lead to damage that is expensive to rectify or even replace.
One of the most important kitchen cabinet maintenance jobs is regular cleaning. Over time, dirt, grease, and grime can develop on cabinets, dulling their look and damaging the gloss. Cleaning with a soft, wet cloth and mild soap on a regular basis can help remove dirt and grime without damaging the finish. Abrasive cleaners and steel wool should be avoided since they can harm the surface of the cabinets. You can keep your cabinets looking their best and prevent damage by cleaning them on a regular basis.
Choosing the perfect kitchen cabinet can be a daunting task, but it's essential to get it right to create a functional and beautiful kitchen. The right cabinet can provide ample storage space, complement your kitchen's style, and add value to your home.
To choose kitchen cabinets, it's crucial to consider factors such as the cabinet's color, finish, and materials. It's also important to consider the maintenance of your kitchen, as well as your storage needs. By carefully evaluating your needs and preferences in each of these areas, you can find the cabinets that best meet your needs and create the kitchen of your dreams.
With the many benefits of updating your kitchen, we encourage you to contact us to speak with our KSI kitchen experts.
We are offering free consultation for your plan and budget control. We can sit down with you to discuss your vision for your kitchen.
Whether you're looking to make the necessary updates to increase the marketability of your home, increase the functionality of the room, or create more storage space to help with organization, we can help you create the kitchen of your dreams.
The best A to Z kitchen renovation turnkey services in the Greater Montreal Area.
SHARE KSI CUISINE SOLUTIONS WITH FRIENDS