10 Space-Saving Kitchen Cabinet Solutions for Small Kitchens
A small kitchen can be inconvenient, especially if you enjoy cooking or entertaining. However, even the smallest spaces can be functional and even enjoyable. These clever storage solutions for small kitchens will inspire you to transform your kitchen from cramped and cluttered to organized and airy.
From behind-the-door storage to lazy Susans and stackable bins, there are a variety of space-saving kitchen cabinet solutions available to help you maximize the functionality of your kitchen while also making the most of your limited space. We will look at 10 space-saving kitchen cabinet solutions for small kitchens in this blog.
10 Space-Saving Kitchen Cabinet Solutions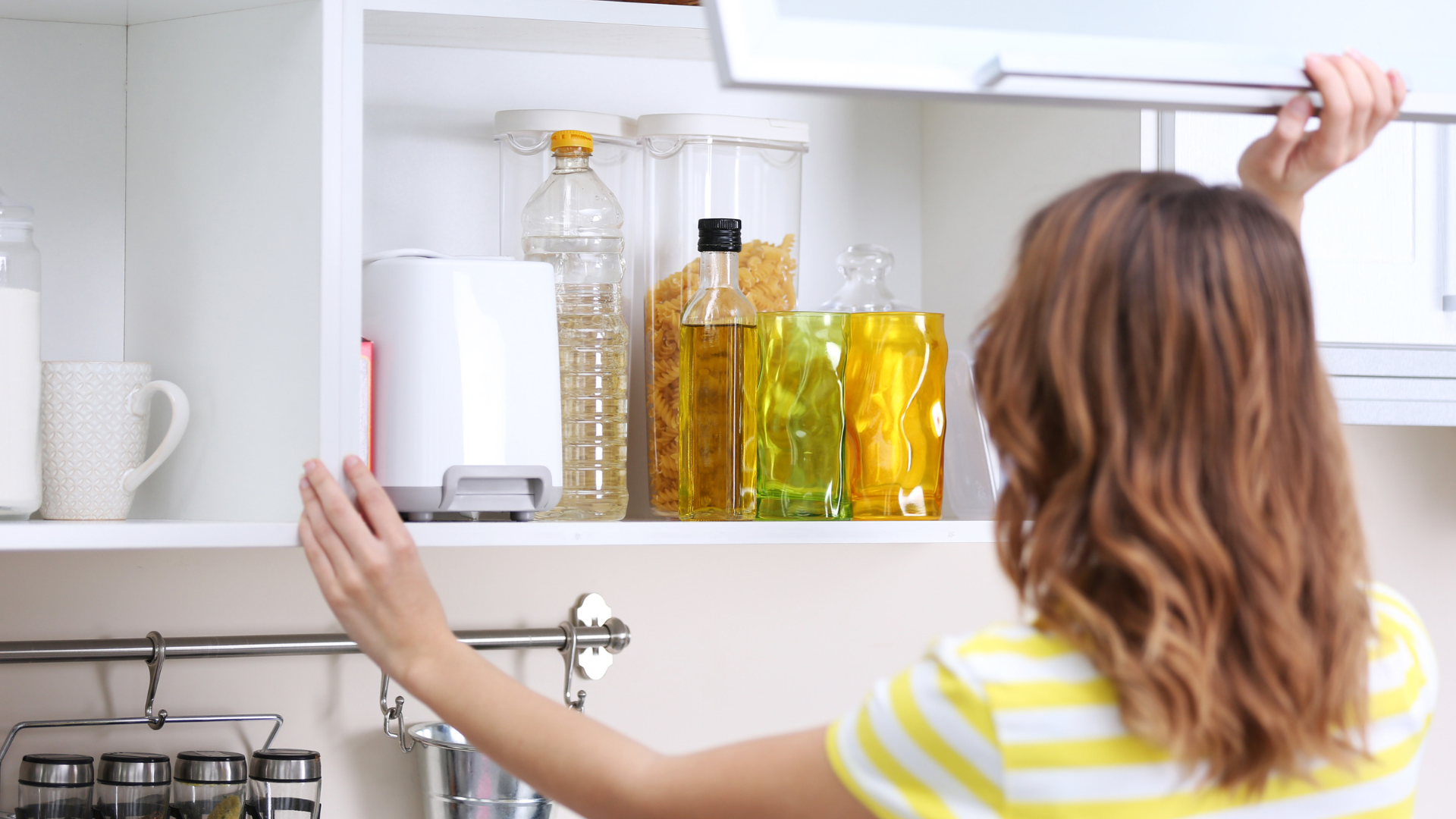 Pull-Out Cabinets
Pull-out cabinets allow you to access the contents of your cabinets without bending down or reaching into the back. They have a sliding mechanism that pulls the cabinet contents out towards you, making it easy to see and access everything inside.
For small kitchens, pull-out cabinets are excellent space-saving kitchen cabinet solutions. Vertical space is used to maximize storage in these cabinets. They can be installed in small spaces, such as between appliances or between walls. The pull-out feature makes it simple to reach your pots, pans, and other kitchen necessities.
Corner Cabinets
Kitchen corner cabinets are cabinets that are designed to fit in a kitchen corner where two walls meet at a 90-degree angle. They are commonly used to maximize storage space and make use of the frequently underutilized corner area.
Corner cabinets in small kitchens are often overlooked, but they can be an excellent place to store kitchen items. Installing kitchen cabinet solutions such as a lazy Susan or a pull-out organizer in the corner cabinet can help you make the most of every square inch of space in your kitchen. Corner cabinets are ideal for storing bulky kitchen items such as mixers and blenders.
Wall-Mounted Cabinets
Wall-mounted kitchen cabinets are popular kitchen cabinet solutions for those who want to maximize storage space in their kitchen because they can provide additional storage space without taking up valuable floor space. Wall-mounted cabinets are available in a variety of sizes, shapes, and styles, allowing you to select the one that best complements the design of your kitchen.
Wall-mounted kitchen cabinets are typically installed by first attaching a mounting bracket to the wall and then attaching the cabinet to the bracket. To avoid accidents and ensure stability, make sure the cabinets are securely fastened to the wall.
Open Shelving
Open shelving is one of the fashionable and functional kitchen cabinet solutions for small kitchens. You can create the illusion of more space in your kitchen by removing cabinet doors and installing open shelves. You can also use open shelving to display your favorite kitchen items, such as dishes, glasses, and cookbooks.
Open shelves, which can be made of wood, metal, or glass, can be used to store a variety of kitchen items such as dishes, glasses, and cooking utensils. This design allows for easy access to frequently used items while also acting as a decorative element in the kitchen by displaying unique or aesthetically pleasing items.
Over-the-Door Organizers
Over-the-door organizers are simple and low-cost kitchen cabinet solutions to increase storage space in a small kitchen. These organizers are kitchen cabinet solutions that hang over cabinet doors, maximizing vertical space. Spices, baking sheets, and other small kitchen items can be stored in over-the-door organizers.
For those with limited storage space in their kitchen, these organizers can be a convenient and space-saving solution. They're also a great way to keep frequently used items close at hand and easily accessible. Over-the-door organizers are available in a variety of materials, including plastic, metal, and fabric, and are simple to install with no special tools or hardware required.
Pull-Out Pantry
A pull-out pantry is one of the best great kitchen cabinet solutions if you have limited cabinet space in your small kitchen. This pantry can be installed in a small space, such as between the refrigerator and the wall. Pull-out pantries have shelves that slide out, making it simple to reach your pantry items.
As opposed to a traditional pantry, a pull-out pantry typically has adjustable shelves that slide out on rails and require reaching and digging for items. This allows for easier access to the pantry's contents while also making it more organized and efficient.
Rolling Kitchen Cart
A rolling kitchen cart is one of the most versatile and space-saving kitchen cabinet solutions for small kitchens. This cart can function as a prep station, a storage unit, or even a serving cart. Rolling kitchen carts are compact in design, making them easy to move around your kitchen.
Rolling kitchen carts are available in a variety of materials, including wood, metal, and plastic, and can be customized to match the style of the kitchen. They can be a useful addition to a kitchen that lacks counter space or storage, or for those who need to move their kitchen supplies around as they cook.
Built-In Appliances
Built-in appliances like ovens and microwaves are a great way to save space in a small kitchen. By incorporating these appliances into your cabinets, you can save valuable counter space. Built-in appliances, as one of the kitchen cabinet solutions that you should not overlook when remodeling your kitchen, also help to create a unified look in your kitchen.
Built-in appliances have the advantage of seamlessly blending into the overall design of the kitchen, resulting in a streamlined and cohesive appearance. They can also save you space because they are built directly into the cabinets and take up no additional floor or counter space.
Under-Cabinet Lighting
Under-cabinet lighting is one of the most functional and fashionable kitchen cabinet solutions for making a small kitchen appear larger. These lights are installed beneath your cabinets to illuminate and add depth to your countertops. Under-cabinet lighting also improves visibility while preparing food.
It can be tailored to the needs and style of the kitchen, with dimmers, color temperatures, and control systems available. It is an excellent addition to any kitchen remodeling or renovation project.
Drawer Organizers
Kitchen drawer organizers are accessories that aid in keeping the contents of kitchen drawers organized and accessible. They are typically made of plastic, wood, or metal and are available in a variety of shapes and sizes to fit various drawer configurations.
Different kitchen utensils, such as spatulas, whisks, and serving spoons, can be separated, and classified using drawer organizers. Other kitchen items, such as measuring cups, cutting boards, and baking sheets, can also be stored in them. They are one of the simplest and most effective kitchen cabinet solutions for keeping your drawers organized and tidy.
To summarize, a small kitchen does not have to limit your cooking experience. You can make the most of your limited space by utilizing space-saving solutions such as pull-out cabinets, open shelving, or rolling kitchen carts. Remember, it's all about making the most of every available space and being creative with your storage solutions. You can transform your small kitchen into a beautiful and functional space with a little planning and effort.
With the many benefits of updating your kitchen, we encourage you to contact us to speak with our KSI kitchen experts.
We are offering free consultation for your plan and budget control. We can sit down with you to discuss your vision for your kitchen.
Whether you're looking to make the necessary updates to increase the marketability of your home, increase the functionality of the room, or create more storage space to help with organization, we can help you create the kitchen of your dreams.
The best A to Z kitchen renovation turnkey services in the Greater Montreal Area.
SHARE KSI CUISINE SOLUTIONS WITH FRIENDS