Is a Minimalist Kitchen Right For You? A clutter-free home is a happy home. At least, that's what proponents of the minimalist movement believe. Many think this method of living is just a fad, but those who have adopted this way of living know otherwise.
From workspaces to restaurants to family homes, the influence of the minimalist design movement can be seen around the world. Minimalist design is focused on simplicity, quality, and stripping things down to their most raw and natural form. But the meaning is much deeper than simply aesthetics.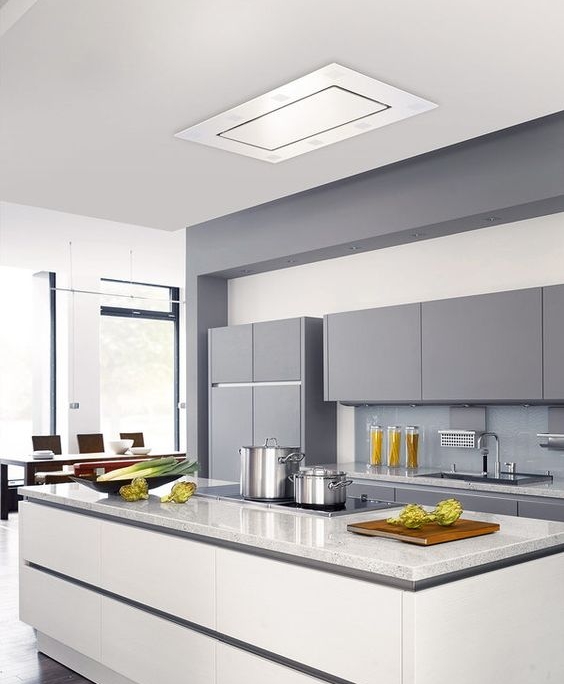 So What Is Minimalism?
According to Joshua Millburn and Ryan Nicodemus (famed authors of Everything That Remains), "minimalism is a tool to rid yourself of life's excess in favour of focusing on what's important—so you can find happiness, fulfillment, and freedom" (minimalism.com). Josh and Ryan recommend utilizing minimalism to eliminate discontent and experience real freedom.
Real freedom is what we're all after, right? We live in a world of stress and excess. So it's no wonder that the minimalist decor movement has taken off in recent years.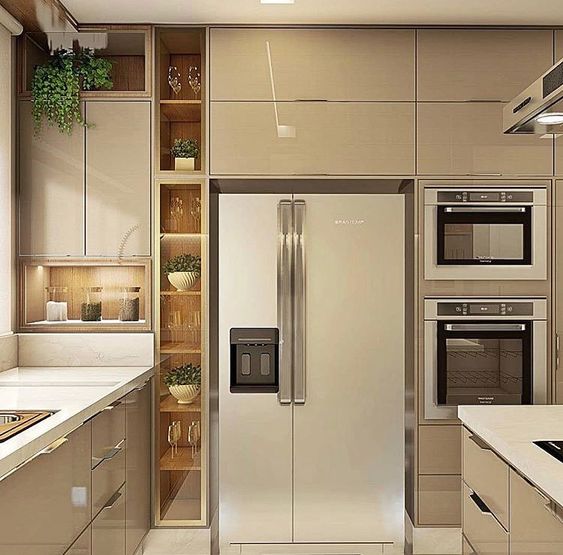 Unsure of where to start? The best place to begin implementing the principles of minimalism is where you spend the most time, your home. Eliminating unnecessary junk in your house will not only refresh your space but your mind as well. Getting even more specific, we recommend starting the decluttering process in your kitchen. After all, the kitchen is the heart of the home!
To get you started, we're exploring 10 minimalist kitchen designs that embody the word "less." Fewer distractions, less disarray, and less mess. Minimizing these things makes more room for love, fun, and of course, cooking spectacular meals. Plus, we'll be offering up some tips regarding the best minimalist kitchen essentials. Here are 10 ideas to inspire your next kitchen to remodel.
Natural Finishes
Minimalist kitchen design with natural wood cabinets, wood floors, and a wood dining table
Minimalist kitchen designers typically place a high emphasis on natural elements for an earthy feel. That means utilizing wood, marble, and occasionally cement or stone.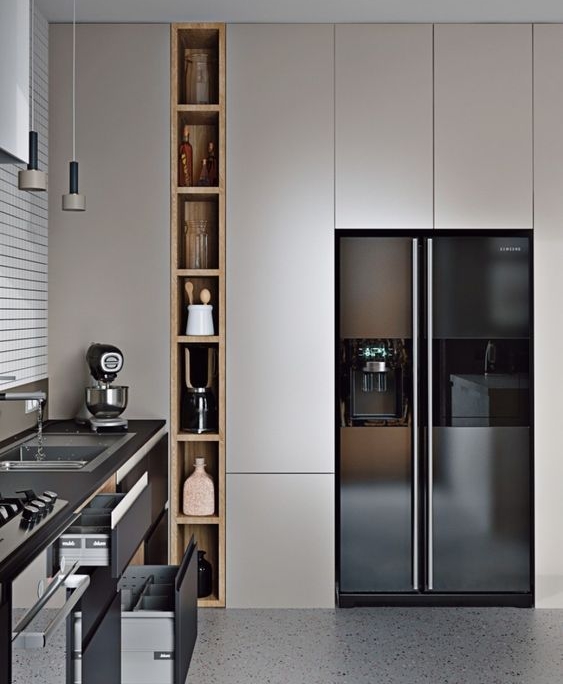 The main focus in this minimal apartment kitchen is the natural wood cabinetry, paired with matching dining furniture and wood floors. Extra open shelving on the side of the cabinet creates more storage space while showcasing a collection of white ceramic dishware. With the large window flooding in natural light, this space feels dreamy, airy and light.
Neutral Color Palette
Neutral colour minimalist kitchen with marble countertops and backsplash, black bar stools, and large window
The uniting element of all minimalist kitchens is a neutral colour palette. Calming and subdued, neutrals like grey, white, black and beige give minimal kitchens their effortless feel.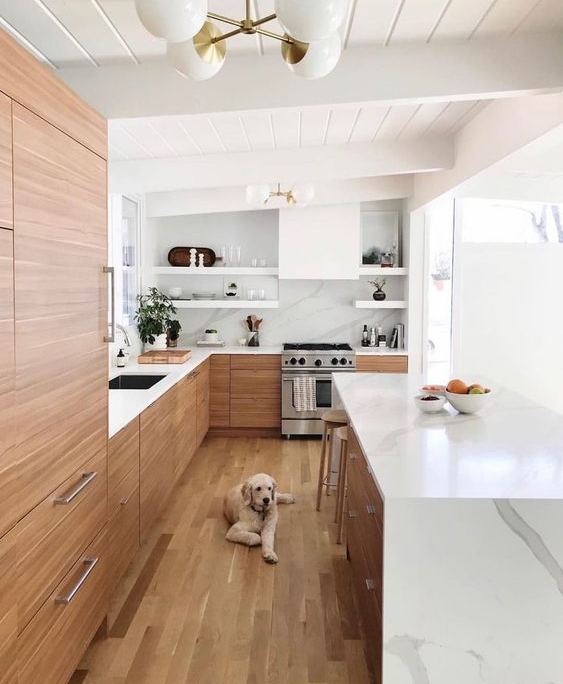 This modern Scandinavian kitchen keeps the colour scheme fresh and light. A gorgeous grey marble brings attention to the backsplash and large kitchen island. The large, intentionally-placed square window looks out into an array of lush greenery. The deliberate positioning of this window is the embodiment of minimalist thought. It wasn't randomly placed just for the sake of having a window—it was thoughtfully positioned to not only invite natural light but to appear almost as a framed painting of dense forest brush.
Darker Tones
Darker neutrals in a minimalist kitchen with cement countertops, matte black sink faucet, and black cabinets
Although lighter hues are more common in minimalist design, don't shy away from darker shades. Oftentimes, colours like black and dark grey create a stunning contrast that can't be achieved with lighter neutrals.
Darker finishes like grey tile, cement countertops, and black cabinets give this kitchen a dramatic ambiance. A matte black faucet is a perfect touch. If you opt for darker colours in your design, just make sure to incorporate some brighter elements too, like white walls and plenty of natural light.
Shaker Cabinets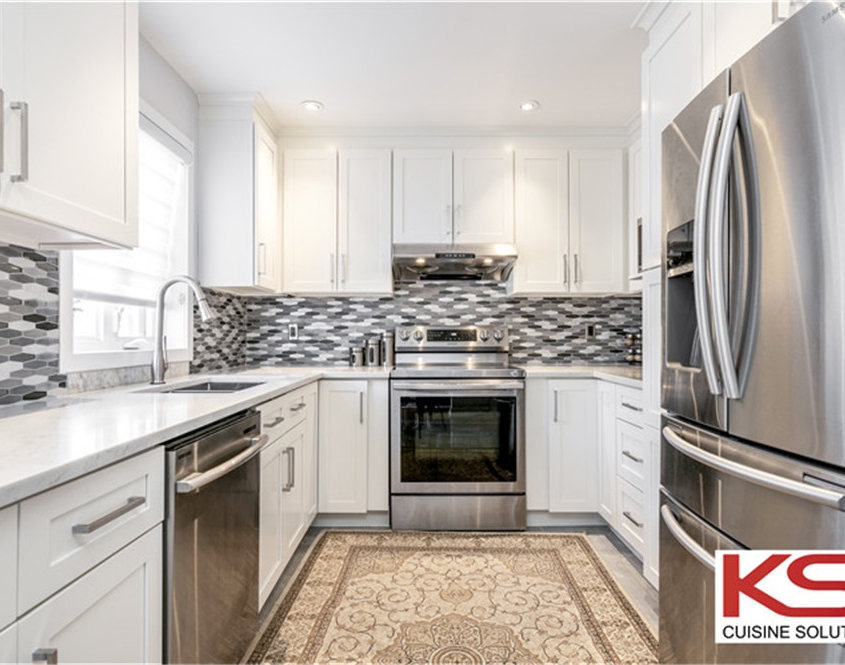 White shaker cabinets in a minimal modern kitchen with plant decor and a white backsplash
Minimalist kitchen designers tend to lean toward the shaker cabinet style for its effortless look and durable build. The five-piece door front is simple yet elegant. Try a stark white door colour for a bright and reviving look. For hardware, try modern brass knobs and pulls. Some designers choose to forego hardware on shaker cabinets altogether for a cleaner and more consistent look.
Modern Elements
Modern kitchen with beige high gloss cabinets, recessed lighting, and minimalist decor
Modernism goes hand-in-hand with minimalism. Both design styles center on clean lines, neutral colour palettes, and limited clutter.
This modern kitchen features glossy beige cabinets, stainless steel appliances, and a subdued tile backsplash—all illuminated by recessed lighting, casting reflections that are an artistic statement in themselves. As there is no excess decor, the design relies solely on the high-quality finishes for a sense of subdued grandeur.
Simplified Dining
Minimalist Scandinavian dining room with wood dining furniture and white wall paint
A well-designed dining room is a must-have in minimalist design.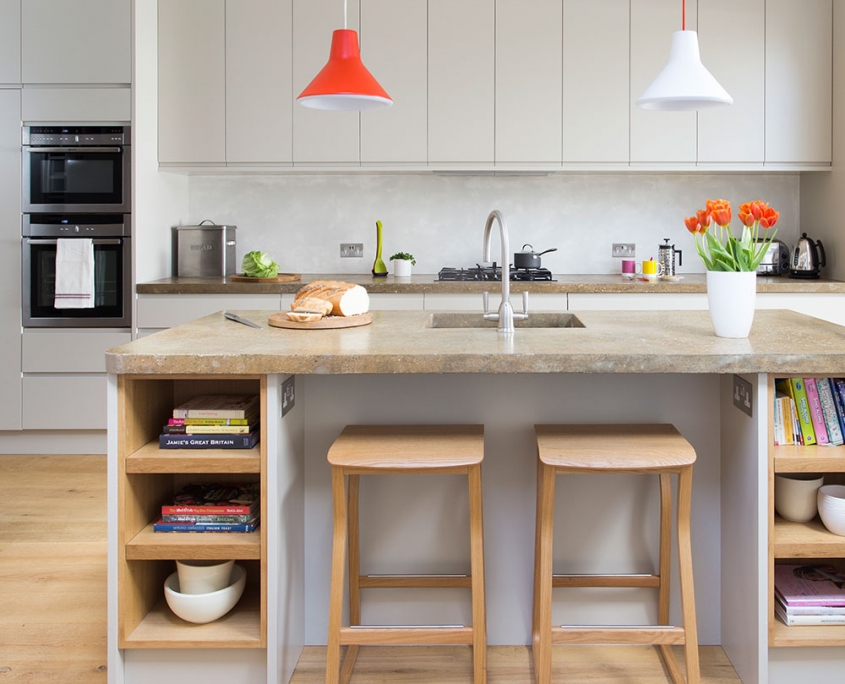 The bare and clean design of the cooking area will be wasted if not continued into the dining area. This home features a small mid-century modern dining table set, accentuated by stark white walls and a simple nature-inspired centrepiece.
The pinnacle of a minimalist home is a lounge space that is restrained and conservative, as this places less emphasis on "things" and more on quality conversation and presence.
large modern kitchen with white cabinets and marble waterfall countertop
A Touch Of Greenery
A beautiful way to add texture to minimalist kitchens is with a hint of greenery. Whether they're real or faux, plants displayed in sleek glass vases make easy and affordable centrepieces. You can also make it seasonal by displaying fresh flowers or herbs from the garden or local market. Instead of indulging inexpensive decor that you'll grow tired of after a few months, go minimal with an earthy look.
To get a FREE 3D design and estimation for your new kitchen project, click here! TEL: 514-400-8966 (Montreal)
Click me
Wall Art
Adopting the minimalist kitchen style doesn't mean you need to toss out your favourite art and wall decor. Instead, assess what pieces will truly benefit your design, and place them intentionally. For example, the designer of this boho kitchen broke up the bright white colour scheme with four woven wall hangings. The intricate patterns and darker colours offer a bit of contrast without taking away from the simplicity of the space.
If you love the look of a minimalist kitchen but can't go without your favourite art, we recommend removing everything from the walls first. Take a few days to simply live in the space with blank walls—does it feel calming, and refreshing? Or does it feel too bare? Slowly add decor back in, piece by piece, ensuring that each one truly complements the space and makes you happy.
Pendant Lighting
Another artistic element that lends well to minimalist kitchen design is pendant lighting. There are hundreds of colours, shapes and materials to choose from when it comes to lighting, so here is where you can really let your creativity shine.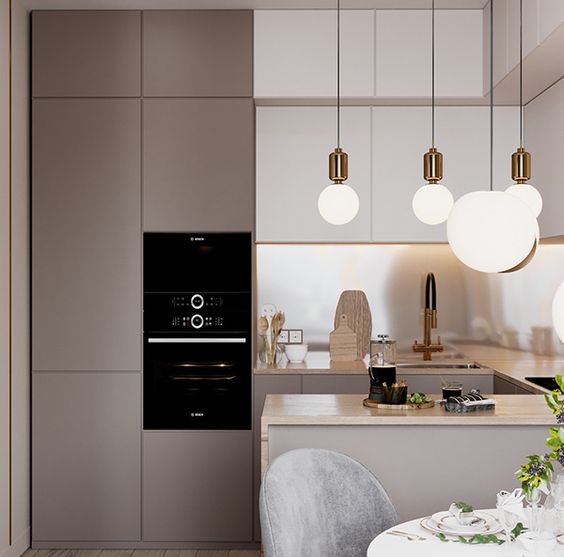 This modern home features chic gold-plated pendant lights over the island for a splash of metallic colour. Other popular minimalist lighting finishes include matte black, woven bamboo, natural wood, and even concrete. If you aren't sure which pendant lights will best suit your minimal kitchen, order a few to compare finishes and keep the ones you love most.
Get Your Dream Minimalist Kitchen For Less
KSI Kitchen Solution offers an extensive selection of minimalist kitchen cabinets. With over 30 combinations of styles and colours, we have the perfect cabinets for your kitchen remodel. If you need assistance with your design, get a FREE 3D kitchen design from our team of expert designers.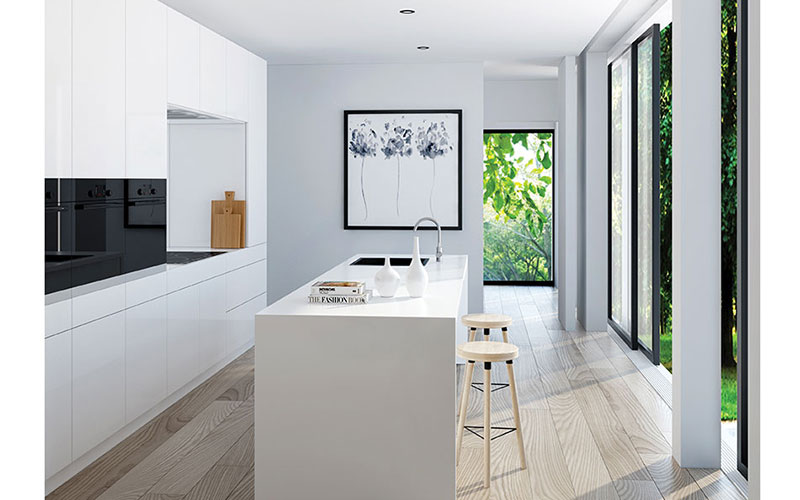 With the many benefits of updating your kitchen, we encourage you to contact us to speak with our KSI kitchen experts.
We are offering a free consultation for your plan and budget control. We can sit down with you to discuss your vision for your kitchen.
Whether you're looking to make the necessary updates to increase the marketability of your home, increase the functionality of the room, or create more storage space to help with organization, we can help you create the kitchen of your dreams.
The best A to Z kitchen renovation turnkey services in the Greater Montreal Area.
SHARE KSI CUISINE SOLUTIONS WITH FRIENDS