Durable and smart Tile Kitchen Floor Ideas. A tile is a great option in the kitchen. A versatile flooring option, tile floors can look rustic or cutting edge and can be installed in virtually any pattern. And tile can withstand heavy foot traffic, water spills and doesn't absorb odours or bacteria. It can stand up to pets and children and it can go with any style of decor. And tile can be arranged in a multitude of patterns.
For most people, the kitchen is the heart of the home. However, with a small kitchen, it may be more challenging to enjoy spending much time in it. There are a few things that can be done to make any small kitchen more desirable to be in. This kitchen is the place everyone will want to hang out in for sure. The oversized island seats six, and the mosaic tile floor leaps to life with colour and pattern.
Even in a small kitchen, meals and memories are made. Use the tips above to make it a more enjoyable place to be.
Black-and-White Tile Floors Elongate Galley Kitchen
Black-and-white tiled floors draw the eye from one side of the kitchen to the other. In turn, the narrow space seems longer and more open. The bright, mint blue cabinets accentuate this as well.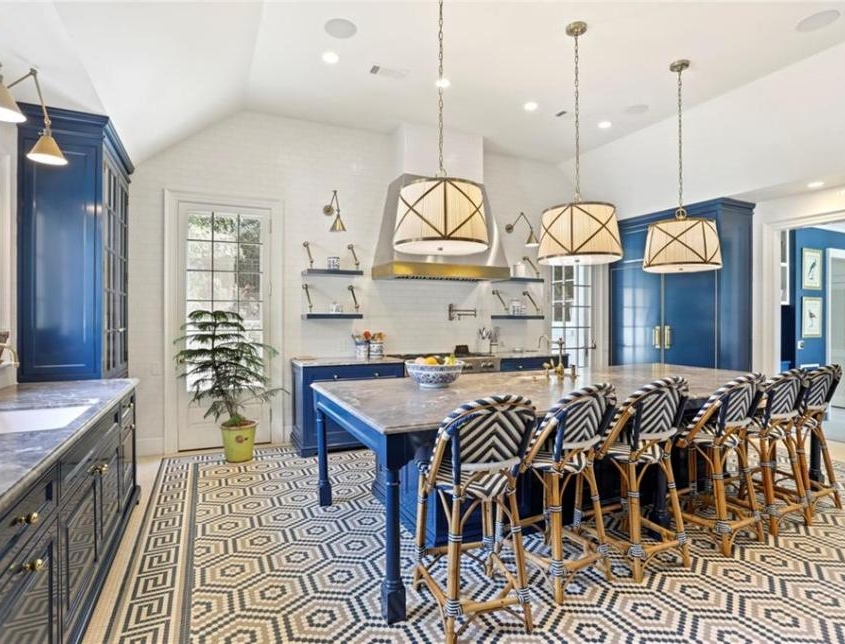 Modern Kitchen with Striking Geometric Floor Tiles
A rich walnut kitchen island provides an antique midcentury vibe, paired with white countertops and light, bleached wood cabinets. Colourful antique stools sit atop gray and white geometric floor tiles that extend throughout the kitchen and nearby dining space.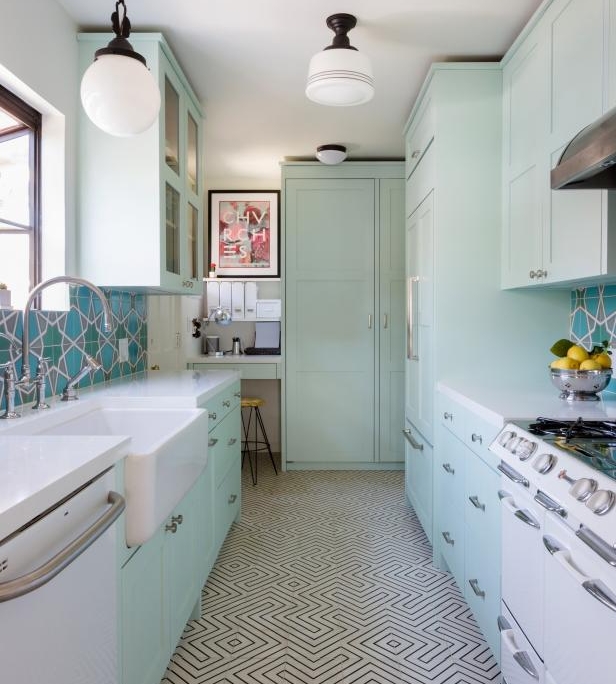 Wild Floor
The contrast of white walls and cabinets work in perfect tandem with the bold striped tile floor down below.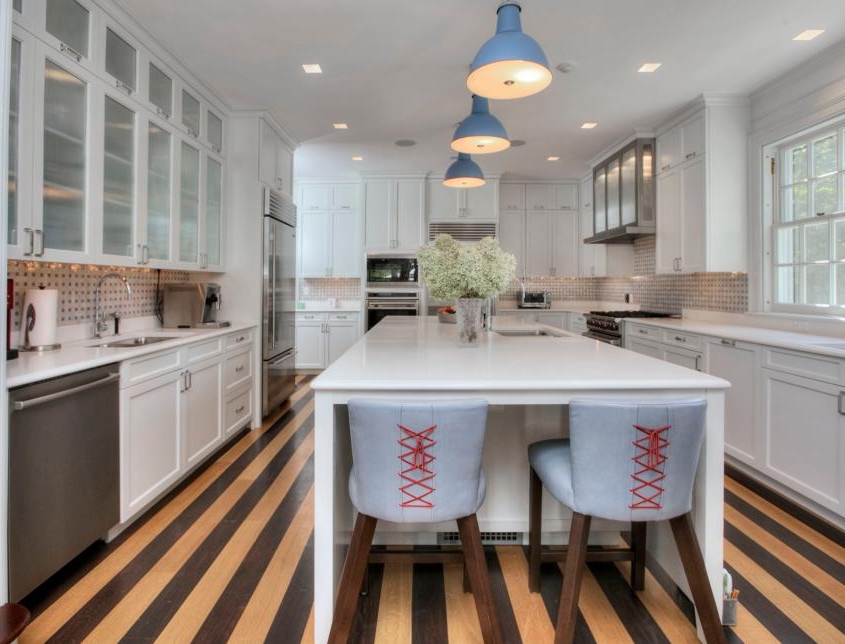 A Fresh Tile Pick
One wall of this kitchen is lined with windows, offering a leafy view while bringing in loads of natural light. White cabinetry and neutral surfaces ensure the graphic tile flooring steals the show.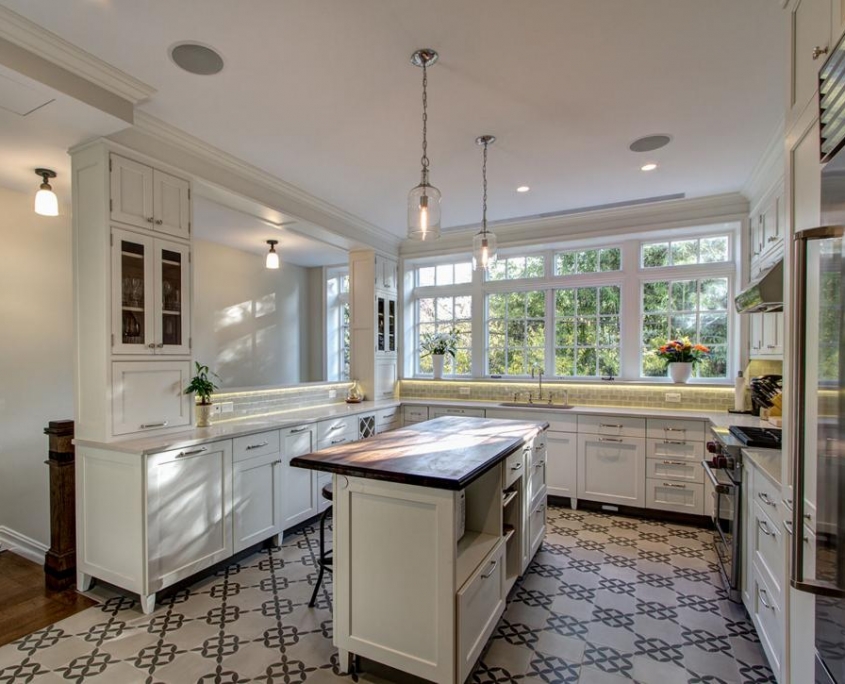 Classic Tile Accents a White French Country Kitchen
This narrow galley kitchen boasts an all-white colour palette that helps brighten and visually expand the space. With tile accents and an oversized wall clock, this French country kitchen would be right at home in Provence.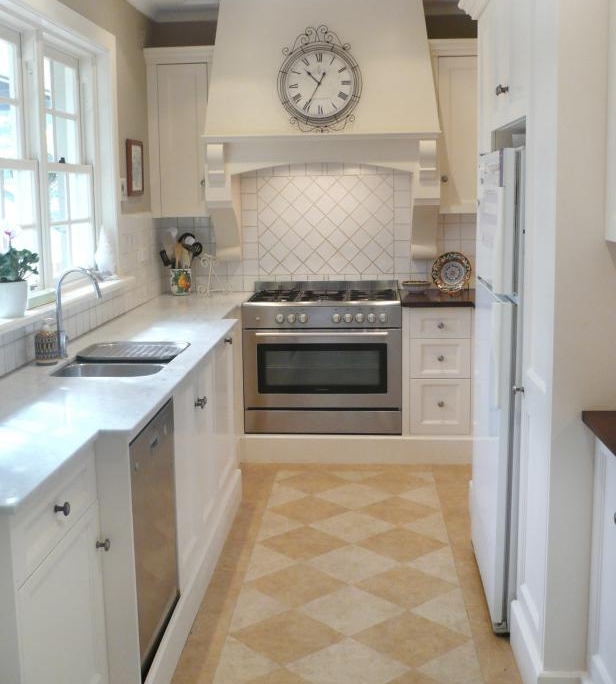 Checkerboard Look
Two walls of custom stainless steel-fronted cabinetry and appliances are softened by marble countertops and gray-and-white checkerboard flooring in this professionally equipped home kitchen.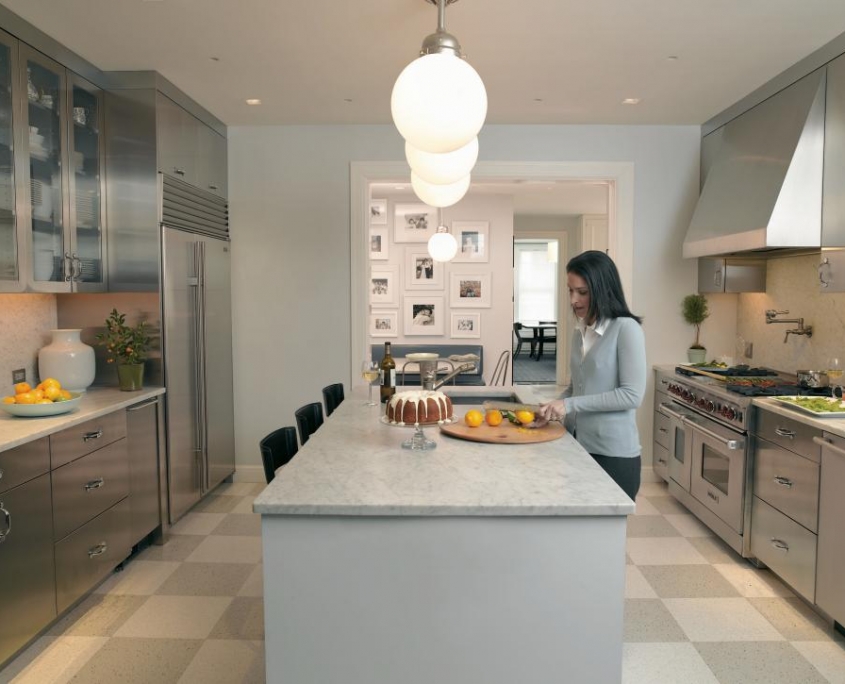 Wood-Look Tile
Wood-look tile floors provide warmth against the crisp white cabinets and countertops in this coastal kitchen. A white subway tile backsplash adds a classic touch, while stainless steel appliances and cabinet pulls lend updated style to the space.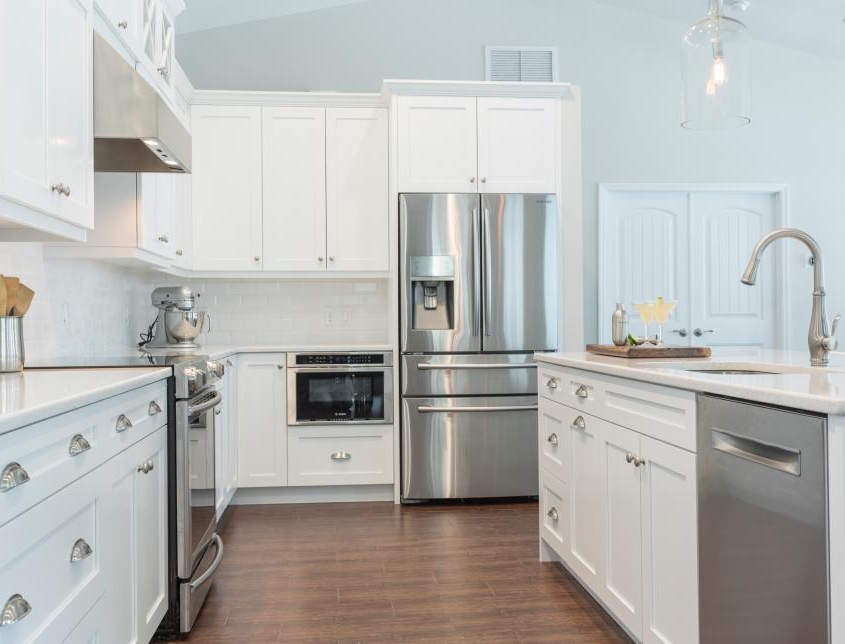 Colour Blast
A simple coat of robin's egg blue paint on the cabinets and open shelving takes this kitchen from ordinary to dazzling. The black-and-white mosaic tile floor is a retro juxtaposition to the cheerful colour.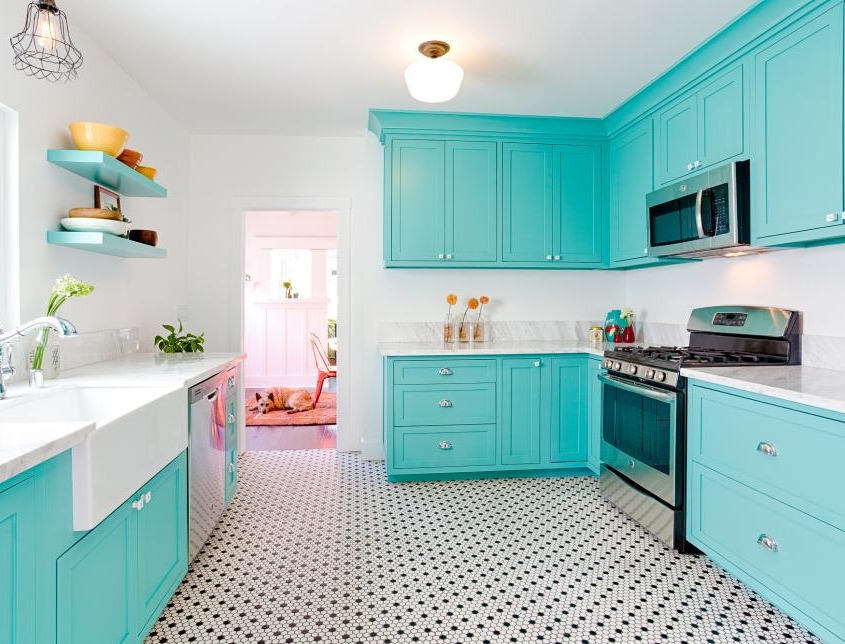 Renovating a small kitchen gives you the chance to experiment with the layout. You can completely change the flow by rearranging some of the larger pieces. When doing this, try looking at the room through the eyes of a guest. Think about what you want them to see and what floor plan will make the most of the space available.
With the many benefits of updating your kitchen, we encourage you to contact us to speak with our KSI kitchen experts.
We are offering a free consultation for your plan and budget control. We can sit down with you to discuss your vision for your kitchen.
Whether you're looking to make the necessary updates to increase the marketability of your home, increase the functionality of the room, or create more storage space to help with organization, we can help you create the kitchen of your dreams.
The best A to Z kitchen renovation turnkey services in the Greater Montreal Area.
SHARE KSI CUISINE SOLUTIONS WITH FRIENDS