As kitchen shoppers, we now have a big amount of choice for materials and finishes for the cabinets.
In fact, more and more homeowners choose to go with go with lacquer or laminate cabinets, with a taste for the contemporary, to achieve a sleek look.
Since there are still a lot of you have no idea of the difference beween materials,it is time to reflect on the greatness of wood kitchen cabinets.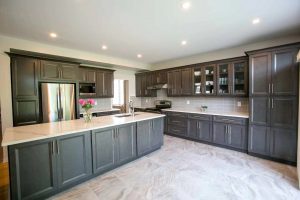 Wood kitchen cabinets: Beautiful AND functional
Talking about elegance and beauty, nothing beats wood. Wood is a living material that can bring special texture and subtle variety to our home.
Furthermore, wood has the extraordinary ability to make a space look modern and edgy.
Also. Wood is also durable and resistant and, thanks to today's manufacturing technologies, wood kitchen cabinets can be a very practical solution.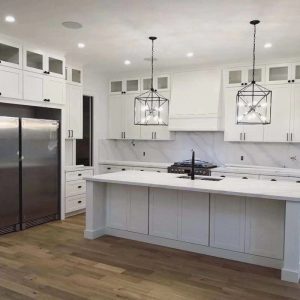 An authentic kitchen
Solid wood is natural and durable, which is a stately material that will make your kitchen a cachet beyond compare.
With the many different woods on display in our 3 showrooms in Montreal, you will easily find the right one to suit your tastes and preferences.
Whether you choose lighter-toned wood for a modern touch, or a darker tone for a country look, you'll find the wood to match your mood.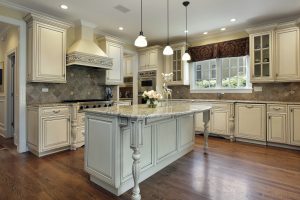 Customized cabinet doors
Why not choose doors for your cabinets that reflect your personality, or that have that special something that will give your kitchen a high end distinction?
We offer many different options to help you create a kitchen that is unique to you, and we have a wide selection of woods of the highest quality.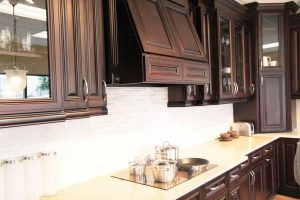 The natural beauty of solid wood
When you choose solid wood for your kitchen cabinets, you're selecting a material that will develop a rich variation over time.
Because solid wood is sensitive to variations in humidity, which affect its colour and grain, your kitchen cabinets will gain depth and character as the wood naturally ages.
Among its many advantages, solid wood will always impart a feel of warmth and elegance to your kitchen, while is also easy to maintain. It is definitely a perfect choice.
The best A to Z kitchen renovation turnkey services in the Greater Montreal Area.
Make your kitchen renovation more affordable, more convenient and worry-free
SHARE KSI CUISINE SOLUTIONS WITH FRIENDS